Around Towns: Exploring Asheboro
Lions and giraffes, farming and textiles, culture and cocktails, all stuffed into one welcoming community in the heart of the state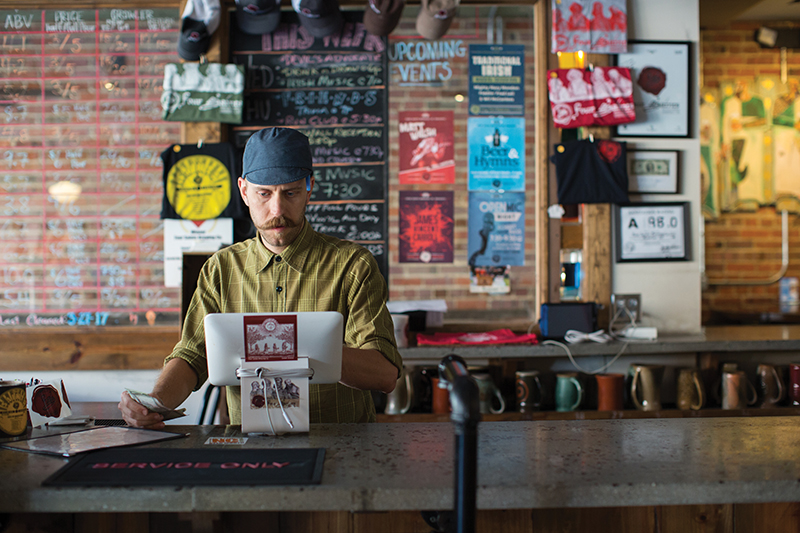 THE OYSTERS are gone. The roast began at 3 p.m., and three hours later, more than 10 bushels of the salty bivalves have been consumed by hungry Asheboro residents and washed down with pints of beer.
Joel McClosky predicted the event would be popular. When the folks at NC Fresh Catch contacted him about hosting an event to promote North Carolina-caught seafood at his Four Saints Brewing Company, they told him they needed 150 people to clear expenses. "You'll be fine," he said. But to make a profit, they said, they'd need 200. "You'll be fine," he told them. To have a home-run event, they said, they'd need 250. "You'll be fine," McClosky repeated. "Look, if you bring fresh oysters to Asheboro, people will come out of the woodwork."
And they did.
They formed a line down Fayetteville Street, one of the main drags through this Piedmont town. They filled McClosky's taproom, forming a line that snaked from the concrete bar around a large community table. They packed the picnic tables out back and the benches in neighboring Bicentennial Park. Lawyers and dentists and blue-collar workers, button-up shirts and baseball caps, millennials and children and grandparents and dogs.
Asheboro was alive. The event was a home run.
Four Saints is Asheboro's first brewery. That accolade is achievement enough, but it's even more impressive when you consider that less than 10 years ago, Asheboro was a dry city. In July 2008, city residents passed a referendum to legalize alcohol sales. The measure was heralded by a group called the Committee for the Future of Asheboro. Members touted the economic value and quality of life benefits the legal sale of alcohol would support. Still, people here disagreed. Opponents feared free-flowing alcohol would encourage bad behavior and taint the community's traditional values. Differing opinions drove members of church congregations to sit in different pews and fueled some lively debates over family suppers. Proponents of both sides wrote impassioned letters to the editor of the local newspaper, The Courier-Tribune.
McClosky and business partner Andrew Deming hope their taproom bridges some of those differences.
"We decided to do this in Asheboro, because there's something to be said about being part of a community rather than just another venue," McClosky says. "We're supporting the community and putting back in. To be successful, you've got to be part of a two-way street; you can't sit back and take, take, take."
***
ASHEBORO'S GOVERNMENTAL OPERATIONS run out of City Hall, a stately, white building located downtown. The municipal building sits between Acme-McCrary textile plant and Central Bakery, both longtime local businesses—one known for its panty hose, the other for its birthday cakes.
Two flagpoles stand in front of City Hall. In addition to the American flag and the North Carolina state flag, a third flag reads: 2016 All-America City. A year ago this month, Asheboro was one of 10 cities to receive the recognition from the National Civic League. Mayor David Smith traveled to Denver with a local delegation for the final decision. It was a proud moment for the Asheboro native who entered city government as a councilman 20 years ago and is now in his eighth year as mayor.
"These things we're doing are about raising our profile outside of Randolph County," Smith says. "It's about sharing the good news of Asheboro."
The city of 26,000 sits in the center of Randolph County, which sits at the center of the state. Major east-west and north-south corridors, U.S. Highway 64 and U.S. Highway 220, intersect in Asheboro. The city is 294 miles east of Murphy, and 259 miles west of Manteo. The local tourism development authority calls itself the Heart of North Carolina Visitors Bureau.
"You can live in Asheboro and go wherever you want to go," Smith says.
He chose to stay. Smith graduated from Asheboro High School in 1971. He co-owns United Wood Products, which manufactures wooden rolls to store commercial fabric. The business started here in 1959 to supply loom parts for textile companies.
Much of Asheboro was built on textiles. Plants, such as McCrary, Bossong, Balfour, and Burlington, meant jobs for Randolph County residents, including Smith's father. Three train depots operated in and around what is now Bicentennial Park, hauling raw materials in and manufactured fabrics out. As it did in many small towns, downtown fell into a slump in the 1980s as retail stores fled for the new mall and flashier digs along Dixie Drive.
In 1999, the city completed its first major downtown revitalization project when it cleaned up a rundown bus station and converted it into Bicentennial Park. Other projects followed. The farmers' market moved into a permanent downtown shelter. Beautification efforts brought new sidewalks landscaped with trees and hanging planters.
"These things encouraged private investment in downtown," Smith says. "It's all about collaboration and partnership."
On a chilly evening, I park my car in the slanted spaces along Asheboro's Worth Street, across from the old Randolph County Courthouse. My mom and I power walk into Bia's Gourmet Hardware, now a restaurant, and slide into two seats at the bar. We have just enough time to order a glass of wine and a tray of olives and nuts before the show. Asheboro High School's Park Street Players are presenting The Phantom of the Opera, and tonight's the opening night.
Eric Rich, the bow-tied bartender and restaurant co-owner, pours two glasses of white and slides them our way. He and his wife, Bia, opened this fine-dining restaurant on the corner of Worth and Fayetteville streets three and a half years ago. The name is a nod to the hardware store that once operated here. They serve locally sourced fare, plated elegantly, in an unpretentious space with a roaring '20s, speakeasy vibe. The wine list is long and the cocktails are creative.
Many ingredients used in Bia's dishes come from farms in the rural parts of Randolph County that surround Asheboro on all sides. I grew up and still live in the southwestern corner of the county. "A trip to town," as we call it, involves a 20-minute drive to Asheboro. For years, my grandmother has gone once a week, on Tuesdays, to run all of her errands.
Asheboro is where I took piano lessons at Evans Music Center. It's where I went to orthodontist appointments with Dr. Rich and got a milk shake afterward at Dixie Express. It's where we picked up Sir Pizza to-go on busy weeknights. It's where we played Putt-Putt and skated at Roll A Bout and went on awkward teenage dates at the Cinemark in the mall. Asheboro was also home to our high school rivals. When the city-school kids made the 6.7-mile drive to play the "country" kids at Southwestern Randolph, they wore overalls and chanted about our tractors. We might have shot back a silly nickname or two. But the truth was, we couldn't do without each other.
An Asheboro community theater company, the Randolph Summer Vacation Playhouse, was my first introduction to the performing arts. When I was in elementary school, my mom took our family to a production of Oklahoma! I still remember the colorful skirts when the cowgirls danced and being a little bit afraid of Jud. Today, the 30-year-old RSVP Community Theatre performs downtown in the renovated 1930s-era Sunset Theatre. This summer, Hello, Dolly! hits the stage.
As we sit in the theater at Asheboro High School, watching the teenagers brave the high notes of "All I Ask of You," watch their footwork in "Masquerade," and bow again and again as the crowd claps, I'm proud that we can do this here.
There's an appreciation for fresh food and good wine and the arts. There's a passion to share cultural experiences with the community's youth. Tonight's performance might light a spark that sends these students to stages in much larger cities. Or it might inspire someone to teach music to the next generation. Or maybe it's a one-time performance, the only time they'll stand onstage, but it's a memory they'll take with them and share with their kids one day.
***
JUST SOUTH OF ASHEBORO, 1,600 animals live on African safaris, Midwest prairies, and the Arctic coastline at the North Carolina Zoo. In the cool of the morning, elephants tread across grassland, giraffes crane their long necks, puffins plunge into the water, and birds in electric colors flit through the air. In the heat of the day, the animals lounge in the shade.
Asheboro is home to the world's largest natural-habitat zoo. Last year, nearly 800,000 people visited the zoo, the largest attendance in 19 years.
"Where can you work and have a stressful day and walk a few hundred feet and see a polar bear?" asks Lane Ragsdale.
Ragsdale, an Asheboro native, went to work for the zoo in 1998. He focuses on travel and tourism, but describes himself as a jack-of-all-trades. He planned to move to New York to pursue a singing career, but his hometown lured him back. And the zoo's ever-increasing emphasis on conservation makes his daily job feel like a mission to save the world.
Zoo staff members work with the World Wildlife Fund to place tracking collars on elephants in Cameroon. The zoo pioneered the use of trained detection dogs to search for dung samples from Cross River gorillas, one of the most endangered primates in the world. Each day at the zoo, keepers participate in public feedings and answer questions, educating visitors about the animals and their homes.
"We feel like stewards of the earth, and we have to be ahead of the curve," Ragsdale says. "We only have one planet. This is not a practice round."
Twenty-five million dollars of the $2 billion Connect NC bond that passed in March 2016 is earmarked for the North Carolina Zoo. The zoo hopes to celebrate its 50th birthday in 2024 with a new Australia/Asia exhibit, adding kangaroos and tigers to Randolph County and spreading the North Carolina Zoo's influence to two more continents.
***
INSIDE THE TABLE on a busy weekday, staff members in linen aprons prepare for the lunch rush. I sit at a window, with a latte and my laptop, looking across Church Street at the downtown farmers' market. The coffee grinder whirs as it pulverizes beans from Durham's Counter Culture Coffee. The earthy smell of a just-brewed cup mixes with the warm aroma of fresh-baked bread. As noon approaches, the line at the counter grows. Businessmen in suits, hygienists in scrubs, and moms in athleisure wear wait their turns to order a sandwich on sourdough, a salad with mixed greens, or a slice of chocolate cake.
Dustie Gregson took a leap four years ago when she converted this former textile-mill office into The Table, a bakery, market, and eatery. The Table now serves as many as 600 people on a busy Saturday.
Gregson, who grew up just north of Asheboro in Sophia, had no restaurant experience. She's a designer by trade and was thinking of opening an interior-design business. But she kept asking herself, What is missing?, which evolved into the question, Where do people go? When retail stores, city operations, and lawyers' offices closed at 5 p.m., downtown Asheboro fell quiet.
"People love to gather," Gregson says. "And they do it around food. Interior design is connected with hospitality and creating space, so I merged those things."
Gregson and her husband, Andy, the district attorney for Randolph and neighboring Montgomery counties, did most of the restoration work themselves. They scrubbed the black latches on the large paned windows to reveal their brass finish. They painted (and repainted) the walls a comforting alabaster white. Two weeks after opening, Dustie woke up crying and asked if she could sell it. Andy reassured her that it would be OK.
"Anything worth anything takes work," Gregson says. "It's the most fulfilling thing you'll ever do."
And she's not done yet. When the city announced plans to purchase the former Cranford mill behind The Table, tear it down, and make a parking lot, Gregson begged them to hold off and give her time.
She joined forces with one of her regulars at The Table, Jerry Neal, and together they founded VSR, LLC, which stands for Vision to Sow and Rebuild. They purchased the crumbling Cranford structure and named it Mill 133. They are working with architect Eddie Belk—of Durham's American Tobacco Campus, a successful historical renovation project and economic catalyst—to restore the building. Although Gregson hasn't announced specific plans, Asheboro residents have high hopes for Mill 133.
"Dustie's plan was a godsend of sorts," Mayor Smith says. "Here's someone who dearly loves that building and sees potential in it, who is going to invest in downtown Asheboro. It's just one more piece of the downtown puzzle."
***
INSIDE THE FOUR SAINTS TAPROOM on a Thursday evening, patrons tell stories of cruising down Fayetteville Street as teenagers, admiring their cars in these very windows. Unfamiliar faces stop in on their way down Highway 64 between Raleigh and Charlotte. They've tried Potter's Clay Amber or Omie blonde ale elsewhere, so they grab a growler to go. Trivia teams assemble. Families gather around circular tables with boxes of pizza. Joel McClosky's three-year-old daughter sits on a tall chair, swinging her feet. Classic rock plays.
It's warm and lively and inviting.
The taproom's large windows look across the street onto a rundown building that used to be a medical clinic. The narrow, deep structure has peeling white paint around its windows and doors.
"What if another brewery opened up over there?" customers ask McClosky.
"We'd be over there helping them swing hammers," he says.
When Four Saints Brewing Company launched its Kickstarter campaign in 2012, the business had no beer to sell, no building to show. Supporters were asked to back an idea. Two hundred sixty-three people donated more than $53,000 in 45 days to start Asheboro's first brewery.
Five years later, it's a home run.
"People are looking at what's happening and saying, 'What else?'" McClosky says. "Asheboro keeps surprising itself."
Leah Hughes writes from her family's farm in Jackson Creek. Contact her at leahchughes@gmail.com.
---
EAT + DRINK
Bia's Gourmet Hardware
First, order a Hardware cocktail, maybe the Monkey Wrench Mojito or the Hammer Drill. Follow it with some small plates, such as oysters Rockefeller, hummus with roasted vegetables, and seared ahi tuna. 103 Worth St., 336-610-2427.
Four Saints Brewing Company
Potter's Clay amber ale honors the famed pottery community in nearby Seagrove. The first Sunday of each month, Beer & Hymns brings traditional church music into a not-so-traditional setting. 218 S. Fayetteville St., 336-610-3722.
The Table
Sweet Baby Brown is an iced latte made with Homeland Creamery milk and shaken with brown sugar. Pair it with an oversize cinnamon roll or slice of ham-and-rosemary quiche. 139 S. Church St., 336-736-8628.
Sir Pizza
This longtime local standby for thin-crust pizza cut into small squares is located just north of downtown in a castle-style building with faux stone walls. The baked ham pizza is a personal favorite. 724 N. Fayetteville St., 336-629-9101
DO
American Classic Motorcycle Museum
Part restaurant, part museum—stop for breakfast or lunch, then spend some time admiring motorcycles and memorabilia. Harley-Davidson fans will be in hog heaven. 1170 U.S. Highway 64 W., 336-629-9564
North Carolina Zoo
The zoo is best seen on foot, so wear your walking shoes. And get an early start, since animals are generally more active in the mornings. The Zoofari involves an open-air ride through the 40-acre Watani Grasslands exhibit. It runs three times a day, Thursday-Sunday. The zoo is open year-round except Christmas Day. 4401 Zoo Parkway, 800-488-0444
SHOP
Collector's Antique Mall
Located in the old B.C. Moore department store in the heart of downtown, the antique mall covers 35,000 square feet with row after row of furniture, glassware, jewelry, quilts, and unexpected treasures. 211 Sunset Ave., 336-629-8105
The Randolph Arts Guild
Inside the Arts Guild shop, you'll meet Claudia Ainsworth and her sidekick, Bramble the dog. Ainsworth's personality is as colorful as the art that fills her shelves. Everything is handmade by local artists, but the shows in the next-door gallery are local, regional, and even national in scope. 123 Sunset Ave., 336-629-0399