Around Towns: Huntersville
The booming suburb where some sticks will never be burned for fuel, where some frogs will croak forever, and a one-of-a-kind sunflower is always right at home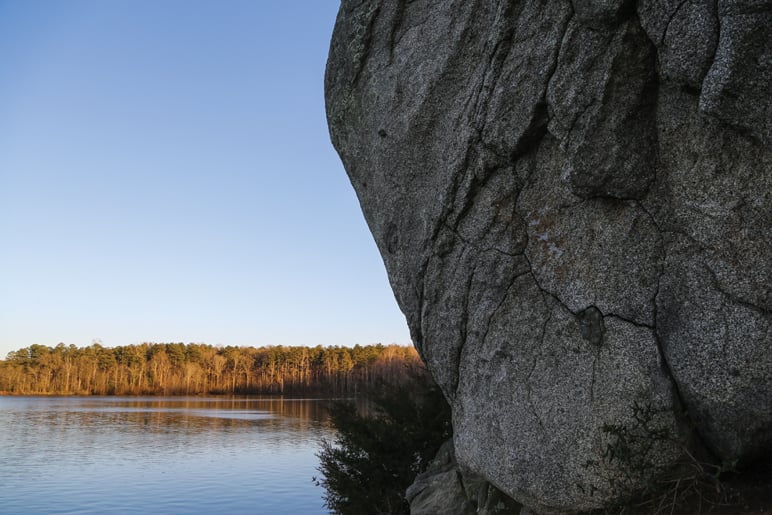 FOUR VULTURES SOAR in the cloudless sky above me. I adore these odd-looking creatures, for some reason. I can't help but think they're having fun up there. Gliding, dipping from view, re-emerging effortlessly. In the creek before me, frogs are chatty; in the trees surrounding me, the branches are jostled by the wind. Here, I can almost make myself believe I'm away from it all, that I have this spot to myself. But occasionally joggers or walkers emerge, passing me with a smile and their version of "Great day out here, huh?" And, each time, we agree: Yep, it's a great day out here.
It feels like being in the woods, but it's not exactly. I'm walking along the Torrence Creek Greenway in Huntersville, near Gilead Road. Although parts of the path run close to the backs of houses or give peeks of passing cars through trees, there are places like this one. Places where you feel farther away than you really are, where you're amid large boulders and towering trees, beneath soaring vultures and beside talkative frogs. The wilderness it's not, but for an hour or so, it's a blissful retreat into nature.
Mention Huntersville, and most people picture upscale suburbia. It's the town where people go for big-brand shopping and highly ranked schools. For golf courses and large houses. If you stay near I-77, you might think that the closest Huntersville comes to nature are animal-print sundresses in Birkdale Village store windows.
But if you explore the place, you'll experience another kind of Huntersville. Within or touching the town are eight nature preserves, offering more than 4,000 acres of protected land. Huntersville has about 600 acres of parkland and three and a half miles of a budding greenway system. These are the places where wildlife find homes, where rare plants bloom, and where we can all go to exhale and see how this land looked before any of us got here.
This, too, is Huntersville.
***
"EACH TOWN should have a park, or rather a primitive forest, of five hundred or a thousand acres, where a stick should never be cut for fuel, a common possession forever, for instruction and recreation." —Henry David Thoreau
It's an unwritten rule that one can't write about nature without invoking Thoreau. A friend of mine, an avid naturalist, has a game to see how long she can read an American nature text before seeing his name. (Her earliest encounter? Page 1. Latest? Page 75. If she's playing now, paragraph 6.) Thoreau remains relevant for good reason. Like many of us, he knew the value of blowing town, of trading the company of people for the company of trees, if only for an afternoon. Even though many people think of him as living alone in the wilderness, Thoreau was far from a recluse: His cabin on Walden Pond in Massachusetts was only a mile and a half from town. He knew that one didn't have to travel far for a healing dose of nature.
Huntersville respects this Thoreauvian vision of balance. There's Whole Foods, Gap, and a multiplex over here, but some spaces that feel like the middle of nowhere over there.
One reason for the natural spaces here is Mountain Island Lake, the source of Charlotte's drinking water, which borders Huntersville to the west. Clean water requires a pristine watershed, so large tracts of lakeside land are protected. That land serves as a refuge for Huntersville's lesser-seen residents: the bobcats, mink, foxes, and coyotes who live here. For the river otters who play in the water, or the hawks and owls who inhabit the trees. And, every once in awhile, for the bears who wander through.
The number of people these hawks and otters share Huntersville with is growing. The town's population, now more than 50,000, has more than doubled over the past 15 years.
"[Huntersville's growth] is great for the economy. But for the animals, it's pretty tough living," says Chris Matthews, division director of nature preserves and natural resources for Mecklenburg County Park and Recreation. It's his job to ensure that spaces exist to protect the watershed and provide habitat for these animals.
So Huntersville has waterfront nature preserves such as Latta, Rural Hill, and Cowan's Ford. And it's not just the animals finding sanctuary here. One of the rarest plants in the country, the Schweinitz's sunflower, blooms each fall in Huntersville. It thrives in those liminal spaces where nature meets civilization: along railroad tracks or power line rights of way. The sunflower can grow only within an 80-mile radius of Charlotte—it's the only place on the planet where it lives—and Huntersville's nature preserves work to ensure that the species endures.
"Some people are like, what's the big deal? It's just a flower, whatever," Matthews says. "But it's a part of our history, it's a part of our natural history, so it's important to keep these things around."
Scott Treon, assistant director of Huntersville Parks and Recreation, also sees the big deal in preserving natural spaces here. Land in Huntersville isn't cheap: An acre of residential land in a prime location can go for upwards of $100,000. But his definition of the land's worth is more than financial.
"The value isn't really the cost of land, but what it provides," Treon says. "Health, fitness, the ability to get out and de-stress, to watch your kids grow, not only physically but mentally. To enjoy the fresh air, the birds and the squirrels. I think that's a greater benefit than dollar signs."
***
"IT'S A GOOD sound, isn't it?"
A fellow hiker greets me along the Hill Trail in Latta Nature Preserve. He's referring to the croaking coming from the wetlands off the trail. He tells me that loss of habitat and climate change have resulted in a worldwide frog population crash. So that cacophony we hear? That's a good sound.
Latta hosts two big draws: the Carolina Raptor Center, which rehabilitates birds of prey and offers conservation education, and the Historic Latta Plantation, a 19th-century cotton plantation and living history farm. But it's also the ultimate Thoreauvian site.
The 16 miles of walking and horse-riding trails here can lead to a quick walk or a longer hike. Short trails such as Buzzard Rock Trail and Laura's Trail lead to picturesque spots by the water in less than a mile. Visitors can piece together a longer hike through prairie, pine-hardwood forest, or along the Mountain Island Lake shore. I find a quiet ledge off Cove Trail and let my legs dangle over the water while I enjoy a 180-degree view of the lake. This lake is far from the usual Lake Norman scene: You'll hear no speedboats; you'll see no lakefront homes. It's quiet, undeveloped lake in all directions. The loudest sound I hear is that of the lake lapping against the shore.
In a straight line, this spot is three and a half miles from Northlake Mall. As it seems, however, it couldn't be farther away.
***
EACH APRIL, the fields of Rural Hill fill with pipe bands, highland dancers, and battle axe competitors for the Scottish Festival and Loch Norman Highland Games. In May, bands and beer lure crowds here for the North Carolina Brewers and Music Festival. In November, the Sheepdog Trials and Dog Festival brings some of the smartest dogs on the continent here to show off a little.
Although Rural Hill is best known for its events, it's an excellent destination without them, too. This 18th-century farm site includes nearly 500 acres of nature preserve alongside Mountain Island Lake. A two-and-a-half-mile trail circles the farm site. It passes 17th- and 18th-century buildings and cow pastures, and it dives into forested woodland and through open fields. Looking up is as impressive as looking around: these skies are frequent hosts to raptors, including vultures, hawks, and osprey.
Just down Neck Road from Rural Hill is Cowan's Ford Wildlife Refuge. Only one part of this preserve is open to the public: an observation deck looking toward a pond just off of Mountain Island Lake. This deck is one of the best birding destinations on the east coast, the place birders travel to check key birds and raptors off their lists, from the brown creeper to the bald eagle. This deck is surrounded by 850 acres of protected space, home to more than 200 varieties of birds, as well as animals such as otters and bobcats. And, judging from all the croaking, many, many frogs. It's a good sound.
***
AS I LEAVE the Torrence Creek Greenway to return to Charlotte, I travel only a mile and a half before I return to the other Huntersville: Starbucks, Earth Fare, Five Guys.
Huntersville is a town of suburban comforts, dotted with the usual big-name chains and even a few outposts of Charlotte originals, such as Lupie's Cafe and Pinky's Westside Grill. Most of what we see in this town is new: Birkdale Village and Rosedale Shopping Center, two of the town's largest retail centers, weren't here in 2000. NorthCross, one of Huntersville's older shopping centers, opened in the 1990s. Because so much of it is new, it's not easy to pin down Huntersville's defining quality.
But perhaps looking for that quality causes us to look right past it. Perhaps what distinguishes Huntersville aren't the places we've built, but the places we've set aside to build nothing at all. It's telling that both Rosedale and Birkdale connect directly to the greenway system, linking new to nature.
I think of Thoreau, whose cabin was just a mile and half from the closest town. I think of the Schweinitz's sunflower, thriving in places where nature and civilization meet. A lot of us in Charlotte are like this. We like those shops in Birkdale Village; we always have a reason for a Target run to NorthCross.
But sometimes, we just need a pretty spot to sit and look at a lake, to watch vultures play, and to hear what the frogs have to say.
And these spots? These wild places, set aside to remain wild?
These, too, are Huntersville.
Jen Tota McGivney is a freelance writer in Charlotte. Read her portfolio at www.jenmcgivney.com, or reach her at jennifer.mcgivney@gmail.com.
---
The Day Trip
EAT
Lupie's Cafe
Its Monroe Road location has been a Charlotte institution for more than 25 years; this second location brings its legendary chili and low-key vibe to Huntersville.
101 S. Old Statesville Rd., 704-948-3959.
Café 100
A family-owned restaurant offering classic café fare in a casual setting. A nice touch: The art on the walls is made by local artists, and it's available for purchase.
100 Huntersville-Concord Rd., 704-274-5932.
SHOP
Crafty Beer Guys
This craft beer store has more than 450 bottles and cans, as well as growler fill-ups. Don't want to wait for a sip until you get home? A bar with 16 taps encourages shoppers to pull up a barstool and stay.
114 S. Old Statesville Rd., 704-274-5793.
Birkdale Village
An outdoor, mixed-use setting with the usual mall brands—think LOFT, Barnes & Noble, Gap—with some local shops such as Julie's and Corkscrew Wine Shoppe & Bar in the mix. If you need a quick nature break after a day of shopping, the McDowell Creek Greenway is accessible from the movie theater parking lot.
16805 Birkdale Commons Pkwy., 704-895-8744.
DO
North Carolina Brewers and Music Festival
May 8-9
More than 20 breweries and eight bands will fill the fields of Rural Hill for this annual festival. Make a getaway of it by registering for a campsite to stay on-site all weekend.
Rural Hill, 4431 Neck Rd., 704-875-3113.
G.O. Play! Festival
May 16
This free event encourages kids to reconnect with nature—to Get Outdoors and Play—through messy, outdoor fun: fort-building, mud art, bug-hunting, and more.
Latta Plantation, 6211 Sample Rd., 704-875-1391.