Around Towns: Southern Pines
Always a small town, never small-time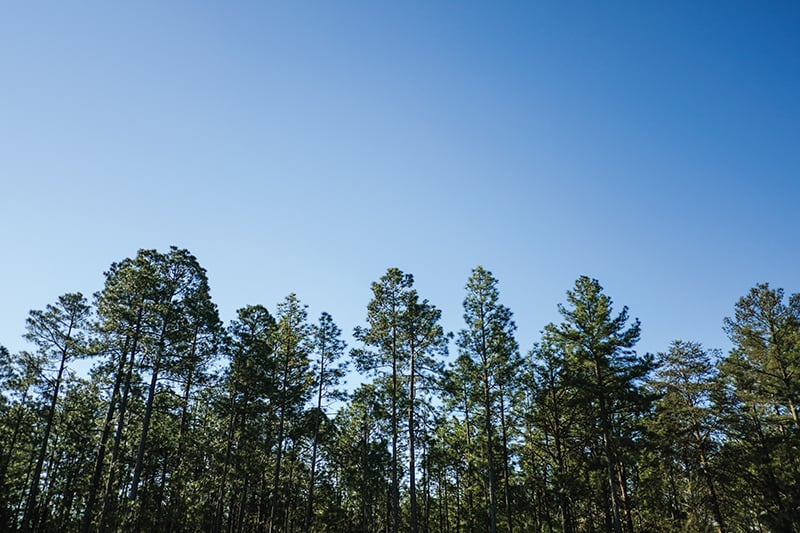 THE PUBLISHER of The Pilot is stuck on a phone call.
"I didn't expect him to be this long," the receptionist says. "Would you like to wait in the conference room?"
No, the lobby of The Pilot is plenty nice. The office of the 96-year-old newspaper that serves Moore County is located in the heart of downtown Southern Pines. The brick building occupies a prominent place on West Pennsylvania Avenue, a tree-lined street with the area's signature magnolias and longleaf pines accenting the sidewalks. Inside the front door are hardwood floors, crown molding, and rugs from the internationally renowned Capel manufacturer in nearby Troy. Sunlight beams through the front windows.
David Woronoff, the publisher since 1996, occupies the first office on the left. After he finishes his call, he steps out and is more than happy to chat with an unexpected guest.
The Pilot doesn't post its financial reports in its lobby, but for a publishing company that's approaching a century in print, things look bright. When asked about what it's like to be in the newspaper business these days, Woronoff says it's tough. Then he goes on about how the company publishes four magazines across the state. And how, in 2014, when Pinehurst was the site of the men's and women's U.S. Opens in back-to-back weeks, the twice-a-week newspaper published daily. And how the paper won a North Carolina Press Association award for community service for its "Save Our Sunrise" campaign to rescue the downtown theater. And how the paper came to own The Country Bookshop around the corner—when the bookstore's future was in doubt in 2010, The Pilot purchased it.
"Your worth to the community is measured in what you do for it," Woronoff says. "The pillars of the community are community servants."
Woronoff moved from Charlotte to Southern Pines 20 years ago. It's a town of 13,000 located about 100 miles east of Charlotte, in the Sandhills region of the North Carolina Piedmont.
"A lot of folks think living in a small town is inferior to living in a city, but we revel in our small-town ways," Woronoff says. "We'll always be a small town, but we'll never be small-time."
***
ACCORDING TO THE NUMBERS, Southern Pines is a small town. But it's in close proximity to other small towns. The downtown of the railroad community of Aberdeen is only five miles to the south. The village of Pinehurst, with its high-end resort and world-championship golf, lies six miles west. And on the east side, Southern Pines is bordered by the woodlands of Fort Bragg, one of the largest military bases in the country. Put all of it together, and the region becomes something bigger.
Within its town limits, Southern Pines offers plenty to do. The Sunrise Theater live-streams the Bolshoi Ballet. The North Carolina Symphony visits six or seven times a year. One hundred authors visited The Country Bookshop last year for readings and signings. This month, potters from South Korea will be in town for a cultural exchange, comparing pottery from the East with that of the West.
With so much going on, the town is an anomaly in this area of North Carolina. While many of the counties that surround it rank in the bottom 25 percent of the state's counties in terms of per capita income, Moore County sits in the top 25 percent. People in the service industries here—jobs that include finance, insurance, real estate, and professional services—make an average salary of more than $50,000 per year. The money helps support things such as art exhibitions and concerts and downtown boutiques and farm-to-table restaurants, things that enhance a small town's quality of living.
"I know how lucky we are," says Chris Dunn, executive director of the Arts Council of Moore County. "I describe Moore County as an island. It's one of the highest per capita income counties in the state, but counties around us are struggling."
Dunn grew up in Snow Hill, a farming town in eastern North Carolina now known for its bumper crops of sweet potatoes. In 1995, he was living in Washington, D.C., when a position opened with the arts council. He worried that his Northern Virginia-raised wife wouldn't like it. They headed south anyway. They tripled their living space, and their rent decreased. She loved it.
The arts council that Dunn directs started as a presenting organization, bringing concerts, plays, and exhibits to the area. While that role still exists, its new direction—which will be instituted within a year—is more collaborative, joining together different groups and working with local artists. Some of its exhibitions revolve around a single theme that's expressed through different forms of art.
Last summer, the arts council created an exhibition called "Homefront & Downrange: Witness the Art in Military Life." Southern Pines' proximity to Fort Bragg forces the town to confront the complexities that come with an influx of residents with military ties. The exhibition expressed the challenges of soldiers and their families. Mediums included narrative textiles, photographs, and drawings.
"It was very moving," Dunn says.
Developing community with a transient military population can be difficult. But unlike on the Army post, where young soldiers fill the barracks, the soldiers who live in Southern Pines are often some of the military's most highly trained personnel.
R. Riveter was one of the sponsors of the "Homefront & Downrange" exhibit. The Southern Pines company, started by two military wives, makes high-end handbags out of recycled and new military materials. Each bag is hand sewn in the United States by military spouses. The owners appeared on the TV show Shark Tank in February. The show's potential investors were impressed with their business model, and the women came away with an investment to expand their business.
"The knowledge the military brings is amazing," Dunn says. "It also brings an entrepreneurial spirit. … They aren't intimidated by the risk of opening a business. … It's changed how this place feels."
***
BROAD STREET—the main drag through downtown Southern Pines—is bisected by the railroad, which occasionally causes sidewalk shoppers to cover their ears. Cheery blue paint outlines Mockingbird, a retail store that sells stationery, jewelry, T-shirts, and magnolia-scented candles.
One day this spring, owner Sundi McLaughlin is in the back setting up for the evening's business-after-hours event. She has pink pants, trendy glasses, and a bounty of blond curls. Her husband is stationed at Fort Bragg.
She has a just-go-for-it mentality, a perspective that often comes with a marriage to a soldier. The first time he was stationed at Fort Bragg, they lived in Fayetteville. They moved to Florida before being sent back to Bragg about 10 years ago. This time, though, a friend told them about Southern Pines. He even found them a house to rent. They bought a place here six months later.
Before she worked in retail, McLaughlin was a law enforcement officer in Florida. Friends from the force still ask in disbelief: "So you have a girl shop and wear girl clothes?" As a business owner and wife, she says she's lucky. She has support from two communities: her military family, and the businesspeople and residents of Southern Pines.
"It makes you feel like you're a part of something bigger than yourself," she says, "and isn't that the whole purpose?"
McLaughlin also volunteers at the Sunrise Theater next door. The 128-year-old building is enjoying a renaissance as a downtown gathering place. On the first Friday of the month from May through October, people flock to its lawn for live music and food trucks. It also shows films inside.
Kevin Dietzel works at the theater. The Ohio native lives three-quarters of a mile down the street. When he was a student at Sandhills Community College, he began putting in half a dozen hours a week at the theater. Before he knew it, he was here all the time. He's now the theater's tech and property manager.
"The whole area has that effect," he says. "It just kind of pulls you in."
***
ACROSS THE STREET and the railroad tracks is the Wine Cellar & Tasting Room. Four men hold down one end of the bar. They call themselves the East Enders. They swap stories about farming and business and local lore. One of them pulls up an article from The Pilot on his iPad. "Read this," he says.
The article is about former Southern Pines mayor Mike Haney, who passed away in March after a more than 14-year battle with cancer. The headline reads, "Friend to All." It details Haney's commitment to Southern Pines, 10 years on town council and four years as mayor. He's remembered as an embodiment of the town he served, the story says: "good-natured, warm, and welcoming."
Later in the week, a piece in The Pilot's opinion section is titled, "Mike Haney Was a Force for Good." It compliments him for guiding the town through a difficult period when one group of residents pushed for steady growth while another camp strongly opposed it.
No matter if you live in Southern Pines or Charlotte, growth is controversial. Here in Southern Pines, a place with a thriving downtown, new shopping centers crop up on U.S. Highway 15-501 just a couple of miles west of downtown and proposed highway projects meet opposition from people who champion pine forests. New ideas challenge long-held traditions, and new residents alter the dynamics of established neighborhoods. Too much change, and the place might lose its character. Yet without progress, the small town with more opportunities than most risks becoming a small town that has less and less.
In what looks like an office complex a mile and a half from the downtown center, people play corn hole in front of Suite E, which houses Southern Pines Brewing Company.
Micah Niebauer, John Brumer, and Jason Ginos opened the brewery in September 2014. The three Special Forces veterans, who were once stationed at Fort Bragg, started the business with their own money and a bank note. They thought about investors, but their pride and desire to do things their way led them to just jump in on their own. The challenge for the brewery at the moment: Business is growing. It's a balancing act to make the best financial decisions at the right time. Sometimes they have to sacrifice efficiency in one area to improve it in another. They credit the town and Moore County for their support in the brewery's success.
"The area couldn't have been any better," Brumer says. "We don't get influenced as much with beer trends. … We make beer for our customers. We're the local brewery for our local people."
They give a nod to their adopted hometown with a pinecone in the logo and beer names such as Moore IPA. On his way out the door, a customer says to no one in particular, "These guys are going to have to rent out this whole building."
***
WHEN YOU TALK to people in Southern Pines, they tell you that the three Sandhills municipalities function as a unit. And they do. Southern Pines residents drive to Pinehurst for events on the Village Green and to Aberdeen for a Barcelona burger at The Bakehouse. Residents of Pinehurst and Aberdeen come to Southern Pines to shop along Broad Street, see a movie at the Sunrise, and drink a beer at the brewery. Here in the Sandhills, they're proud of their golf and their horses and their community college. They respect their history and try to manage their growth.
Chris Dunn at the arts council talks about the idea of "boomerang" kids, children who grow up here, leave for a while, and come back to raise their families.
"It's still a peaceful place," Dunn says. "There's just a nice feeling here."
On a midweek evening along Broad Street, laughter spills from the Wine Cellar's patio. Businessmen and women gather in the back of Mockingbird.
The theater's marquee advertises tonight's showing of The Revenant. The people strolling the sidewalk might be from Southern Pines or from a neighboring town or from someplace much farther away. But they made the trip, whether a couple of blocks or multiple miles, to be here tonight. As the sun sets and the breeze rustles the magnolia leaves, you feel the common attraction that brings people from all over to this small town in the pines.
Leah Hughes is a freelance journalist in Denton. She can be reached at leahchughes@gmail.com.
---
EAT & DRINK
Ashten's
Sit at the wooden bar of this small, farm-to-table restaurant. Watch bartenders make regulars' drinks as they walk in the door. Order the Reuben egg rolls. Yes, they sound odd. And yes, they are delicious. 140 E. New Hampshire Ave., 910-246-3510
Sweet Basil Café
It comes highly recommended by its neighbor, The Country Bookshop. Order whatever homemade soup is on special and the Hot Vegetarian, a sandwich hearty enough for any meat eater. 134 NW Broad St., 910-693-1487
Southern Pines Growler Company
Take home a growler filled with a local brew, or sit on the deck and drink a pint or two from the 30 taps. If you're a home brewer, venture to the back for supplies. 205 W. Pennsylvania Ave., 910-693-7742,
Southern Pines Brewing Company
As you're enjoying a Moore IPA, admire the flag to the right of the bar. Made of barrel staves, it was an opening gift from The Heritage Flag Company (theheritageflag.com). 565 Air Tool Dr., Ste. E, 910-365-9925
SHOP
R. Riveter
On the corner of West Pennsylvania and Bennett, this military-spouse-owned shop produces high-end, industrial-chic handbags from Army tents, retired uniforms, and woolen blankets. It's a brand you can feel good about draping over your shoulder. 177 W. Pennsylvania Ave., 855-466-6042
The Country Bookshop
Handwritten recommendations for adults and a children's section that will encourage anyone to pick up a copy of Goodnight Moon—if you're an old-soul bookstore lover (Park Road Books shoppers, this is you), you'll get lost in here for hours. 140 NW Broad St., 910-692-3211
Mockingbird
Whether you need a hostess gift or a little something to brighten up your own space, you'll find it here. 240 NW Broad St., 910-692-5338
STAY
The Jefferson Inn
Park your car here for the weekend and explore downtown on foot. The boutique hotel located in the heart of Southern Pines offers traditional Southern charm, such as plantation shutters and a front porch with rocking chairs, as well as modern conveniences such as free Wi-Fi and down-filled duvets. 150 W. New Hampshire Ave., 910-692-9911
---
This article appears in the June 2016 issue of Charlotte Magazine
Did you like what you read here? Subscribe to Charlotte Magazine »
---