Around Towns: Waxhaw
Historic buildings, a pedestrian bridge, and a debate over a presidential birthplace are just a few of the treasures in this small town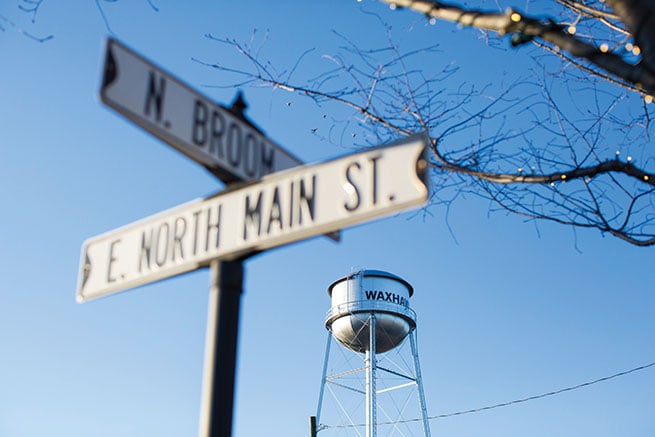 It is a cold Saturday—the type of morning that makes you tuck your chin into your chest when the wind blows through what's left of the fall leaves. I duck into a coffee shop to warm up.
Not surprisingly, it smells sweet and nutty inside Crossroads Coffee House in Waxhaw, with its exposed-wood ceiling beams studded with hooks holding dozens of mix-and-match ceramic mugs. Before I notice any of that, though, I'm hit with the unmistakable sound of Lou Reed's twangy guitar and boozy voice.
This is a couple of weeks after Reed died, and the coffee shop is playing old Velvet Underground records all day as a tribute. It is jarring; this isn't the experience I expected in Waxhaw.
The town is full of contradictions.
Years ago, a convenience store just outside the downtown area set a simple message in the marquee sign out front: Fish Bait and Cappuccinos.
"The old folks would stop in there on their way to fish, and the yuppies would come in on their way to work in Charlotte," says Gay Diller, a Waxhaw native and graphic designer who can trace her roots in town to the late 1880s. "It couldn't have described Waxhaw better."
Diller, 45, with a big smile and chestnut-colored hair, nearly joined the yuppies in Charlotte, just 30 miles up Providence Road. When she and her husband married in the early 1990s, they both had jobs in the city, and they contemplated buying a home there.
But her family history—and her grandmother's beautiful historic home—drew the couple to Waxhaw.
"We started out saying, 'Gosh, this or that is stupid. Why would they do that here?'" she says. "But after a while, we became pretty protective of Waxhaw."
Other than a few spandex-clad bicyclists, downtown is empty today. The sun shimmers against the water tower that sits back from Main Street. For the most part, Waxhaw's downtown is the usual mix of small-town shops: watch repair, antiques, barbershop. Across the top of one building are five words, painted in big, white block letters: GROCERIES, HARDWARE, FURNITURE, WAGONS & BUGGIES. But there's also a children's art studio, complete with a big sign in the window asking passersby to "like" the shop on Facebook.
Most of the buildings in the downtown bear a small brass plaque, about the size of a postcard, affixed at eye level on the weathered brick. This property has been placed on the National Register of Historic Places by the United States Department of Interior. The marker is more membership card than badge of honor. A building without one stands out far more than those that have them.
"The historic buildings are sacred to us," Diller says. "We fought off a Walmart a few years ago. We fought off an apartment building that looked kinda crummy."
I try to remember the last time I saw one of those little brass plaques on a building in uptown Charlotte. It's hard not to notice the difference between this town's regard for historic buildings and its big-city neighbor's disregard. Waxhaw is proud of this distinction, although the locals don't make a big stink about it.
Waxhaw grew up as a railroad stop, a place to load cotton into carriages bound for big cities such as Richmond and Atlanta. Today, the railroad tracks slice through the center of town, and when a train cha-chunks through, it still brings the town to a stop, just as it must have then.
In the late 1760s, a woman traveling home from burying her husband stopped at a log cabin near the North Carolina-South Carolina border to give birth to a son.
At the time, the area around the cabin was rural. No one had drawn boundaries or conducted a proper survey. The boy, Andrew Jackson, would grow up to be our nation's seventh president. Jackson entered the world either at a family cabin in modern Waxhaw or at a relative's place in nearby Lancaster, South Carolina. Both states lay claim to the presidential birthplace.
The delicate way Waxhaw handles this potentially significant milestone is evident at the Museum of the Waxhaws, just outside downtown.
Cathy Wright, a cheery, middle-aged woman with pink cheeks, greets me. She's dressed in costume—a blue, flower-print dress and a white bonnet. In an amber-lit room to our right, there are exhibits about major events in the area's history.
The town is named after a tribe of Native Americans who lived in what is now Union County. But waves of smallpox and wars with colonists essentially wiped out the Waxhaws by 1720.
As I walk around the room, the exhibit about Jackson sits along one of the walls. It notes the museum does not take a position about the specific location of the president's birth; rather, it chooses to celebrate the fact that Jackson entered the world in the Waxhaws' region.
A family browses the exhibits. They're locals, passing the region's history down to a towheaded girl, about 8 years old.
"We try to keep that alive," Wright says, motioning to the family history lesson happening in front of an exhibit. "So when the new folks come in, because Waxhaw is growing so much, we can help them understand.
"We welcome the growth, but we don't want to lose our history because of it."
Wright tells me about a post office building, nearly 200 years old, that the museum wants to preserve. It's cocooned in a bright blue tarp outside, at the edge of the woods that border the museum property. Weathered wood pokes out into the leaves dotting the ground. "The land it was on was sold, and it was going to be demolished," Wright says. "The museum stepped in and rescued it. But we used every penny we had to save it."
One of the museum's young volunteers says she wants her new neighbors to understand the significance of the places they speed past on the way to work and dates and riding lessons.
Eve Allen, 17, has braces and blue eyes. Wisps of blond hair poke out of her bonnet.
"If you go around Waxhaw, the people understand what happened here, they understand the importance of it all," she says. "If you go to a bigger city, like Charlotte, people will walk by a monument to something and have no idea what it means."
Folks here fear that this mentality will slowly creep into Waxhaw, arriving in the back of U-Hauls alongside leather couches and fancy coffeemakers.
Waxhaw's population grew 370 percent from 2000 to 2010, according to census data and the UNC Charlotte Urban Institute. The town, now at about 10,000 residents, likely will double its current size within the next decade. This is not a new phenomenon, and Waxhaw is certainly not the only small town struggling to preserve its historical identity in the face of new development. But residents here, perhaps more than anywhere else in the Charlotte region, are anxious about it.
"We just don't want to look like Anytown USA," Diller says.
She tells me a good place to understand that angst is Stacks Kitchen, a small diner on the outskirts of town. ("The locals and the Yankees all love it," she says.)
The restaurant sits on N.C. Highway 16, the two-lane road that leads drivers from Charlotte to downtown Waxhaw, passing new neighborhoods that have words such as Plantations and Estates in their names.
For 40 years, the diner was called Angelo's. Four years ago, George Nikitas and his family bought the place and turned it into Stacks.
On this morning, Nikitas is behind the counter, pouring coffee and fresh-squeezed orange juice. He's wearing a black polo shirt and olive jeans. There's a thin gold chain around his neck. His hair is styled and still damp.
The restaurant smells like syrup and hash browns. A metal spatula clinks and slaps against a hot griddle. The dining area is mostly full—a mix of locals in camouflage sweatshirts and Yankees, including one guy who insists for some reason on calling Nikitas "Yorgie."
"There are so many folks who are transplants," Nikitas says. He's soft-spoken, with a hint of an accent from up north. "It's all new homes, people being relocated for their jobs.
"You see what's going on. I mean, we're full. That's great. But what does it do to our quality of life?"
Later, Diller tells me that the land around Stacks could become a mixed-use development, hopefully with space for the restaurant and without the cookie-cutter apartments that dot the drive from Charlotte.
"We don't want to be swallowed up by all that," she says. "We still want to feel our tiny downtown."
From the top of a pedestrian bridge in downtown, Waxhaw still feels tiny. The bridge, which rises about 20 feet off the ground, dates nearly to Reconstruction and was restored in 2008. The wooden boards are painted brown, but they are tan underfoot from years of crossings. In the distance, a train is coming, its engine growing louder. The bridge begins to shake.
As the train rumbles past, cars inch toward one another, impatiently, on either side of the crossing. The train doesn't stop here anymore. It chugs along, rattling the wooden bridge as it passes underneath.
On the other side of the bridge, a couple of metal boxes proffer maps of the historic district. The first is empty, save for a fresh spider web. The second smells like stale cigarettes.
Something is crumpled and dirty at the bottom, but I don't reach in.
This is Waxhaw's challenge.
By now, the sun is burning off the November chill. It turns the metal water tower into a spotlight, focusing thick rods of golden warmth onto the historic buildings below.
I'm curious what happened to the convenience store, the one with the "Fish Bait and Cappuccinos" sign.
"Oh, it's gone," Diller tells me when I call to ask about it. The store is just a pile of bricks now. A developer bought the property a while back. "Something new is going in there soon."
She doesn't say it, but I can tell Diller hopes that whatever comes next will keep with the character of the town—and that means finding the right mix, something like fancy espresso and worms from the rich Waxhaw dirt.
Adam Rhew is a regular contributor to this magazine. Reach him on Twitter: @AdamRhew