Art for Arthritis, The Mini Games, Fright at the Museum, Zumbathon and More, Oct. 15 to Oct. 18
We hope you have your costumes ready, Charlotte. Halloween is still two weeks away, but the costume contests (and more!) start now.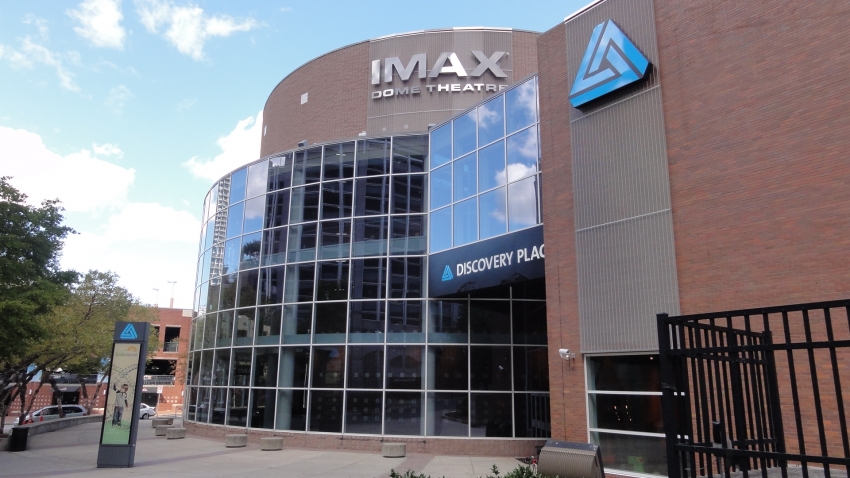 Halloween is just two weeks away, and we're already feeling the spooky evening creep up on us. This weekend features at least two costume contests to get your spook on. And if you're not one for scares, there's plenty of other fests and social events for you, too. Looks like a beautiful one out there, Charlotte. See y'all out there!
Thursday, Oct. 15
Art for Arthritis
The Mint Museum and the Arthritis Foundation are throwing a bash tonight to raise funds to help fight juvenile arthritis. The evening at 500 S. Tryon St. includes an open bar, heavy appetizers and a live auction. Tickets are $75 in advance or $90 at the door. Buy them here.
Friday, Oct. 16
The Mini Games
Get your game face on tonight, Charlotte. Prohibition and RockHouse Events host the first Mini Games, featuring rounds of bar games with chances to win prizes for the top teams. Tickets cost $10 for a team of two, and they include one free drink and entrance to the tournament. Check-in is from 7 p.m. until 7:45 p.m. with the games beginning at 8 p.m. Prohibition is at 200 N. Tryon St. Buy tickets here.
Science on the Rocks: Fright at the Museum
Adults take over this children's museum in the monthly installment of Science on the Rocks. October's event is all about Halloween, featuring spooky science experiments, a Fear Factor challenge, cockroach racing, a zombie shoot-out and a spider web obstacle course. On top of that, there's a costume contest for all the grown-ups, so come dressed in your scariest of costumes. Cash bars are located throughout the museum. The event is from 5 p.m. until 9 p.m. at Discovery Place, 301 N. Tryon St. Tickets are $8 in advance or $10 at the door. Buy them here.
Zumbathon
It's Breast Cancer Awareness Month, in case you hadn't heard, and Gold's Gym and Rooftop 210 are throwing a two-hour "Zumbathon" to help commemorate the month and to raise funds for the Susan G. Komen Foundation. Zumbathon goers are asked to wear pink. The party is from 7 p.m. until 9 p.m. with prizes, giveaways and, of course, Zumba. Tickets are $10, and they include free cover to Suite afterwards. Get your body moving at 210 E. Trade St. Buy your ticket here.
Saturday, Oct. 17
Great Grapes Wine and Food Festival
Rescheduled from the rainy Oct. 3: With more than 200 wines available for sampling, it's probably best you take a sip and not a pour. Nearly two dozen North Carolina wineries will be on hand serving up their finest vino, and they'll pour it into your free souvenir glass. The festival also includes an arts and crafts area, kids zone and, of course, food. The festival is from 11 a.m. until 7 p.m. at Symphony Park, 5440 Carnegie Blvd. Tickets start at $28. Buy them here.
South End Wine Fest
Tip your glass to this fest that features more than 20 local vineyards dishing up their finest vinos. Along with the wine, there will be live music, fashion trucks and food trucks. The fest is at 308 W. Carson Blvd. from 2 p.m. until 6 p.m. Tickets are $35, and you can buy them here.
Brewer's Ball
Here's a chance for you to drink lots of beer and feel good about yourself. Benefitting the Cystic Fibrosis Foundation, the Brewer's Ball features unlimited beer, wine and cider as well as food tastings. The evening also features an auction and other live entertainment. Plus, the event is at Discovery Place, 301 N. Tryon St., so let the inner child in you run loose. The evening starts at 7:30, and you can buy your ticket here.
Back in Time Halloween Season Kickoff Party
To celebrate the 30th anniversary of Back To The Future and the day Marty McFly went to the future, Oct. 21, 2015, On The Roxx is throwing a Back to the Future-themed costume contest. Throw on your best Biff or Doc Brown garb and be ready to get "Back in Time." The party starts at 10 p.m. at 19712 One Norman Drive in Cornelius. There will be $3 Coronas and free cover.
Southeast Crab Feast
Get your bibs and hammers ready for this feast. No, really. This is a BYOM party: Bring Your Own Mallet. For a $29 ticket, you get an all-you-can-eat serving of blue crabs; Low Country boil of shrimp, potatoes, corn and sausage and fish and chips. The event also features music and family-friendly entertainment. The feast is from 4 p.m. until 7 p.m. at Park Road Park, 6220 Park Road. Buy tickets here.
Sunday, Oct. 18
Hola Charlotte Festival
Rescheduled from the rainy Oct. 3: To help commemorate Hispanic Heritage month, Charlotte is pulling out the party hats to celebrate our Hispanic neighbors that help us make Charlotte such a diverse city. The event features food sampling, art, clothing and other cultural items from 15 Latin American countries. The event at the intersection of N. Tryon Street and E. Sixth Street is free, but it's expected to draw 60,000 people this year, so you might want to arrive early. It runs from noon until 7 p.m.
A Life As Bright as the Vegas Nights
No need to head out to Sin City this weekend. Charlotte's bringing the casinos to you. A $60 ticket buys you unlimited beer, wine and appetizers as well as gaming. Plus, the funds are to help two children who just lost their mom. We can get on board to support this one. The night of gambling and drinking starts at 6:30 at Draught, 601 S. Cedar St. Buy your ticket here.
Waggin' Tailgate Corn Hole Tournament
Bring the dogs out and come thirsty to this tournament. A $20 ticket gets you admission to the corn hole tournament, free beer before the games start and a $5 pizza voucher at the True Pizza food truck. The event is from 1 p.m. until 5 p.m. at the Unknown Brewing Co., 1327 S. Mint St. For more information, visit here.
Verify dates, times, prices, and other info at the web addresses listed for each event.
Be sure to bookmark www.charlottemagazine.com/Blogs/Dusk-Till-Dawn to stay plugged into Charlotte's nightlife and social scene. Click here to sign up to receive the weekly Dusk Till Dawn e-newsletter.
Want your event featured in Dusk Till Dawn? Follow me on Twitter @Jared_misner and let me know about your event, or send me an email at dusktilldawnblog@gmail.com.
Send Jared an email at DuskTillDawnblog@gmail.com, or send him a tweet @Jared_Misner.

Also by Jared Misner:

→This Weekend's Social Events
→Bowling For Books, First Friday Fort Mill, Electric Luau Party, Soulmatic Carolina Music Fest and More, Aug. 6 to Aug. 9
→The Moon Walk, Candy Fest, Silly String Party, Booze Cruise and More, July 30 to Aug. 2
→Christmas in July, More Christmas in July, National Dance Day, National Tequila Day and More, July 23 to July 26