Art from on high
The Design Center of the Carolinas is calling all designers for their 2011 Highest Design Contest.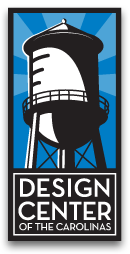 Many artists hope for even just the smallest bit of exposure—at a coffee shop, at a gallery, on the concrete walls of an L.A. subway station, etc.
As you read, Charlotte designers are vying for a spot on one of the most widely-seen spots in town: the Design Center of the Carolinas Water Tower. The DCC is now taking submissions as part of their 2011 Highest Design Contest, the winner of which gets $1,000 cash prize, $5,000 worth of Carolina Pad school supplies donated to the CMS school of their choice, and their design printed onto the 125-foot South End water tower that's in plain sight of every LYNX-rider and bird in town.
This year, the contest is open to Charlotte's design professionals. That is, artists working at ad agencies, photography studios, graphic design companies, printers, local university arts programs, or architecture firms. This means the competition is steep. All contestants are asked to submit an interpretation of the theme "Classic Meets Contemporary" that shows how they've been inspired by the past.
Submissions are due by March 18 via DCC's website, but even if you're not a pro designer, you still get to take part in the festivities. From March 19-April 11, anyone can log on to the site and submit their vote for the design that should be displayed on the water tower. On the April 29 Design Your Life Festival, they'll unveil the winner.
Last year, the design was open to CMS students, and Randy Logan, a 5th grader at Sedgefield Elementary School, who competed with 200 other submissions and was chosen South End residents and business owners.