Art-Inspired Design with Katie Bly
Piano teacher and jewelry designer Katie Bly shares a look at her bright, colorful home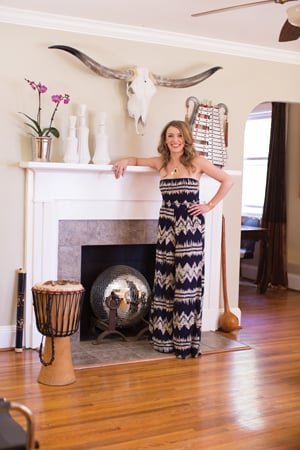 How does your home reflect your personality? I try to make my house a place that conjures creative energy. I keep a dreamcatcher and disco ball in most rooms. Dreamcatchers promote creativity, and the disco ball adds a metallic color, texture, and light. And you're always having a fun time when there's a disco ball around! I think a lot of people under- value the power of interior design and spend more time being expressive with the clothes they wear, but your home should be a space where you want to spend time. It's a creative reflection of you.
How do you approach designing a room? First of all, I try to get to know a space for a while by living in a room without any décor. I start with a color for the walls. I pick a color that just feels right, usually a neutral. I don't see a completed room in my head, but sometimes I have an idea. Of all my rooms, the office [Bly's jewelry design studio] was the most planned. I knew I wanted brass and gold accents. I wanted it to be black and white, with pops of red and yellow. I found the desk at Goodwill, painted it white, and chose a black-and-white Andy Warhol print for the wall.
As an artist, are a lot of things in your home DIY projects? My home is constantly evolving. I like furniture that I can change with a coat of paint. I made the headboard in my bedroom out of plywood covered with fabric. In my office, I've repurposed a lot of serving pieces (deviled egg trays, wine glasses, and a tiered dessert stand) to organize loose jewelry parts. I painted one wall black and then nailed black poultry fencing to it. It's a way to hang my entire inventory out where I can see it. Even if I wasn't hanging jewelry, the fencing adds a nice industrial texture to the room.
How does your jewelry line reflect your style? My home is filled with music and art. I've lived in Charlotte my whole life, but I try to surround myself with as much diverse culture as possible. Recently I've been listening to music from Mali. In my home and in my jewelry design, I have eclectic tastes. I like mixing old with new. I like industrial pieces but also pieces with more of a story. This season, my jewelry is inspired by the patterns and colors of African baskets and gourds. I use tribal shapes like diamonds and triangles and rich colors. I've been working more with raw brass because the color changes over time. It gets a patina and a beautiful matte tone.
How did you create the plant feature wall in your mud room? I call it my succulent wall. There are cacti, agave, and other plants. It was a bare wall, and I wanted to fill it with plants. I took metal rings meant for plumbing and drilled a screw through the back of the ring into the wall to secure the Mason jars. The plants I've chosen don't need a lot of water.
How has your home evolved? My boyfriend, Andy, just moved in with me this February. He works at American Beauty, a garden center in Plaza Midwood, and he has introduced more plants into our home. One thing that's been on our minds lately is that we don't want to have such a separation from the outdoors. It's amazing how being surrounded by plants has changed the energy in the house. It's so calming.
What are some of your favorite places to shop for your home? A lot of the things in my home are thrift-store finds. I shop a lot at the Habitat ReStore, Fifteen Ten Antiques on Central Avenue, or Value Village. I buy old lamps and get new shades and do a lot of paint touch-ups and repairs. Most of my fabric comes from Tony's Fine Décor Fabrics in Huntersville, where fabric is often $6.99 a yard.