Art of Ink
One of the world's best tattoo artists is making his mark on Charlotte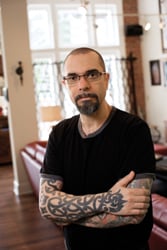 Tattoos last forever. So if you want to ink without regret, it's a good idea to hire someone with some serious art credentials to wield the needle. Paris Pierides, owner of Paris Tattoos (18 20 South Blvd., Ste. 102, 704-910-1929), moved to the United States from his native Cyprus in 2008, just after winning an EB1 visa, which is awarded for extraordinary artistic ability. In March 2010, he opened his shop on South Boulevard after a friend suggested they move down from New York. "There are some of the best tattoo artists in the United States here in Charlotte," says Pierides.
Pierides is revered among tattoo enthusiasts for his incredibly realistic renditions, as well as his surrealist work that would look just as at home on a canvas as it does on your bicep. "I like classical paintings and sculptures, and the great masters of the Renaissance. I try to put a modern twist on all of [it]." How does he get his version of Da Vinci onto your left shoulder? "Sometimes I'll draw straight onto the skin [with a ballpoint pen], draw and erase, draw and erase until it sits well. Sometimes I'll stencil it on paper first, and sometimes it's entirely freehand."
Want an original work of art inked on your body? Rates are $125 per hour for black and gray and $150 per hour for color.
Tattoo Tip: According to Pierides, tattoos with even a little detail should be at least the size of a matchbox. More intricate designs should be done at a scale of six to seven inches or more if you want to keep the details from blurring later.