Art Review: McColl Center's New Works / Alumni Two
Plus: other shows and exhibitions coming up in Charlotte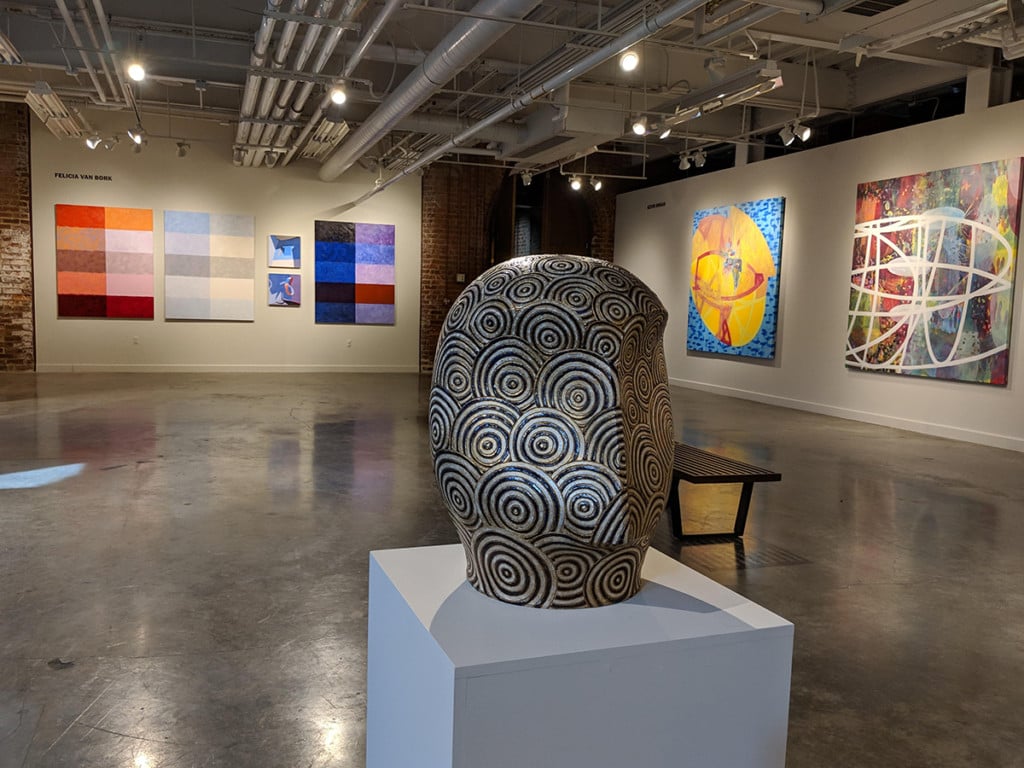 THERE ARE several commonalities among the artists in McColl Center's latest show, New Works / Alumni Two. All three live in North Carolina, yet are natives of other countries (respectively, Canada, Japan, and England). Each is a notable former resident at McColl Center for Art + Innovation. And most importantly, the practices of each artist transport the viewer through explorations of color and form. Visiting curator Tom Stanley has assembled a dazzling display from the works of Felicia van Bork, Tomoo Kitamura, and Kevin Hogan in the venue's first-floor exhibition space, the second in a series of alumni shows helping to mark the 20th year for the McColl. (Stanley notably has his own practice in which self-portrait is crafted in abstraction.)
Viewers are greeted by pieces from the Reflections series, from Concord's Kitamura. The two- and three-dimensional works showcase his talents in both ceramics and oil paintings, as massive sculptures, resembling heads, take on the properties of the paintings they're facing. The multidisciplinary artist creates a conversation between mediums—and forged by his hand, one between humanity and their surroundings.
Across the room, Van Bork's absorbing "Color Grid" paintings examine relationships between hues and compel the viewer into a near-meditative space. These works have aren't as clinical or rigid as the "Color Charts" of Gerhard Richter, yet a similar sense of curiosity is present. Alongside these works are the autobiographical monotype collages for which van Bork is best known, which transport and offer personal puzzles for the viewers to solve.
Nearby, Kevin Hogan's massive paintings continue a Modernist thread, his shapes and lines toying with depth. The tether between these three distinct works on display is a careful consideration of how these elements interact with one another on each canvas. As with the others, the effect can be lost when viewing the works on third-party technology.
As a single show, New Works / Alumni Two gives viewers a chance to step out of their hardwired notions of place—and to allow each person to reconsider his or her role as a simple gallery visitor. Instead, through just a handful of vessels crafted by these artists, they can converse and traverse far beyond the McColl's walls.
---
COMING UP IN CHARLOTTE:
Ty Nathan Clark at Sozo Gallery (Feb. 15)
Jen Ray at SOCO Gallery (Feb. 20)
Amy Herman + Micah Cash at Hodges Taylor (March 1)