"Art Saved My Life"
Artist Edwin Gil Celebrates "Trova Cubana" Feb 23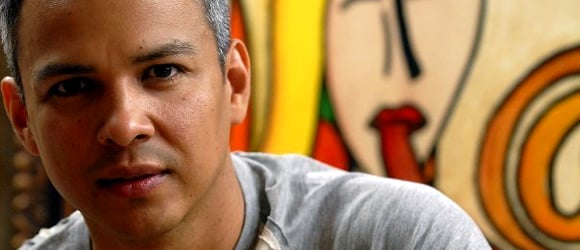 Edwin Gil arrived in the United States eleven years ago without knowing English or having any money. That move came after his life partner was killed in front of him in Colombia and two attempts were made on his own life. But it wasn't leaving Colombia that saved his life. Gil left will tell you that art saved him.
The contemporary conceptual artist is best known for his vibrant colors and the depth and movement in his works. He's also a social activist who uses his art to bridge cultures. His Con 'A' de Arte (A For Art) and Art Si (Art Yes), done in conjunction with the Public Library of Charlotte and Mecklenburg County, connects youth and promotes art as a vehicle to bring about social change. Gil's Home Sweet Home project involved the children of the Charlotte school system in the creation of a giant mural.
On Feb 23 from 6 to 9 p.m., Gil and Ana Lucia Divins are hosting what he calls "a night of music, inspiration, and friendship to evoke the many memories, stories, and connections inspired by Trova Cubana, a movement and genre that originated in Cuba."
Trova Cubana is a combination of song, guitars, and poetic lyrics created by Bohemian songwriters with a strong sense of social justice. The event takes place at the Gil Gallery at 109 W. Morehead Street.
Admission is free, but guests are asked to bring a bottle of wine and light snacks to share. Singers and musicians are asked to come prepared to share songs.
To learn more, visit www.edwingil.com