Arthur Smith and Me
What the music legend was really saying all those mornings on the radio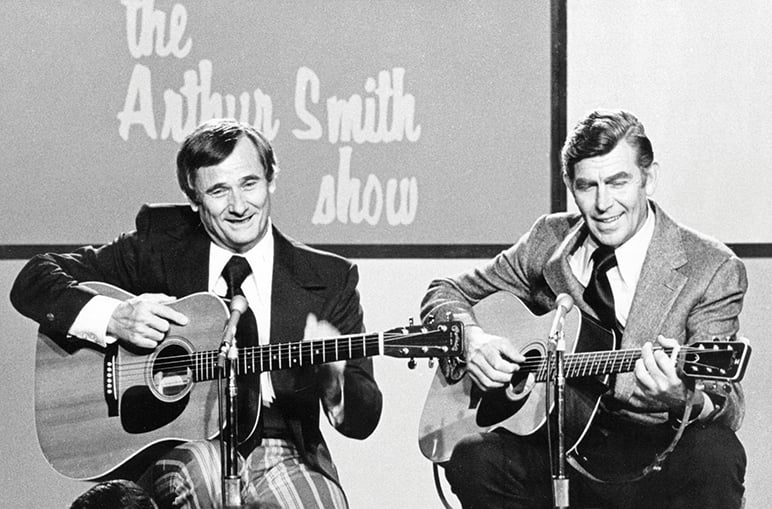 This was 1976. I was 23 years old, a Jewish kid from the New York City area who had just moved to Morganton, North Carolina, trying to build a career as a newspaper reporter, not knowing a soul, feeling lost and alone in a small town in the Blue Ridge Mountains, wondering whether the Carolinas were really the place to call home.
That's when Arthur Smith, a legend in old-time country music, came into my life. It wasn't Arthur exactly. It was his voice on the radio, awakening me each morning with a call to get up. To get started. To know it's going to be OK. "This is the day the Lord has made, rejoice and be glad in it," he'd sing in a Southern rasp at the opening of his Top of the Morning radio show. Then he'd share a few words of Christian inspiration, sell some Bost's Bread, and sign off until the next morning. Five mornings a week for two years, it was Arthur and me. To a kid raised on Cousin Brucie spinning rock 'n' roll records on WABC Radio in New York, Arthur's show and the song he'd sing at the start were quaint. But the experience was more than that. Arthur was talking directly to me, walking with me through some lonely times, leading me to believe I had found a home.
Arthur Smith passed away at his south Charlotte home in April. He was 93. If you're under the age of 40, you might have heard the news and thought to yourself, "Arthur who?" He wrote "Feuding Banjos," which later became known as "Dueling Banjos," the bluegrass instrumental made famous in the film Deliverance. He hosted The Arthur Smith Show, a popular variety show that aired on WBTV from 1951 to 1982. People across the Carolinas grew to know Smith through their television sets, while sitting with their families cross-legged on the living room floor. He was backed by his band, the Crackerjacks. Andy Griffith was a guest. So was Richard Nixon, who played "Home on the Range" on the piano. Arthur also wrote the country instrumental classic, "Guitar Boogie," which was performed in 1957 by a guitar player and his band, The Quarrymen, in Liverpool, England. Paul McCartney went on to have a pretty fair career after that.
Music historians credit Arthur with fusing Dixieland, blues, and country music in a way that connected the Western swing of the 1940s with the rockabilly sound born in the 1950s. The country and bluegrass instrumentals he wrote and performed inspired some of the greatest country musicians, among them Glen Campbell, Roy Clark, and Vince Gill.
To me, though, Arthur Smith was more than a guy who played the guitar, wrote songs, and hosted an old-timey, syndicated TV show. More than a relic from the past. He was a voice of comfort, and a thread that would run through the story of my life.
***
I look back on that radio show and those mornings in Morganton as a springboard to a new life. Thirty-eight years ago in Morganton, I fell in love—with the Carolinas, with newspapers, and, best of all, with Sharon. She was selling ads at The News Herald, a five-afternoons-a-week hometown paper. I was a cops and courthouse reporter. We married in 1979. She'd grown up in the country, on a farm north of Statesville. She and her brother and sister grew up watching Arthur's television show on WBTV. I recall with a smile that first meeting with her dad, who raised beef cattle. He took one look at an optometrist's son from New York and said to himself, "He won't be worth a darn on the farm."
Newspapers took Sharon and me from Morganton to Shelby (great barbecue!) to Laurens, South Carolina, and finally to Charlotte in 1985, hoping to put down roots in a good and growing city with our two young children. I started at The Charlotte Observer laying out sports pages nights and weekends, finishing my shift at 1 in the morning, taking our two kids to preschool at 9 the next morning, sharing lunch and All My Children with Sharon, then doing it all over again. The lowest moment? When an editor put me on Saturday nights, saying, "We put our best people on weekends," like I'd fall for that. But you get to move around on a metro newspaper, and in 1992 the Observer "suggested" I take over the religion beat. Apparently, no one else wanted it. A Bar Mitzvah boy from New York covering Baptists and Billy Graham in the Bible Belt? Yes, the editors had a sense of humor.
But they gave me a chance to meet Arthur Smith.
***
Arthur and his wife, Dorothy, taught a popular Sunday school class for about 30 years at Calvary Church. As if it needed any more attention, the mammoth church at Rea Road and N.C. Highway 51 had a pink facade. Back then, Calvary was immersed in financial woes and furor over the pastor, and I'd find myself there on Sundays, interviewing church members and filing stories. I'd call Arthur to pick his brain, and the conversation invariably took us back to his TV and radio days, Deliverance, and his friend, Johnny Cash, a hero of mine. I think Arthur was touched when I told him about how his radio show welcomed me to the South. I know his raspy drawl brought back tender memories for me.
Our relationship—part professional, part friendship—deepened. I'd call to ask him how things were going at Calvary, and he'd share his views off the record. He and I spent an afternoon at his house and office off Carmel Road for a story. He'd call me to go to lunch at the City Club with his son, Clay, to talk about their latest venture, a gospel CD or a reunion concert with some old band members. They were hoping I'd spread the word. I always did, because even if his name didn't resonate with the flood of young newcomers to Charlotte, it resonated with me and many other graying Carolinians.
When I left the paper in 2006 to go into church work, I'd run into Clay or another family member and ask how Arthur was doing. A week before he died on April 3, the family called and asked me to write his obituary. Thirty-eight years after he beckoned me on the radio to rejoice in a new day, a new life, I shared the news of his death, rereading old newspaper clips but relying mostly on personal memories to tell the story of his life.
***
I think about how blessed I am. A wonderful wife, two great kids and their spouses, a new granddaughter, good health, a calling found long ago in telling stories. I suppose it all could have come to pass if I hadn't made a home in the Carolinas, if I hadn't been captured by the warmth I found a lifetime ago, when a voice came on the radio. But here is where I found everything I had come for. Here, thank God, I found home.
I was about a thousand words into Arthur Smith's obituary when I got to Top of the Morning, the radio show he'd open by singing "This is the day the Lord has made, rejoice and be glad in it … ." I thought about all the people who tuned in long ago. In the obituary I wrote that there is no way to know how many of us took comfort in Arthur's voice, and in his hopeful words. That's when I finally understood: It wasn't just Arthur and me. It was all of us, rejoicing together.
Ken Garfield is director of communications at Myers Park United Methodist Church in Charlotte and a frequent contributor to Charlotte magazine. Former religion editor at The Charlotte Observer, he's the author of Billy Graham: A Life In Pictures, and also writes obituaries.