Artist Reception & Extended Shopping Hours at Slate Interiors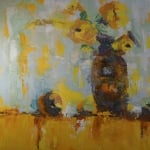 Friday just got more fun. This week, we'll be saying, "TGIF" to the fact that Slate Interiors will extend its shopping hours as it hosts a reception for June's featured artist, Sharon Hockfield. Her style is, above all, full of life, and it's underscored by her subjects—figures, flowers, and landscapes—and her technique—lush, thick strokes.
While you peruse Hockfield's work, you can pick up pretty knick-knacks, one-of-a-kind antiques, and cool modern pieces for your summer digs. Bonus: fill up on "Food to die for" by Melissa Myer.
1401 Central Ave, Ste. 102; 704-930-7890