ARTS: 10 Things You Can't Miss in November 2018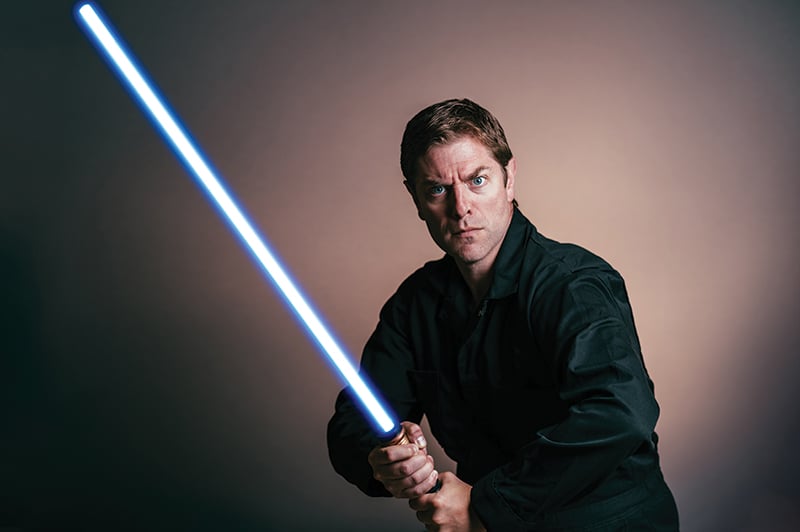 One Man Star Wars Trilogy
November 16-18
At Booth Playhouse, Charles Ross performs a condensed version of three Star Wars films without costumes, sets, props, and most notably, any other actors.
---
An Interactive Photography Exhibition at the Gantt
Through March 2
Hank Willis Thomas: What We Ask Is Simple is one of the exhibitions at the Harvey B. Gantt Center for African-American Arts + Culture this fall. Thomas manipulates archival photos and screenprints them on retroreflective vinyl. The resulting work is best seen in the dark with a provided flashlight in hand to reveal the details of the piece. In one work, the words on protest signs appear when a light is pointed toward it; on another, a sparse crowd becomes packed. The reflective technology is the same used on street signs.
---
Art Terms Defined: Mixed-Media
Through November 30
Works from Rachel Meginnes and Thomas Schmidt are on exhibit in the show MAKE/SHIFT at Hodges Taylor Art Consultancy. Meginnes' work offers an example of "mixed-media" paintings. This term refers to using various forms of media in a single piece of work. A single painting by Meginnes may use fabrics, thread, classical paint, and other visual materials.
---
By the Numbers: John Cleese
November 19
When Cleese comes to Ovens Auditorium this month, he brings six decades of comedy experience to Charlotte. Get to know the Monty Python co-founder better with these facts:
79: Cleese's age. He and the rest of "The Pythons" formed their beloved troupe in the late 1960s when Cleese was 29.
$7,541,965,259: The worldwide box office sum for the 50 films in which Cleese has acted.
12: Episodes in Fawlty Towers, a British sitcom in the 1970s that garnered multiple BAFTA awards. Cleese starred, co-wrote, and co-created the show.
---
Framing an Argument at the Bechtler​
Through February 17
Framing It!, on display at the Bechtler Museum of Modern Art, explores how framing and other decisions add both value and context to a piece of art. "Many factors must be weighed when exhibiting a work of art, from framing to installation to critical contextualization," the museum says. "A clumsy frame can transform a masterpiece into a visual offense while an elegant one can elevate an average picture into a showstopper."
---
Playlist: Infinite Indie
Alternative listeners have lots of options for indie rock shows this month. We've narrowed it down to these five:
1. "The Night Comes Again" – St. Lucia
(The Underground, November 2)
2. "Ellipsis" – Hectorina
(Snug Harbor, November 3)
3. "Hands on the Radio" – The Weeks
(Visulite Theatre, November 8)
4. "Telescope" – Dawes
(The Underground, November 14)
5. "Honey Moon" – Mac DeMarco
(McGlohon Theater, November 20)