Arts & Leisure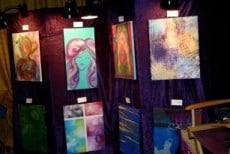 We are so close to that magical moment on the first Friday of September when professionals and students dance out of their offices and schools and fling themselves onto the nearest hammock for Labor Day Weekend. It's just the weekend we all need to quell the back-to-school or end-of-summer mopes, and one of the few left wherein you might have time leftover after geting a haircut and fixing the downstairs TV. And what better way to spend the extra leisure time than getting a little (not too much, we promise) cultural exposure. Charlotte is crawling with local art events this weekend, from which we've selected three for this weekend's Top Picks.
Historic South End Gallery Crawl
Charlotte's weekend of art and leisure deserves a proper kick-off, one that fuses stress cure-alls—pssst….we mean wine!—with the best of Charlotte's galleries. Friday night's Historic South End Gallery Crawl, presented by Historic South End and Charlotte Center City Partners, has rallied the neighborhood's galleries to put their best Southern hospitality on display for the night. You'll find refreshments—again, wine—artist meet-and-greets, and live entertainment at neighborhood galleries like the Hacker Studio Gallery, The Gil Gallery, and Art Charlotte. Charlotte NC Tours is even offering a ghost tour of the neighborhood, where, if you're lucky, you might see the Ghosts of Schmoozers Past.
Ziad Jazz Quartet at the Bechtler
Chances are that if you heard about the jazz shows at the Bechtler Museum of Modern Art on the first Friday of every month, you wistfully said to yourself, "next time I have a free weekend, I should check that out." Well, dreamers, Labor Day Weekend is about as free as they come, and you were right: you should check this out. With a program including mainstream jazz favorites like Coltrane, Davis, Gillespie, and Monk, the local Ziad Jazz Quartet is performing an after-hours concert in the Bechtler's lobby; while they play, you can peruse the museum's collection of abstract, mid-20th century paintings and sculptures.
NoDaRioty's All Arts Market
While we're all about promoting local arts, we fully understand that one of the essential relaxants of any vacation (even mini, stay-in-town ones) is retail therapy. NoDaRioty, the arts committee for the Historic North Charlotte Neighborhood Association, is hosting the third of its four annual All Arts Market events. The Neighborhood Theatre is cleaning house for two days to host over 90 local artists, from jewelry crafters, to watercolor painters, to ceramics artists. Vendors will put all their work on display for show and (more importantly) for sale. It's one of your best bets of the month for finding unique accessories, home decor, or (for you mutant, selfless shoppers out there) gifts.