Artspace 525 Debuts Charlotte Self-Portraits (And The Weekday Roundup)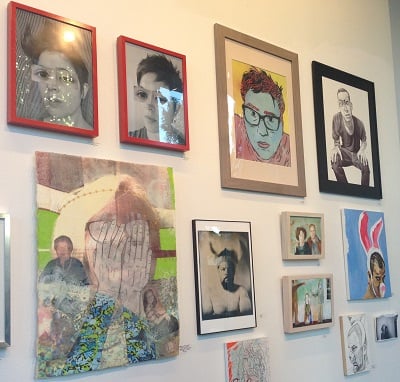 Sixteen artists get introspective with the exhibit Reflection Once Removed: Self Portraits, occupying artspace 525 over the next month. Mediums including drawing, painting, photography, and multimedia. Artists include Amy Bagwell, Ellis Graham Busch, Graham Carew, Gregory Banks, Holly Keogh, Jenny Hanson, Jill Martin, Laurie Schorr, Lee Herrera, Molly Wilbanks, Pamela Winegard, Pete Hurdle, Rae LeGrone, Sarah Pollock, Sharon Dowell, Taryn Rubin, and Troy Tomlinson.
Artspace 525, which opened in March, regularly serves as headquarters for Bagwell's Wall Poems of Charlotte. Dowell also had a residency at the space, working on projects there through the summer. The small retail space is ideal for exhibits like Reflection Once Removed, running until Nov. 23, occupying the intimate backdrop with varied sizes.
You can schedule an appointment by contacting artspace525@gmail.com, or stopping by the space when it's occupied throughout weekdays.
MONDAY
TWO
This Lark & Key exhibit focuses on work created by nine couples. Mixed-media works come from pairs like Elizabeth Foster and Andy Detwiler, Vicki and Daniel Essig, and Sandy Snead and Duy Huynh, who are the owners of the gallery.
TUESDAY
LGTBQ: PERSPECTIVES ON EQUALITY
Read more about that latest set of Levine Museum of the New South exhibits here. Here's an excerpt from a piece in the June issue: "A new series of exhibits at Levine Museum of the New South, LGBTQ: Perspectives on Equality, examines Pauli Murray's life and those of other groundbreaking North Carolinians. The LGBTQ project is the first local museum series of its kind, offering historic, personal, and artistic views on lesbian, gay, and transgender life in the region."
WEDNESDAY
BRAND NEW
Indie rock outfit Brand New released their last record, Daisy, in 2009, but the band is rumored to be working on new material for a 2015 release. They're joined in Charlotte by Foxing and Cymbals Eat Guitars.
THURSDAY
CHARLOTTE SYMPHONY: BEETHOVEN'S "EMPEROR"
It's a busy month for the symphony, and it offers one more event before closing out October. One selection performed is obvious by the title for this event, but Wagner and Strauss also make appearances. Pianist Abdel Rahman El Bacha is featured.