'As a Courtesy'
In the N.C. Senate, the conditional rule of open meetings law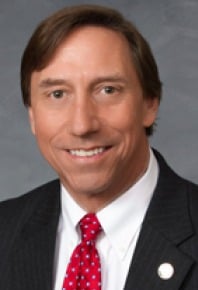 First came the new rules designed to force Moral Monday protestors at the Legislative Building in Raleigh to petition their government for a redress of grievances quietly and respectfully, in the manner of obedient kindergartners.
Now North Carolina legislators are having journalists' recorders confiscated, in apparent obvious violation of the state's open meetings law.
As WRAL's Mark Binker reported this afternoon, the incident went down during an open meeting of the Senate Commerce Committee:
"One other housekeeping (item), if I may. As a courtesy, all individuals with recording devices, whether audio or video, are required to be approved by the sergeant-at-arms," Sen. Rick Gunn, R-Alamance, said roughly 45 minutes into the two-hour meeting.
A minute or so after that announcement, Rose Hoban, a reporter with North Carolina Health News, noticed that her recorder, which she had placed on a side table, was missing.
"I've never been restricted from recording before," said Hoban, who was a reporter for WUNC Radio before starting N.C. Health News in 2011.
She had to leave the meeting to retrieve her recorder. During the interim, several reporters asked questions about the action and announcement over social media. WRAL News asked Senate President Pro Tem Phil Berger's office whether there was some sort of new policy. A spokeswoman for Berger referred questions back to Gunn.
Mike Tadych, a lawyer who works for a number of media outlets, said the state's open meetings laws provides that they may be recorded.
"Presuming that you're in a meeting that's to be open under North Carolina law, there should be no additional requirement to have recording equipment approved," Tadych said.
Members of the press who have covered the legislature for years cannot remember such a rule being enforced.
Gunn could not cite a building rule or law that would have justified his announcement.
"The sergeant-at-arms department just likes people to identify," he said …
I'll bet. Rose Hoban actually founded North Carolina Health News, an independent, nonprofit organization that covers health care; Hoban is a former nurse and ex-health reporter for North Carolina Public Radio. She's done some admirable work on health and administration, including this piece of investigative journalism last year that revealed the McCrory Administration's efforts to skew information about the state's Medicaid program, the better to justify cutting it.
She is, in other words, a fairly convenient target for harassment and/or intimidation. I'm sure she got her recorder back, and it'll all be dismissed as a misunderstanding.
And, wouldn't you know: No sooner had I written the last sentence when I rechecked the WRAL story and discovered this update:
Philip King, the Senate sergeant-at-arms who oversees the staff that works during meetings, said he could not speak immediately as to why the recorder was taken or what happened during the committee meeting. He did say that his staff had been more vigilant after recorders were discovered in meeting rooms before and after committees were convened.
"We have had situations where we thought the recording device was placed there at a time that was not a public meeting," King said, worried that the objective might be to catch a lawmaker in an off-the-cuff moment.
Later in the day, Sen. Tom Apodaca, R-Henderson, the Senate Rules chairman, confirmed there was no building rule or other legislative rule that would [have] required reporters or members of the public to register their recording devices with the sergeant-at-arms' staff. He confirmed King's statement that there had been concerns about people leaving recording devices and other equipment around the building, but no rule banned taping [the] meeting.
Apodaca said Gunn "misinterpreted" those concerns, leading to his actions Tuesday.
OK. So maybe it actually was a misunderstanding—although it's not exactly heartening for a state senator to be that clueless about open meetings law.
Because here's the thing about that law, or any other: It applies whether the legislature's security team "likes people to identify" or demands acts of "courtesy." Reporters don't have to ask permission. They don't have to be nice or respectful. They have a right to be there and do their jobs, just like the Moral Monday protestors—and rights don't depend on the preferences or whims of people in power.