As Charlotte Changes, Painter David French Captures Adored—And Demolished—Landmarks
'It can be kind of hard on your heart sometimes,' the improbable archivist says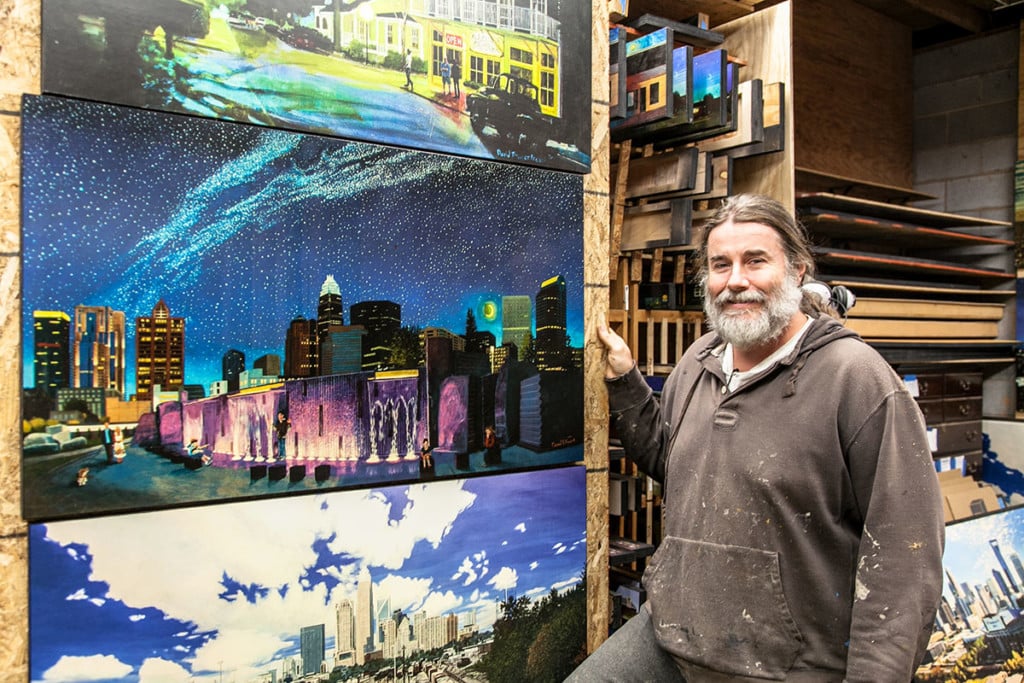 AFTER A LONG NIGHT OUT, Tom and Dee Burrell would always end up at the Penguin Drive-In, its spinning black, red, and white sign like a Polaris in the sky guiding them home. The father and daughter would sit at the bar as night melted into morning and sip coffee until Dee was alert enough to drive.
It's been a while since Dee's been able to do that with Tom. He died in 2006.
On the second anniversary of his death, a friend surprised Dee with a painting of The Penguin by an emerging local artist, David French, who paints imaginative cityscapes of Charlotte and cherished neighborhood spots.
"I cried before I could talk about it," Dee says now. "It has hung in my living room since then. I look at it every day. I can't think about The Penguin without thinking about Dad."
Charlotte's rapid growth in the past decade has only given French more subjects to paint as businesses open and neighborhoods expand. He paints more breweries now, and he has to paint the skyline at least every six months, "or else they're outdated," he says. French himself has grown into something of a local landmark, gaining fame and affection from Charlotteans for his paintings of the city's landmarks.
Increasingly, though, the subjects of French's paintings have become victims of Charlotte's voracious growth. The list of his work has begun to read like a commercial graveyard, a visual obituary of what once was. Phat Burrito. John's Country Kitchen. The Penguin.
The unfussy burger joint with a jukebox in the corner that had been there since 1954 was replaced by a trendy Mexican restaurant with bite-sized tacos and tamarind-flavored cocktails, then by a Rhode Island-Southern fusion restaurant that serves $22 "lobsta" rolls—all in five years.
"It can be kind of hard on your heart sometimes," French, 43, says in his NoDa studio.
You feel the evolution most viscerally in his nighttime streetscapes. The long, thin paintings capture a changed North Davidson Street, an unrecognizable Fifth Street, and the Elizabeth Avenue of a decade ago.
"The streetscapes are the ones that will truly show you the change in time in Charlotte," French says. "One place might stay for a long time, but the whole street never stays."
French thinks of his work as more than a visual time capsule, though. His art is a historical record of the city's successes, failures, investments, and indifference.
His East Boulevard streetscape remains mostly unchanged. JJ's Red Hots shines bright next to Lebowski's, and Showmars is still down the road. But in one painting of uptown, long-forgotten spots like Phil's and Town Tavern fill 75 percent of the frame.
Whether the spaces are still there or bulldozed, forgotten, living only in his art, French says he frequently hears from thankful Charlotteans. "It's like I was painting pictures of their kids," he says. "It's the things they love. It's their family, these places."
---
BRING FRENCH HOME
Want a David French painting for your home? Know someone who would love a painting of The Penguin? Here are a few places to find your own.
Olde Mecklenburg Brewery's Weihnachtsmarkt (Christmas Market) runs during December weekends before Christmas, and French will sell his paintings there.
Stores like Green With Envy, Paper Skyscraper, and Ruby's Gift sell his paintings year-round. Or you can visit his website to purchase prints or contact him about originals.
Blackhawk Hardware is selling a David French ornament ($34.99) again this season based on his painting, "Good Night Charlotte," set in Romare Bearden Park.