Asbury Chef Chris Coleman Taking Over at Marriott
Matthew Krenz will take the helm at The Asbury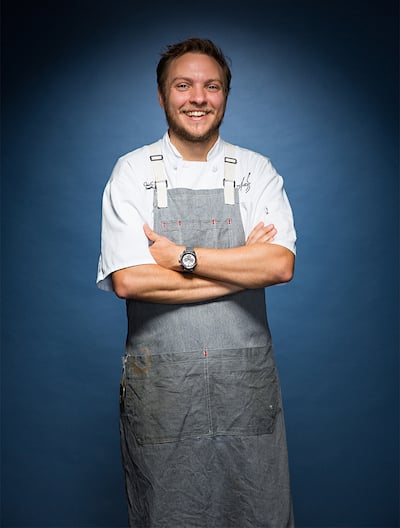 Chris Coleman, executive chef at The Asbury since 2013, is joining Marriott Center City to oversee its culinary programs. Coleman's last day at The Asbury was Friday. The restaurant won a 2016 BOB (Best of the Best) Award for Southern American cuisine, thanks to Coleman's modern interpretations of Southern classics and time-tested bites like Maw Maw's biscuits, which we hope will stay on the menu. Before working at The Asbury, Coleman was executive chef at The McNinch House.
Coleman built strong relationships with local farmers, sourcing most of the restaurant's menu locally. He seems poised to put that experience to use at the Marriott, which has been testing new concepts for possible chain-wide expansion. When the restaurant opens, it will be another new concept for Marriott. Coleman, a Central Piedmont Community College graduate, will also oversee the hotel's daily service to guests, including banquets and events, as he did at The Asbury.
Marriott Center City is renovating its ground floor, which will soon include the new restaurant and bar. The company is hiring for 70 new positions, mostly service industry jobs.
The job was initially offered to Chef R.J. Cooper, a James Beard Award-winner from Washington, D.C. Cooper and Marriott severed their relationship several weeks ago. Cooper is headed to run the new 5Church in Atlanta, as the Charlotte-based restaurant expands.
Coleman leaves his former workplace in good hands; former Chef de Cuisine Matthew Krenz will assume the position of executive chef/culinary director. Krenz's addition to kitchen in September 2014 brought a higher level of creativity and consistency to the menu. The recent addition of sous chef Carl Zimmerman from New York will also help with the transition.