Asheville
In a town known for the arts, the River Arts District along the French Broad River becomes the center of creativity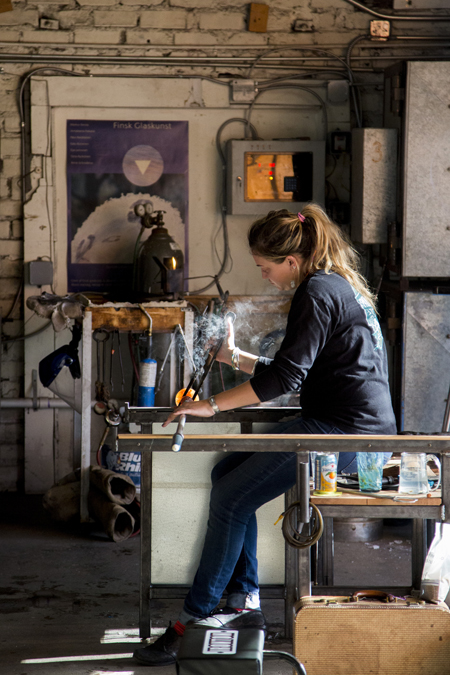 THE COFFEE SHOP is full. A line stretches half-a-dozen people deep in the entryway. Customers slide in the door wearing mismatched toboggans, leg warmers, and scarves, clamoring for a latte or chai tea. Clingman Café in Asheville's River Arts District is like most other neighborhood coffee shops in that it has menus on chalkboards, a case full of pastries, and free Wi-Fi. And yet it's unusual in its selection of artwork adorning the walls. Ceramics and glassware and metalwork. On each table is a $35 bouquet made out of buttons.
Pattiy Torno enters the coffee shop in a coat covered with flowers made of tiny stitches in colorful thread. She takes a seat in the middle of the dining room. The midmorning clatter swirls around her.
Over there, she says, leaning her head to the right, is Josh Copus. He's the founder of Clayspace Co-op, less than a quarter mile up the street. He has a fine arts degree, digs his own clay, and builds wood-burning kilns.
Torno is an artist herself. Textiles are her medium. She moved to Asheville in 1984. In search of an affordable, warmer alternative to New York, she found a 3,000-square-foot loft in downtown for $300 a month. Nothing was going on downtown then, she says. Two restaurants were open for dinner. Less than 10 years later, though, revitalization efforts began to change the environment around Lexington, Biltmore, and Patton avenues. Her rent went up. Nights got noisier. So Torno, along with other Asheville artists, looked beyond downtown. They found a sleepy industrial district on the west side along the French Broad River and the railroad tracks. They bought old warehouses that were once mechanic shops and feed mills. They refurbished those warehouses and rented space to fellow artists at affordable rates.
Twenty buildings now function as multiartist and solo studios, and more than 200 artists practice their crafts here in what is now known around the region as the River Arts District.
Locals like it because they can find a parking spot and eat dinner at All Souls Pizza without a reservation. Tourists like it because it's different from where they came. It's about two hours and 10 minutes from Charlotte. It kind of feels like the NoDa neighborhood, but it's more, well, artsy.
Inside Broken Road Studio, Philip DeAngelo considers himself the unofficial neighborhood greeter. His shop on Roberts Street is one of the first things you see as you approach the district from downtown. DeAngelo stands in the front window painting with acrylics. He puts down his brush and picks up his coffee mug made by Barbara Perez, whose studio is down the street. His wife, Tina, and dog, Stout, emerge from the back office to say hello. They rarely buy from galleries anymore, DeAngelo says. It means more to build their personal collection with work from their neighbors.
Jonas Gerard moved to Asheville in 2006. The 73-year-old abstract painter now operates two studios in the River Arts District. He puts on demonstrations in which wide-eyed people watch him sling paint as he moves to music. He completes three pieces in 90 minutes. One canvas can sell for $10,000.
"I did festivals," Gerard says. "But there was no need to when I moved to Asheville. Everybody visits Asheville."
Asheville has been called Beer City USA and one of America's Foodiest Small Towns. Outsiders have heard the hype. Asheville's population of 85,000 people is expected to gain 10,000 residents by 2020.
The River Arts District is changing, too. New Belgium Brewing Company is building a 150,000-square-foot brewery just across the river. The city plans to invest $45 million in and around the District in the next five years. The artists who came to the outskirts now need infrastructure, such as public restrooms, greenways, and walking maps, to support tourists.
"When all of the changes occur, we'll have to say, 'Does the River Arts District still work as a model?' " Torno says.
She calls herself an opportunist. "You just figure it out," she says. When she bought her property here in 1989, it was her second piece of real estate, the other being her house. She turned the building into CURVE studios, which now houses a dozen artists, including her. One of the CURVE studios became vacant at the end of January.
"I'm not sure what that space will become," she says, "but I want it to be something great."
Sitting inside a cafe that was once a pool hall, surrounded by artists and artwork and creative energy, you can't help but believe that it will.
Leah Hughes is a freelance journalist in Charlotte. Reach her at leahchughes@gmail.com, or on Twitter: @HughesLeahC.
Where?
River Arts District, Asheville
How far?
125 miles, 2 hours and 10 minutes
What's along the way?
U.S. Highway 74 passes right by Shelby. The Earl Scruggs Center opened in January 2014 in Shelby's historic Cleveland County Courthouse. The center tells the life story of Scruggs, a Cleveland County native, and his signature three-finger banjo-playing style. It also tells the story of the surrounding region and its culture, which helped shape Scruggs' sound. earlscruggscenter.org
Want to learn more?
River Arts District Artists: riverartsdistrict.com; Buncombe County Tourism Development Authority: exploreasheville.com, 828-258-6129

Dustin Fowler, ceramist at Clayspace, begins the process of making a bowl, which will later be fired in a kiln.
---

After Jonas Gerard slaps the extra paint off of his brushes, he'll take the trash liner and turn it into a piece of artwork.
---

The ceramics work of Jon Arsenault of Youngs Cove Pottery.
---

Kristin Schoonover shapes the edges of a dish at Clayspace Co-op.
---

The smooth and quiet rhythms of making art: JoAnna Carroll puts the finishing touches on a mug at Odyssey Studios.