Ask the Expert: Art Aspects' Mark Boyd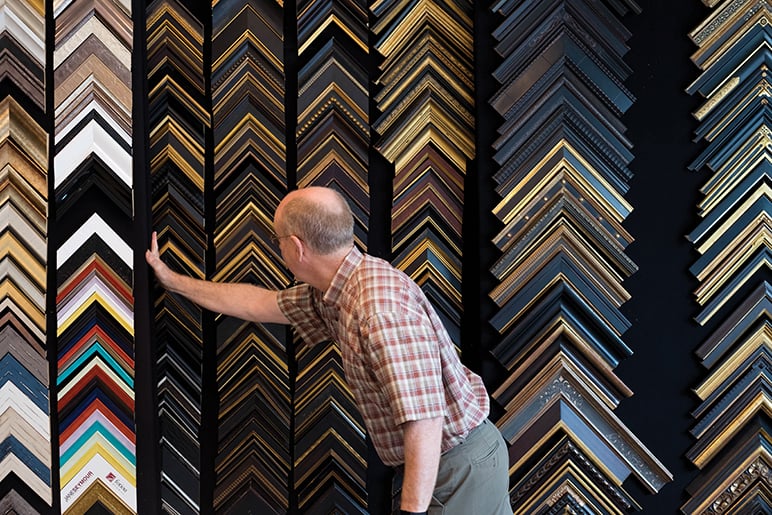 SINCE 1998, Mark Boyd has been president of Art Aspects, a framing business that's served Charlotte for 38 years. Firsttime art collectors, a restaurateur who wants her dining room's artwork to look just right, even Charlotte's most prominent museums and galleries choose to work with Art Aspects. (Jerald Melberg Gallery, located in the same Cotswold plaza as the framing store, and uptown museums are repeat customers.) Since starting at the shop, Boyd has seen Charlotte's cultural community transition through the years. He's also worked on various types of art—"every conceivable type, size, and medium," he says.
The shop has more than 6,000 frames from the United States (including North Carolina), South America, and England. Here, Boyd explains the art of framing art.
You guys have been around since 1977. Charlotte's changed a lot since then, hasn't it?
The art business in Charlotte is a lot different than it was 35 years ago—so much is happening. There are a lot of galleries here, and, of course, places like the Bechtler didn't exist even 10 years ago. It's a lot more supportive of the arts than it used to be.
What was your background before 1998, when you took over as president at Art Aspects?
Well, I've been with the business since 1988. But before that, I was in sales for a while, and then I also helped a friend open an art gallery along the way. So I was familiar with the general arts industry. I grew up with the musical industry, which is of course affiliated with the arts. I sort of have a background with this my entire life.
How do you handle sensitive works of art?
Well, it's important to treat the art respectfully. We're an archival shop, so everything we use is completely acid-free and reversible. You don't want to do anything to a piece of art that affects it negatively or can't be reversed in time. That means all acid-free materials, conservation-grade glass that prohibits ultraviolet light, when that's appropriate, and just a well-trained and knowledgeable staff so we know how to treat every kind of art that comes through.
What are the thrills of the job?
It's uncovering (the art) once it's all done and seeing how happy the customer is. And it's purely the enjoyment of seeing all these kinds of art. Every piece that comes in is different. There's never a boring day here, because all art varies.
What questions should someone ask if he or she is getting art framed for the first time?
There's never just one right way to frame a piece of art. It's a subjective business. So there are different options. Do you need the finished product to be larger than it is already? Do you need it to keep the same size it is already? Do you want it (to have) a formal or casual look? Within the context of what's appropriate for the art, we can also consider things like personal taste. Are you more traditional, or contemporary, or even transitional?
Again, there's never one right way to frame a piece of art. There may be just a couple ways to do it, but it's pretty obvious in the conversation with the customer what they respond to. As long as we can keep the frame appropriate for the art, we can consider other things. The artwork has to come fi rst. If the frame doesn't work with the art, it's not going work wherever you hang it.
Do you ever end up talking someone out of a decision?
Periodically. [Laughs.] But again, that's when it's within the context to educate the customer on when it's appropriate to do some things or inappropriate to do others. When a customer leaves here with a framed piece of art and goes home and hangs it, I want them to come back with something different. I don't ever want to see that piece of art again. If we treated it correctly, it's going to look just as good 50 years from now as it does today. The goal is long-term design that works with the art.
I want you to understand what went into the frame, what materials we're using, and why it's appropriate for the art. If you're working with an interior designer, then it's important to get them involved in the framing project. They have an experienced design eye and can further educate the consumer on why we're doing certain things with the art. There are lots of elements in a fi nished picture frame: the mount, the mat, the frame, the glass, and the labor to put it all together.
And we also do a lot of custom-frame mirrors. The benefi t of doing a mirror here is that I have 6,000 frames to choose from. At Home Depot, there are fi ve mirrors you can pick from. In a bathroom, the frame of the mirror is the design. That becomes a new element in your bathroom.
A customer said his piece almost took on an entirely new quality in the frame. Is that what you're hoping for?
That's the whole purpose of framing. It's to accentuate the art. … You want your eyes to be pulled into the art, with texture, shapes, and other qualities. It's about what the elements of the art are, not just a nice frame. Gold frames with differing values can pull up tones inside of a colorful piece. For other items, you want the frame to be neutral and let the art pop. The art comes first.
Providence Village Shopping Center, 701 S. Sharon Amity Rd., Ste. A, 704-442-8240, artaspects.biz