Ask the Expert: The Glass Man
Ken Lipack, owner of Harley-Davidson of Charlotte, gets serious about his teenage hobby of glasswork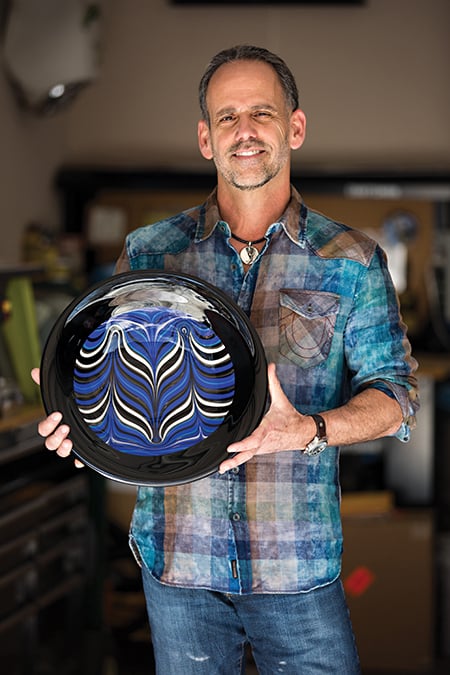 AS I WALK into Ken Lipack's Charlotte home, Coco, the family's blue-and-gold macaw, squawks out a greeting. Lipack is the owner of Harley-Davidson of Charlotte and the owner/designer of Soul Light Studios, which specializes in unique glass art. Coco pulls herself along the bars of her cage in an effort to follow us as we descend the stairs to Lipack's basement studio.
Lipack's passion for glass art began in the late 1970s, when he was in high school in New Jersey. After seeing a colorful jigsaw puzzle of a 1946 Wurlitzer jukebox, Lipack thought it would look great as a stained glass piece. In that moment, Lipack was inspired to start making glass art.
"This was in the days before YouTube," Lipack says with a laugh. "I bought all the books I could, went to the library, and I taught myself to make the jukebox out of stained glass. After that, I was hooked."
A married father of two grown sons, Lipack admits that, for nearly 15 years, he didn't create glass art because "life" happened. With his growing family and career, creating glass pieces wasn't a priority. It wasn't until he learned about the process of fusing that he rediscovered his passion.
Fused glass occurs when intense temperatures are used to bond separate pieces of glass together in a kiln. The glass is re-fired again and again until the artist achieves his or her desired shape, color, or design within the glass sheets.
"The fusion process is outside of the lines and it is limitless," Lipack says. "The process allows you to go wherever imagination can take you."
Entering his studio earlier this year, my eyes were immediately drawn to the vibrant colors of the custom pieces created for clients, shows, and for Lipack himself. The kiln was on, and Lipack was eager to show me the fusing process. Once he was suited-up in his custom safety jacket, complete with flame-stitched patches, gloves, and welder's mask, Lipack demonstrated a technique called combing, a process in which a special rake is used to "comb" the hot glass into lines and other patterns.
When Lipack opened the kiln, I felt the heat immediately on my face and wondered if I needed sunscreen. Watching him comb the molten-colored glass was hypnotic. Learn about his step-by-step process here.
THE PROCESS
1. Design. Before Lipack starts a new project, he sketches out what he wants his finished product to look like. Will it be a basket-weave design? A tray with a chevron design? Or a vibrant vase with lines of color?
2. Cut the glass. Depending on the intricacy of the design, Lipack uses either a handheld cutter or a water saw. He'll cut sheets of glass into the shapes he needs, and then grind the pieces for more precise trimming. Lipack has saws and grinders in both of his home studios.
3. Fire the kiln. Lipack places the glass pieces into the kiln and uses a computer to control the temperature until the glass is malleable. Once glass has been "fired" and heated to the appropriate temperature, Lipack readies his combing tool.
4. Comb the glass. First, the comb, similar in appearance to a two-foot-long rake, is dipped into water to cool. Next, the water-drenched comb is quickly raked across the glass. If it's not done in a timely manner, and it's not coated with water, the comb may fuse to the glass. All glass starts as a straight line. By combing, or pulling, the glass, Lipack can create curved lines and manipulate the design. The window to comb glass is typically about 10 to 15 seconds before the glass pieces begin to harden.
5. Fire again. The glass can be fired as many times as is needed to get the desired shape and design, including adding this plate's single-colored rim. Some pieces can spend up to a week in the kiln being fired, combed, and fired again.
6. Cool Down (annealing stage). After the glass has been fired and formed to Lipack's satisfaction, it must be slowly cooled down. This is the step in which everything can go wrong. The glass can crack if it is cooled too soon, or shatter later on.
---
10 SOUL LIGHT STUDIO FACTS
1. Lipack's work is currently available for sale at Orr & Orr Art Studio and Gallery in Matthews; Red Wolf Gallery in Brevard; Sardis Marketplace in Charlotte; and can be found at seasonal shows, including the Southern Christmas Show.
2. Glass begins to transition to liquid at around 1,000 degrees.
3. Lipack has two studios in his house, one in the basement and the other in his garage. He owns three kilns.
4. To stay up to date on trends and techniques, Lipack attends the annual Glass Craft and Bead Expo in Las Vegas.
5. Lipack often uses clear glass to allow light to shine through his pieces.
6. In addition to glasswork, Lipack is learning metal work and welding to help him create more artistic stands for his pieces.
7. Lipack purchases many of his glass mold supplies from Slumpy's in Belmont.
8. Eventually, Lipack wants to make his own glass molds and would like to do glass sculptures.
9. Lipack graduated from Alfred University in New York with an accounting degree.
10. It was Lipack's dad who started him on his path to working with Harley-Davidson. After he graduated from college, Lipack and his father owned and operated a Honda motorcycle dealership in Florida for 10 years.