Ask the Experts
Local experts weigh in on autumn landscaping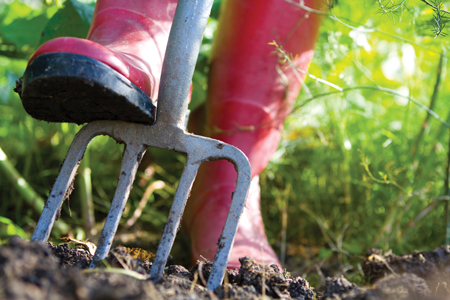 You've spent all summer weeding, watering, and paying meticulous attention to the grounds around your home. With fall here and winter temps ahead, how can you be sure that all of your TLC won't go down the drain? From cutting back plants to aerating your lawn—a few of Charlotte's landscape experts answer our landscape queries for the upcoming season.
Q: Should I aerate my lawn?
When you look outside at your backyard, do you see dry spots, thinning grass, or clumps of weeds? "Even if you feel like your ground is really hard, it's a safe bet that you need to aerate," says John Markham of MARKHAM Landscape Products. And the fall is the perfect time to recharge yards, because the grass will have all winter to root and rebuild in cooler temps. After aerating in several directions (across, diagonally), spread grass seed, Rebel Fescue, for example, and add fertilizer, lime, or organic matter to the soil. "This is the best and easiest way to have a beautiful lawn next spring," says landscape architect J'Nell Bryson. Finally, top dress with a little topsoil or peat moss: "Filling in any holes creates a better growing medium for the new stuff growing in," says Markham.
Q: Any tips for tackling the leaves?
Take extra care of your landscape by blowing the leaves into piles instead of raking. Once all the leaves are gone, weed the beds one final time (while you can still see the roots) and finish it off with some compost mulch. "A nice coat will help to retain the soil's moisture and provide some temperature insulation during the winter," says Markham. Also, don't forget about your gutters! "Clearing out gutters and downspouts is something that every homeowner should do annually," says Carole Joyner of Joyner-Benfield Distinctive Land and Waterscapes, adding that if you wait, the leaves are sure to back up. "And then you're going to be in trouble," she says.
Q: Is now the time to prune?
Well, it depends. The problem with pruning is that it stimulates new growth with some shrubs and trees. And new growth is the last thing you want in the winter, especially when the exposed branches could be bitten back by frost—potentially killing the entire plant. "Find out when the optimal time is for pruning particular plants," says Joyner. "With many of them, you'll want to wait until the spring." A few exceptions: hydrangea varieties, which can be trimmed back around mid-November or after they bloom, and boxwoods. Knowing when to prune is just as important as knowing how. "Plants are an investment that can be diminished with incorrect pruning practices," says Bryson. "Before pruning anything, do some research, even on general pruning practices."
Q: What about planting and fertilizing?
Autumn in Charlotte is a nice time to plant trees—they'll be able to root in the cooler temps, and you shouldn't have to worry about the ground freezing, either. And thanks to dormant plants and/or naked trees, you can evaluate the structures and areas of your property better, making it a good time to plan future hardscapes or landscapes. Finally, Bryson suggests the fall is a great time to recut bed edges and fertilize existing growth. "Most shrubs and trees, except azaleas, can be fertilized in the fall," says Bryson, adding that a good organic fertilizer such as Holly Tone can be picked up at stores like Home Depot.
Q: Do I need to winterize the hardscape?
Not particularly, with the exception of outdoor kitchens with sinks and drains. "The water lines usually need to be drained and cut off before a hard freeze and then started up in the spring," says Bryson. As for fireplaces and fire pits, just clean them out so they are ready to use for the winter.