Ask the Experts
Start with the right fabric to build a room's look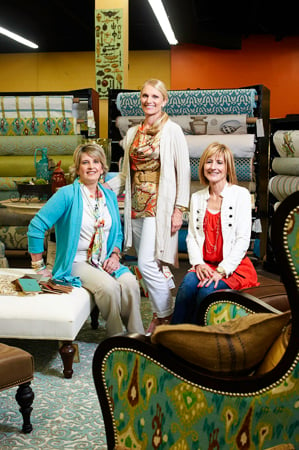 Don't make fabric choice an afterthought—fabrics make as much of a statement as a room's furniture and other accessories. "Fabric is the signature item in the room—it's artwork really," says Sandra Fulginiti, co-owner of Front Door Fabrics (with Karen Dixon and Karen Wagener). Here's what to consider before your next fabric purchase.
Designers often start with fabric when designing a room. Why is that a good idea?
It's the perfect way to build a room, says Fulginiti. Called "layering," the technique is based on the idea that it makes sense to find a piece of fabric you like, and then match paint and furniture to it. "It's kind of like a jumping-off point," she says. "Find a fabric that will serve as your inspiration and it will then provide the palette for the rest of the room."
How can fabric change a room's look?
"It brings warmth and movement and is very often the jewelry that adds the extra excitement to the room," Fulginiti says. From smaller touches such as sofa pillows to larger, statement pieces like window coverings, fabric can dramatically change the entire feel of a room.
What fabrics are best for families? Homes with pets?
Synthetic blends hold up longer than natural (cotton or linen) fibers. Another option is microfiber, which comes in lots of attractive and functional options. "We've got one that looks like a plush corduroy," says Fulginiti. "You can spill on it and it beads." Leather is another durable option—but avoid it if your pets have sharp claws.
When is durability most important?
Durability is important in every home, even if you don't have kids or pets. "Unless it's your formal living room that you only use once in a while, you should really think about upholstery," says Dixon. "If it's a piece that you live in, you really have to think about getting a fabric that will last."
What are the latest trends in fabric?
"People are going for a more natural look," says Wagener, adding that neutral sofas and other big pieces are increasingly popular, making it easier to add pops of color with accent pieces. "We're seeing a lot less silk and people moving away from big, heavy, and ornate, to simple, clean, and classic lines," she adds. "Even the patterns aren't fussy," agrees Dixon, recommending bold graphics with big, oversized patterns that translate well to bedding, curtains, and furniture.