Asparagus Among Us
Where to find the best asparagus dishes around town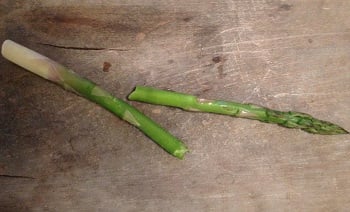 With the spring and summer temperatures come a favorite vegetable of mine – asparagus. This spear-shaped veggie is not only full of flavor, it's full of nutrients and packed with flavor. Around Charlotte, you can find tons of restaurants roasting, boiling, slicing, and serving this green vegetable. Here we've rounded up a few plates featuring the green:
Luce: Decadence is the theme for Luce's asparagus-centered dish, Asparagi & Prosciutto. Fresh green asparagus is baked with parmesan cheese and sliced aged prosciutto for a rich and cheesy plate.
Blue Restaurant & Bar: For a light bite with wine and music, head to Blue for their Spring Asparagus wrapped with Serrano Ham. The light dish is served with frisée, red grapes, and toasted marcona almonds.
Stagioni: If you're in the mood for a very springy pasta, opt for the Lunas dish at Stagioni. The little purses are stuffed with sweet peas and nestled with asparagus — creating a lovely juxtaposition of flavors.
Barrington's: Less seems to be more these days and is especially the case with Barrington's North Carolina Trout dish. The plate features the native fish served with a shrimp and lemon risotto plus a cooling and refreshing fennel and shaved asparagus salad.
The Asbury: Chef Chris Coleman shines with all his dishes at The Asbury, but his larger dishes are especially memorable. The Fresh Crab and Benton's Ham features the shellfish and pork with a cauliflower panna cotta, asparagus emulsion, strawberry, and mustard greens.
Baku: Thinking outside the box? Try the Forbidden maki roll at Baku. White asparagus – which has an even milder flavor than its green counterpart – is snug with black rice, shiso, micro celery, and yuzu mayo.