At Home in an International Market
Local stores make faraway cuisines possible in Charlotte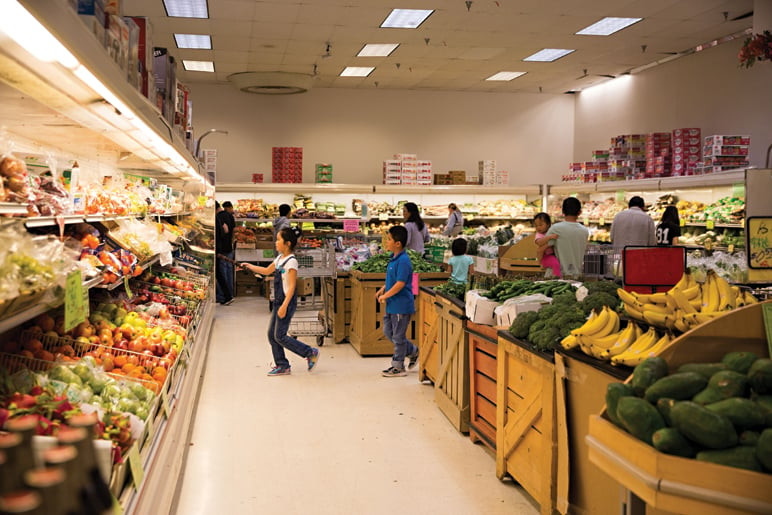 VIVIAN TONG SPENT the first four years of her life in New York City's Chinatown. A first-generation child of Chinese immigrants raised in an all-Chinese environment, she spoke Cantonese at home and spent a year in Hong Kong with her family. There, they shopped daily in open-air markets where crowds clamored for the freshest seafood and street carts sold steaming hot bowls of noodles. When she moved to Mooresville 30 years ago, it was culture shock.
The speed of New York and Hong Kong were replaced with the rural sleepiness of Mooresville in the 1980s. Indoor grocery stores were foreign to her. Trips to Charlotte with her family to find familiar produce and products of Chinese origin became less an adventure than a chore.
Tong, 36, moved to Charlotte 10 years ago. She now shops at the Asian Corner Mall, where she finds the ingredients to make a comforting congee when she's feeling under the weather, and the Super G Mart on Independence Boulevard, where she indulges in her favorite comfort foods, such as the steamed buns from Honey Bun in the market's international food court.
But the Asian food markets around Charlotte aren't just for people who ache for a familiar taste of home. They are attracting curious eaters, those on the hunt for something new, something outside of their typical palate. At the Super G, a young mother pushes a cart through the expansive produce aisle with her two boys, outfitted in yarmulkes. African women in colorful head wraps wait at the cash register behind a Middle Eastern man. Though Korean-owned, the store's offerings span the globe.
"I never imagined I would be running this kind of store," says Irene Han, who took full ownership of Super G in Charlotte last year after spending six years as chief financial officer at the store's Greensboro headquarters. Before that, she was an actuary for an insurance company.
Irene and her husband of more than 30 years, Joe Han, moved to the United States from Seoul, Korea, in 1984 to attend Indiana State University. As twenty-somethings who didn't know English, the two found a church community and a few welcoming Americans to help them assimilate to American culture.
"We want to do the same in return," Irene says. She wants Super G to feel welcoming and accessible to everyone. "If you have a question, we can Google it together," she says.
About 50 people work at Charlotte Super G. They come from a variety of cultural backgrounds, and they keep the shelves stocked with products native to specific countries. The hope, the Hans say, is to create a community around a place that has foods from all over.
Irene had a gathering space built, where the store now hosts cooking classes focused on cuisines from different countries. Each month, curious eaters come to learn new recipes and techniques. Han also renovated the international food court that houses a Korean restaurant, Latin bakery, Chinese dumpling booth, and Hong Kong style bakery inside the store. She installed LED lights to help brighten the space and built a new employee lounge to help keep her staff happy and comfortable.
Joe Han, a former investment banker, focuses on the community relations for the store—and encouraging his wife's endeavor.
***
APPROXIMATELY 40,000 Asians call Mecklenburg County home—about five percent of the county's population, according to U.S. census data from 2013. That includes people from India, Vietnam, China, Korea, the Philippines, and a smattering of other groups, including a robust refugee community of Hmong, Bhutanese, Cambodian, Laotian, and other immigrants.
It's a big change from the Charlotte of 100 years ago. In his essay "Salad Bowl Suburbs: A history of Charlotte's East Side and South Boulevard immigrant corridors," Levine Museum of the New South historian Dr. Tom Hanchett explains that the Southeast was bypassed by the first wave of immigrants for larger, more industrious cities like Chicago or New York, where tenement cities housed newcomers looking to forge a new life in the United States.
"Charlotte had been little more than a village, a place of fewer than 20,000 people in 1900," Hanchett writes.
Things slowly began to change in the 1970s, when Catholic Social Service resettled the first wave of Vietnamese refugees throughout the United States after the Vietnam War. This was the start of the vibrant Vietnamese population in Charlotte. Hanchett explains that to understand the rich population of immigrants now in Charlotte, we must first look at the Latino community, where the first signs of a shift in diversity began. Latinos started arriving in the 1980s, when federal immigration laws shifted immigrants' sights eastward from the border states of Texas and California. They looked toward cities like Charlotte, where the weather was good and the crime was low. The big influx came a decade later, when construction on what would become Bank of America's corporate headquarters brought industry and plenty of jobs.
In the 1990s, Charlotte became a destination for immigrants, ranking fourth among the fastest growing Latino cities in a study conducted by the Brookings Institution. By 2000, other immigrant populations followed, populating the suburbs of Charlotte's eastern and southern corridors. Hanchett refers to these fresh pockets of mixed cultures as "salad bowl suburbs," a contrast to the clustered communities of the early 20th century that created neighborhoods like Chinatown and Little Italy in other cities. Instead, Charlotte's ethnic diversity is sprinkled among established neighborhoods.
The influx of immigrants led to the rise of markets and ethnic eateries, places where people could locate the comforts of home and where adventurous Charlotteans could explore the flavors of the New South.
Hanchett's wife, Carol Sawyer, is a consultant for several area nonprofit organizations and one of Charlotte's chief explorers. You can find Hanchett and Sawyer biking to the nearest cultural festival or Facebooking about their latest food discovery nearly every weekend.
"It's easy to live in Charlotte and only see people that look like you. Exploring our community helps us to learn about communities that we wouldn't otherwise know about," says Sawyer, who grew up in Chicago exploring cultural cuisine with her family.
Sawyer also manages the weekly newsletter for Taste of the World, a segment of the Charlotte East website that encourages the exploration of this internationally rich section of Charlotte through food.
"We live in a big community where people are incredibly welcoming," she says. "To not participate is to miss an opportunity for an experience."
***
HANCHETT SHARES these places with others in a column he writes for The Charlotte Observer, "Food from Home." Spend five minutes with the bespectacled historian and you will likely hear about a new place to eat or explore.
One of his favorites is the Grand Asia Market, a family-owned establishment in Stallings off Old Monroe Road. He can tell you about the tiny egg custards from the Hong Kong-style bakery counter and the cluster of multicultural businesses in the surrounding area. But like any good adventurer, he suggests seeing it for yourself.
Occupying the space where an old Winn-Dixie once stood, the market is primarily an Asian grocery with a focus on Chinese ingredients, but it also carries Korean, Japanese, Vietnamese, Thai, African, Russian, and European food products. It mimics the feel of Chinese open-air markets, with an in-house café serving traditional and non-traditional Chinese dishes made from scratch each day, a Hong Kong bakery, exotic seafood counter, and aisles of international foods.
The parking lot is full on a Sunday afternoon. Families of all types—Asian, African-American, Latino, and white—populate the brightly lit market. Chinese lanterns in brilliant red and gold dangle from the ceiling and colorful displays of bamboo plants and happy trinkets are proudly displayed beneath. To the left, diners enjoy freshly steamed buns from the dim sum counter while others pine over the selections of sweet and savory pastries artfully arranged in a pastry case. At the "pharmacy" counter, medicinal herbs mingle with Japanese skin care products, jars of dried scallops, and sea cucumbers (traditionally eaten at weddings) filling wide glass jars. It's here that I am greeted by Alice Chang Comartos, 32, manager of Grand Asia Market.
Chang Comartos' mother, Jenny Chen, came to the United States from Taiwan in the late 1970s. Chen now owns and operates two Grand Asia Markets—the one in Stallings, which opened in 2010, and another in Raleigh. These days, her children manage the markets. Dressed in stylish, grey hightop sneakers, the energetic Chang Comartos is a modern business woman who left New York City, where she handled financial planning and strategy for corporate giants such as Verizon and Ernst + Young, to learn how to run her own business.
"What better teacher than my own mother?" she asks.
She cheerfully takes me on a tour of the market, past the heaping containers of snow pea pits, watercress, gai lan (Chinese broccoli), and bok choi that have been appropriately ransacked on the market's busiest day. She explains that the Chinese prefer cooked vegetables and that most meals are served family-style.
Navigating an international market has its challenges. Customers often mistake foreign food products for similar American foods, with unpleasant results. Winter melon, also known as the Chinese preserving melon, could easily be mistaken for the sweet melons eaten in the United States, like watermelon or honeydew melon. However, the mature winter melon sold at Grand Asia Market isn't sweet. When eaten raw, it's hardly palatable. Mature winter melons are meant for savory dishes such as soups, stews, and stir fries; they need to be cooked. Chang Comartos has seen many customers learn this the hard way. She tries to help shoppers make educated purchases by asking them about their needs.
She's a busy woman. She manages 70 employees at the Stallings store, hosts market tours for local schools and institutions, and fields questions, comments, and complaints from the diverse customer base that visits Grand Asia Market.
We walk past the extensive tofu selection and the fresh noodles, of which there are many. Egg noodles, wheat noodles, rice noodles, soybean noodles, vermicelli noodles … it's easy to see how shopping can quickly become overwhelming. Grand Asia Market hosts monthly meetups at the store to teach people about Asian cuisine through cooking classes and shopping excursions.
As we approach the seafood counter, we walk past an umami-packed display of dried fish and shrimp, used in many Asian recipes to add depth and complexity to soups and sauces.
***
AT THE SEAFOOD counter, there are live frogs and soft-shell turtles on display in front of the tanks holding plenty of fish, which can be purchased and cooked at Grand Asia's in-house restaurant, The Joy Luck Club. A quick order board is equipped with numbered pictures to let the fish butchers know how to cut your fish: filleted, cleaned, butterflied, head and tail off. The goal at the fish counter is to make ordering accessible to everyone, no matter what language they speak. Of course, Chang Comartos says, there is still a cultural divide.
At Grand Asia, there are no tickets at the counter, and customers do not abide by a first-come, first-served policy as they might at an American grocery store. "Think of the seafood counter at an Asian market like a bar," Chang Comartos says. "You just gotta jam yourself in there and decide what you want, then fire when ready."
One frequent customer at Grand Asia and other similar markets is Stephen Crotts, a 28-year-old illustrator based in Rock Hill. Growing up in the rural Carolina Piedmont, his early experience with cultural foods was limited to Mexican restaurants and Chinese buffets. The first time he visited the Grand Asia, he went with a Chinese exchange student he met on the campus of Winthrop University.
"I told him that I wanted to taste the kind of food he ate at home," Crotts says. "I didn't know what we were going to cook, but we grabbed lots of different vegetables and condiments." That weekend, he and his new friend cooked five different Chinese dishes and shared stories from home. It's these experiences, Crotts says, that open your eyes to new adventures and the breadth of the human experience. Like Hanchett, Crotts is now a resource for other curious eaters. He's always eager to share a table, a recipe, or a food adventure.
These markets and the people who own them are making it easier to find those adventures, weaving together the cultural richness that runs through the fabric of Charlotte today. Walk through the food court at the Super G and get a glimpse of this New South, with bibimbap vendors next to handmade Chinese dumplings next to a Mexican bakery. It's diverse, it's all-inclusive, and it's right here in Charlotte.
Chef Alyssa Gorelick is constantly dreaming up dishes for her cooking classes, Chef Alyssa's Kitchen, which are held in the back of Atherton Market. Here, she shares three Asian-inspired recipes you can make at home after a trip to an international market.
Keia Mastrianni is a food writer in Charlotte. Email her at keiaishungry@gmail.com, or follow her on Twitter: @keiaishungry.
---
Chef Alyssa Shares Asian-Style Recipes
Chef Alyssa Gorelick is constantly dreaming up dishes for her cooking classes, Chef Alyssa's Kitchen, which are held in the back of Atherton Market. Here, she shares three Asian-inspired recipes you can make at home after a trip to an international market.
2104 South Blvd.
(Inside Atherton Market), 704-817-7568.
---
Buckwheat Noodles with Sesame Bok Choy and Prawns
Serves 4
1 pound buckwheat noodles
4 tablespoons sesame oil
12 large shrimp or prawns
2 baby bok choy, sliced in half
¼ cup water
½ teaspoon red pepper flakes
2 cloves garlic, minced
¼ cup tamari or soy sauce
3 tablespoons mirin
1 teaspoon sesame seeds
1. Bring pot of water to boil, and cook noodles until tender, about eight minutes. Drain, and toss in 1 tablespoon sesame oil.
2. In a sauté pan, heat another tablespoon of sesame oil, and sear the prawns until pink on the outside. Remove from the pan, and place on a separate plate. Add the remaining sesame oil, and sear the bok choy, flat side down. Once prawns become golden brown, flip over, and add water to steam. Once tender, move to serving plate.
3. Place the pan back on the heat, and add the red pepper flakes, garlic, tamari, and mirin with the prawns. Cook until prawns are fully cooked, about four minutes. Add the noodles to reheat.
4. Serve over the bok choy, and garnish with sesame seeds.
---
Green Papaya and Asian Pear Chilled Soup
Makes 1 quart
1 pound green papaya, peeled and sliced
½ cup peanuts, toasted
14 ounces coconut cream
12 ounces water
12 ounces (about 2) Asian pears
Salt to taste
Thai basil to garnish
Special items needed: blender, mesh strainer, and cheesecloth
1. Place papaya in a saucepot with the peanuts, coconut cream, and water. Bring to a simmer, and cook until the papaya is soft, about 15 minutes.
2. Meanwhile, prepare the pear. Set half of one aside, wrap, and refrigerate. Peel and dice remaining pear.
3. When papaya is ready, turn off heat and allow to cool for about 5 minutes. Blend diced pear and papaya purée in a blender until smooth. Strain through a fine mesh strainer with cheesecloth.
4. Place soup in the refrigerator to cool, about 4 hours. Adjust seasoning with salt, and serve garnished with sliced pear and Thai basil.
---
Seaweed Salad
Serves 4
1 ounce wakame seaweed (whole or sliced)
1 quart cool water
1 tablespoon grated fresh ginger
½ teaspoon wasabi powder
1 tablespoon sesame oil
3 tablespoons soy sauce
2 tablespoons rice wine vinegar (unseasoned)
1 lime, juice and zest
1 tablespoon palm sugar
3 green onions, thinly sliced
1 bunch baby radish, thinly sliced
4 ounces snap peas, thinly sliced
1 teaspoon sesame seeds
1. Place wakame in cool water for about 15 minutes, until rehydrated. Squeeze out the water. If needed, thinly slice and place in a bowl.
2. In a small bowl, combine ginger, wasabi, sesame, soy, rice vinegar, lime, and sugar.
3. Toss all ingredients together and serve. Garnish with sesame seeds.