At Home on the Road: Biltmore Blooms
Asheville's favorite house bursts with springtime color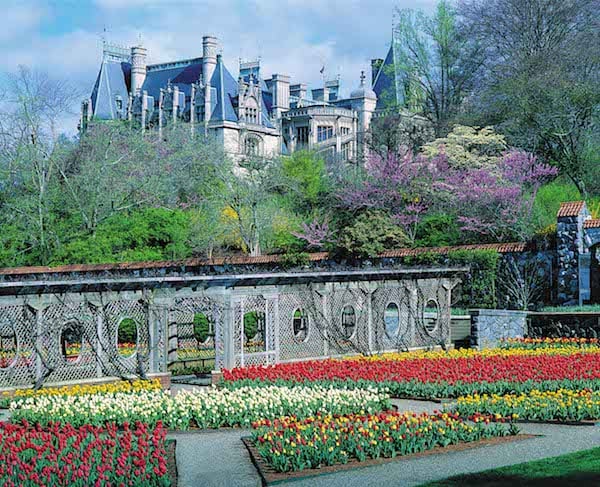 Last week, Biltmore began its annual springtime celebration. Biltmore Blooms, formerly known as Festival of Flowers, started on the first day of the season and continues until May 23.
"The name, Biltmore Blooms, reflects the progression of blooming, spring to fall," says LeeAnn Donnelly, senior public relations manager at Biltmore.
Asheville, about two hours from Charlotte, is a popular day-trip destination. And Biltmore, famous for being the 250-room home of George Vanderbilt and his wife, Edith, is a common stop. The grand house sits on thousands of acres that encompass forests, vineyards, kitchen and formal gardens.
Biltmore Blooms actually starts inside the house in the winter garden. Located near the house's main entrance, the glass-domed garden room provides a first glimpse of the grandeur found inside. The room is normally roped off and guests peek inside, but during Biltmore Blooms, visitors can walk through and see a display of exotic orchids, which actually reach their peak blooming time during the middle and end of winter. The orchids will be on display until April 6.
Outside, blooms fill every space—forsythia in the shrub garden, daffodils in the spring garden, and pink azaleas in the azalea garden. In the coming weeks, tulip blooms in peach, pink, purple, and white will cover the walled garden grounds. Last fall, gardeners planted 96,000 tulip bulbs in preparation for the spring season. On the Biltmore website, staff members track the plants' flowering status with the Weekly Bloom Report. They also provide a Flower of the Week email newsletter.
At the conservatory, Biltmore experts offer demonstrations year-round on gardening and floral design. This spring, topics include wreath making and centerpiece construction. Despite its size, Biltmore prides itself on providing inspiration, information, and instructions that people can implement in their own homes.
"Biltmore was a home at one point," Donnelly says. "So we love to share that story with guests. While it's a grand-castle-like setting, they got married and raised a child here. It was most definitely a home."