At Home with Wesley Mancini
Fabric designer Wesley Mancini gives an in-depth look at his Myers Park home--and the aesthetic behind his success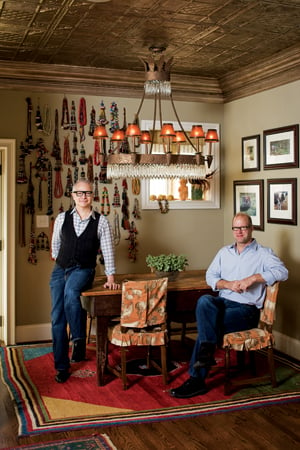 It's no secret that Wesley Mancini has a great eye—he's been designing fabulous home fabrics for nearly thirty years. He's also been collecting them, as well as art and other great finds from his travels. This gives his Myers Park home the vibe of a carefully curated museum collection—only much more livable. Now, as he is set to launch his newest collection, a line of handmade tribal rugs, Mancini provides an in-depth look into the aesthetic behind his success.
Q: So what does a designer look for in his own house?
Good bones. And large-scale rooms. None of the other places I looked at had rooms of size, with these high ceilings. I have large-scale furniture, and a lot of it, so that was a must.
Q: And you brought it all with you?
Oh yes. I thought I had plenty, and it turned out it wasn't enough. This house is around 5,000 square feet, and all that square footage is in the rooms.
Q: Was the place in ready-to-move-in shape when you bought it?
We moved into the two-car garage apartment for what we thought would be a few months while making a few changes. It ended up being a year. Most of the house was gutted, more downstairs than up, but there was plenty upstairs as well.
Q: Were these structural or cosmetic changes?
Some structural changes, nothing major. The real problem was that this had actually been a designer show house years before, and a lot of the rooms were put together quickly. We found wiring under the floorboards of the master bedroom, and had to rip out all the electrical for fear of a fire hazard. Then when we took the drywall down, we discovered asbestos. And so on.
Q: Were you aiming for a look that was similar to the home you moved from, or something completely new?
If I had to say I had a theme this time around, I'd say it was silver and mirror. There is a lot of hand-blown glass mirror and silver leaf and quartz. This house has five chandeliers, and all of them have quartz crystals. Lucite is also part of the concept. It looks very glamorous, that old Hollywood glamour. It's what drew my eye over time. My previous home was eclectic also, but it was more tactile, less reflective. There was more wood. I don't have any exposed wood other than the new back entrance. I'd also say this time it's a little more contemporary.
Q: What role did color play in the scheme of things?
I like things to have color and yet not be a color. Like a sage green that's kind of grayed down, so it looks green by itself, but if you mix it, it's kind of a neutral. And neutralized ambers, that kind of thing. I definitely have to sit with it for a while to decide if it's right. I want longevity of the design.
Q: You have a lot of accessories from your trips abroad. What are your favorite places to visit?
Every year I go to Paris and London, and someplace warm in winter. Mostly, it's business. But with business there's pleasure. I try to hit a few galleries while I'm there.
Q: When did you begin collecting art?
As soon as I could afford to start spending money. Right now I'm at the point where I have more than what will fit on the walls, and that's a new thing for me.
Q: What kind of art captures your interest?
Currently I am attracted to portraiture and representational artwork. It hadn't hit me that I collected portraiture, until all of a sudden someone said that I collected it. It was subconscious and just happened. The overall aesthetics and content of the imagery is what attracts me to any work of art. If I had to choose favorites, they would be the [Ed] Rihaceks. There are five of his pieces in my house.
Q: You seem to be very much a collector in general. What else do you collect?
Stemware [shown in a floor-to-ceiling glass built-in display cabinet], Mexican masks [at the studio and in the kitchen], old beads and tassels that were used by nomadic tribes of the world as ornaments. I've always liked them. I used to have them hanging from a chandelier in my old kitchen, but I think this wall display in the dining room is a different, good way to see them. And I collect historic and nomadic textiles. The tribal African Kuba cloths that hang in the stairway, those are museum-quality embroideries. They were usually done by pregnant women who couldn't work in the fields and were used as dowry or currency. Those were probably the first things I collected. I have six more on loan to the Mint [Museum of Craft + Design].
Q: That makes sense, given your line of work. What drew you to fabric design?
Mathematically, you have to figure out the weave and structure and at the same time you have to have the visual sensibility to put it all together. So there's a right-and-left-brain balance that I enjoy.
Q: How does fabric play a special role in your home?
In the living room, two chairs have my fabrics and the walls behind the built-in book case and the wall with the fireplace are also mine. In the staterooms, one living room has a chaise longue, another sitting room has a sofa. Upstairs in the private quarters, the master suit has two chairs and the sitting room has a sofa and two chairs, all of my fabrics. I have decorative trim on those that are mine as well.
Q: And now that you're doing a rug line, have you taken a greater interest in those?
I am just about to order one of my new rugs for the entranceway. There are none of my rugs in the house as this line launches in December. I have so many rugs that are already in storage. When you buy rugs of quality you just can't throw them away. They're an investment. Something you hand down.
In the downstairs den hangs a portrait of Mancini by artist Ed Rihacek while the fabric on the chair is one of Mancini's own designs from the "Home Fabrics by Wesley Mancini," his line for the past thirty years. African pottery vessels—one with a Kuba, cowry shell belt worn by the people of the Congo—flank the chair.