At Last, the Mint
With the opening of the new Mint Museum, the cultural campus is complete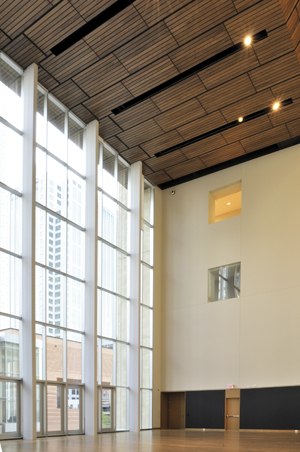 With all the hoopla over the Bechtler (we plead guilty as charged), Discovery place, and that one with the cars, we don't blame you if you forgot about the grand dame of them all: the Mint Museum of art. But come Friday, October 1, it's time to cut the ribbon, let the dignitaries speechify, and listen for the crowd's cheers. Designed by Machado and Silvetti associates of Boston, this new home for North Carolina's first art museum puts the Mint Museum of art and the Mint Museum of Craft + Design under the same roof for the first time and dramatically increases exhibition space. in other words, you really shouldn't delay a visit. here's what you need to know before setting foot inside the brand-new space.
Aping the popular event space atop the former crafts facility on North Tryon, the fifth floor has a 4,000-square-foot special-events room available for rent, with an equal-size terrace offering views of uptown. As of mid-August, thirty events were already booked, most of them wedding receptions. With this opening, the building on Randolph Road becomes the Mint Randolph. After some renovation, its collections will include African art, ceramics, and decorative arts.
Also: What Now for the Mint?