At NAACP-Police Forum, the Start of a Solution
She walked in scared stiff of the cops. She walked out with a friend in blue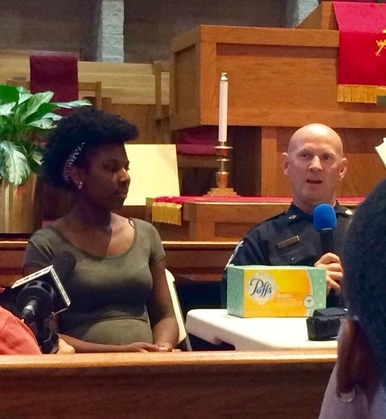 A young woman named Ayana Crawford stepped to the microphone Wednesday night at Little Rock AME Zion Church in Charlotte. She's 22, slender, African-American; a headband pulled back her expansive Afro. She had a message for the five high-ranking Charlotte-Mecklenburg cops in front of her.
"I'm just going to be honest. I'm scared right now," Crawford said, trembling. She's from from Baton Rouge originally, she said, and she has family in Charleston, so she knows the distant and recent history between black and white, and black citizens and the police. "I'm scared to be in your presence."
One of the cops at the table was Capt. Chuck Henson, commander of CMPD's Hickory Grove Division, the county's easternmost, out Albemarle Road by Mint Hill. If you were a casting director looking for someone to play the part of "Police Captain," you'd pick someone who looks like Chuck Henson: white, trim, shaved head. Henson did something extraordinary when Crawford was finished. He summoned her over and asked her to sit next to him.
"It's not too bad, is it?" he said as Crawford, still nervous, took a seat. The captain offered his hand. "Hi, I'm Chuck."
The NAACP's Charlotte-Mecklenburg branch had organized the discussion at the city's most prominent black church. Its purpose was to let citizens talk with CMPD Chief Kerr Putney and other members of the department's brass after the police shootings last week in Louisiana and Minnesota. Putney and Chapter President Corinne Mack urged everyone to be honest, not to hold back, and they didn't.
"I just feel like, if you're just up here with cute rhetoric about community policing and diversity, you shouldn't even be in this space," said Clarissa Brooks, a 20-year-old Spelman College student from Charlotte. The forum went on for four hours, until 10 p.m. Some people offered support; others had questions; others just wanted to vent. Toward the end, Putney was rubbing his eyes in exhaustion.
After Crawford took her seat next to Henson, another black woman directed some pointed questions at the cops via Skype: Georgia Ferrell, the mother of Jonathan Ferrell, a young black man that a CMPD officer, Randall Kerrick, shot and killed in 2013. Kerrick's manslaughter trial last year ended in a hung jury, and prosecutors declined to try him again. Kerrick was dismissed from the force.
How, Georgia Ferrell asked, is CMPD forcing officers to change?
Henson spoke up. "I know exactly what Mrs. Ferrell is talking about," he said. "Randall Kerrick was an officer under me." Then he bowed his head and went silent. So did the crowd of about 200. When Henson spoke again, his voice was thick and shaking.
"I hate that she feels that way. It breaks my heart," he said, referring to Crawford next to him. "I love this city. I love my job. I've been with the Police Department for 23 years. I promise you I don't do it for the money. I'd rather not be here. I'd rather be home at 8 o'clock on a Wednesday night. I'm sure everyone here has things they'd rather be doing. But we're here—and, to be honest, this is where we need to be."
He composed himself. "I'm from a small town in Ohio. I didn't know any black people growing up. There weren't even any black people at my high school. And my first day on the job, I was on Tuckaseegee Road and Freedom Drive." The west side, the highest-crime area in Charlotte, primarily poor and black. The crowd laughed knowingly.
"It was tough," he said. "But it was the best thing that ever happened to me." Henson turned to Crawford next to him, who by now was wiping away tears. "I'm sorry you feel the way you do," he told her. "Come ride with me. We'll be as transparent as you want us to be."
At the mic, Crawford had asked whether police supported the creation of a civilian public safety committee to work with police on community issues. Putney asked for volunteers on the spot. Several hands shot up, and Crawford—who began the evening frightened at the sight of a police uniform—ended up joining the committee. No one can tell where or if the distrust and hostility between minorities and police will end. But this is where the solution begins.
UPDATE: I spoke with Ayana Crawford this afternoon. She's a recent Winthrop graduate who lives in Rock Hill, S.C., but says she's happy to serve on a citizens' committee on law enforcement issues. "I really think that's a need all over the United States," she told me. When she got up to speak, she said, she was frightened not just for herself but—given the mass shooting of police officers last week in Dallas—frightened for the officers, too, since she's lost the sense that anyone is safe anywhere. Henson's emotional testimony surprised her, she said, "but I'm very glad he did show that emotion," and she'll be contacting him.