At South End's Suffolk Punch, Opening Next Week, A Purposeful Menu
Options include dishes suitable for most dietary restrictions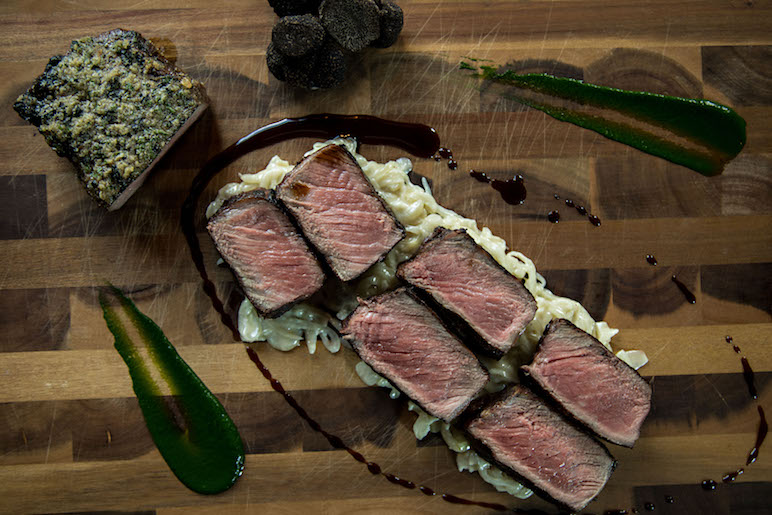 When Collin Ricks, a partner at local commercial development firm Durban Group, learned his daughter had eating restrictions, the way he and his wife, Debbie, ate changed too. Their toddler can't have gluten, soy, or dairy—American staples that have saturated menus. He kept this in mind when he and his business partners, Ryland Pond and Seth Stidham, both childhoods friends, and Glen Cherry purchased property in South End's design district for a brewery, restaurant, and coffee shop.
"Food is obviously a big part of everybody's life, but we've learned a lot over the last three years," Ricks says. They've had to begin thinking more about where their food is coming from and how it's treated, from in pastures or fields to the plate. That is limiting, especially when you're out to eat.
He hopes folks like his family can be comfortable eating at The Suffolk Punch, no matter what their dietary restrictions are. The restaurant opens July 31, and will evetually serve breakfast, lunch, and dinner. The kitchen is run by Chef Robert Corley, a Maryland native who went to Johnson & Wales in Charlotte.
"Robert has just embraced the whole thing with open arms and taken everything to a whole new level," Ricks says.
The menu has a special designation of "just touched" items, all of which are free of soy, dairy, and gluten. For example, the farmer cucumbers are dusted with a house-made chili flake and sea salt; a mushroom dish is labeled simply as "lightly seasoned and seared." Summer carrots come as a trio—pureed, poached, and pickled.
The meat options are similarly clean, with a fish of the day dish served with house-trimmed artichokes, a lemon broth, and English peas. The roasted chicken—with both white and dark meat—is tender and flavorful, with local mushrooms and an ancient grains cake. The grilled hangar steak is hearty and delicious.
Guests will find snack fare appropriate for the bar's craft cocktails, including a foie gras popcorn, made decadent with foie butter and truffle salt.
All of it is served in a stunning dining room, with greenery above tables and luggage-inspired booths made by North Carolina companies. The restaurant isn't taking reservations, but will use the NoWait app to keep wait times down. Dishes range from $5 for smaller plates, such as the cucumbers, to $25 for the steak.
Cocktails are mostly in the $8-$10 range, with an appreciated range of sweetness.
Several incorporate beers from Hyde Brewing—housed in the same building—and options from the coffee bar can be ordered with alcohol as well. See the photos below for a visual menu preview. Photographs by Peter Taylor.