At Their Mercy
Once your city throws in with the hardballers of the NFL, get the blank checks ready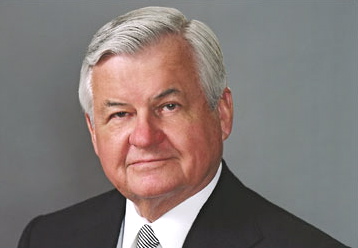 For public officials in NFL cities, it's really pretty simple: In any negotiation, the team calls the shots.
Panthers owner Jerry Richardson and team President Danny Morrison met privately Monday night with the City Council — which went into a questionable closed session, citing the economic development exception to state open meetings law — in a room guarded by CMPD officers. Richardson and Morrison slipped out the back and wouldn't answer questions. Then the council voted to, in theory, support the Panthers' request for $125 million in taxpayer money — at a time when the nation's economy is still struggling, the payroll tax cut just expired and the team just concluded another losing year — for improvements to Bank of America Stadium.
Folks understandably, rightly, had a problem with the secrecy. It's bad enough to meet behind closed doors to discuss the spending of public money, but the CMPD presence lent the whole affair a Politburo feel that hacked people off. "The Panthers are a private entity," wrote Tom Sorensen in the Observer. "What they do is their business — until they ask for public money. Then it's ours." He's absolutely right.
And the indignation will lead precisely nowhere. If the Panthers want $125 million in taxpayer money for stadium improvements, they will get it, and we should count ourselves lucky that Richardson & Co. aren't asking for a new stadium to replace BofA, which, at 17 years, is getting a tad creaky, don't you think? (Well, no, but that hardly matters.) The Observer's story notes that when the Charlotte Knights asked for public money to help pay for the uptown baseball stadium, the discussions were held in public. They certainly were. That's the difference between a Triple-A baseball team and an NFL franchise, which needs not defer to anyone.
Think the city wants the Panthers to even direct a flirtatious smile at L.A. or San Antonio? That appears to be something Richardson himself wants to avoid, but we all know circumstances change, and after Richardson's death, all bets are off. If NFL franchises are good at anything, it's getting taxpayers to pay for their infrastructure rather than take even a miniscule chance of losing the Browns (or Raiders or Rams or Colts) — while the teams raise ticket prices and watch their assets appreciate. That's the way this particular market dynamic works; I prefer the traditional term "extortion," but hey, who needs to play hardball when the guy across the table is already pulling out his wallet?
Meanwhile:
For nearly a year, Mayor Anthony Foxx and the City Council have struggled to pass a capital program to address what many say are critical needs, such as transportation, affordable housing and neighborhood improvements.
But the City Council's 7-2 vote Monday night could put some council members in an awkward position as budget negotiations resume in February.
Republican council member Andy Dulin has said he is against any capital plan that would increase property taxes. But his early support for helping the Panthers could also raise taxes on Charlotteans, by increasing the prepared food and beverage tax from 1 percent to 2 percent.
Dulin said Tuesday he won't comment on the closed sessions discussions about the Panthers. He said Tuesday he's against the capital plan because it would place a "substantial tax increase on every household in Charlotte."
I guess it all depends on your definition of "critical needs." Go Panthers.