August And Everything After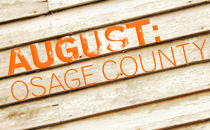 Nothing will ever be the same now that the Weston family patriarch has gone missing.
As his worried clan gather to await news, addictions, family secrets, and long-held grudges are revealed in August: Osage County. The three-hour-and-twenty-minute run time may scare some away from Tracy Letts's Pulitzer- and Tony-winning dark comedy. Director Michael Simmons says you shouldn't let it. He promises an emotional roller coaster ride that might require a seat belt.
The play opens Aug 25 and runs through Sept 24 at CAST's new home in NoDa. Details here.