Baby Pains
Job swapping for conception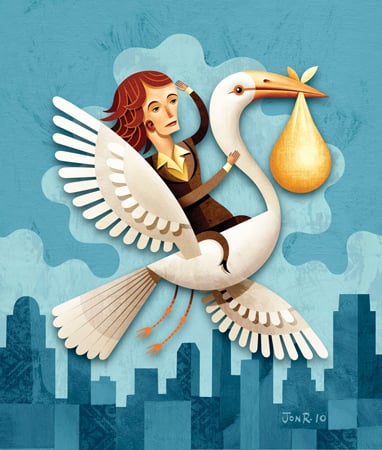 These days many people are grateful simply to have a job. So it may sound a little farfetched when a woman says she's leaving her dream job in search of another gig because she's worried about fulfilling a different dream: motherhood.
Laurie*, thirty-one, is worried that her medical history plus her age equal trouble getting pregnant. "I knew I wanted to have kids, I knew I had health issues, and I didn't want to get stuck with debt just to have a child," she says. Laurie recently underwent painful surgeries to alleviate her endometriosis and is considering expensive in vitro fertilization (IVF) treatments to conceive.
That's why last summer, even with her well-paying job in the financial sector, she went looking for jobs with a health insurance plan that covers IVF. She found it at PricewaterhouseCoopers.
Area fertility specialists say job swapping for better health insurance coverage on fertility treatments happens more than one would think mainly because infertility is not only pricey (the average cost of one IVF cycle is about $10,000), but it's also relatively common. According to the National Infertility Association, 7.3 million women and men are infertile.
"A few years ago, there were some couples switching from Wachovia to Bank of America because BofA had better coverage," says Dr. Nancy Teaff of Reproductive Endocrinology Associates of Charlotte (REACH). Many insurance companies offer little or no infertility coverage; as a result, Teaff says many of her patients whose insurance doesn't cover infertility treatments worry about the cost, which can often add up to more than $50,000. Last year Conceive magazine ranked BofA — which offers employees $20,000 in coverage for medication and treatment — among the top fifty fertility-friendly companies in the nation. (The magazine ranks Laurie's company, PricewaterhouseCoopers, even higher because it offers a $35,000 allowance for meds and treatment.)
The average cost of one IVF cycle is about $10,000.
"It's really important to me to have a kid, so I've set myself up to have my best shot, and that's IVF," says Laurie, who is married and hopes to start trying to get pregnant soon.
Stacy Tensley is a former REACH client who after three years of struggling to get pregnant now has a five-year-old son thanks to a $25,000 round of IVF. "By the time you're at the point where all you want is a baby, your doctor tells you the next step is at least a fifteen-, twenty-thousand-dollar step," Hensley says. "But I would have done anything to get pregnant.
"I've had people tell me their husband switched jobs because there was a company in town that gave you up to one try at IVF. I know plenty of people who have switched jobs to be able to get infertility treatment."
Laurie says she's confident she made the right choice swapping a perfectly good job for a company with better coverage. Now she's just hoping the move will pay off.