Back for Thirds: Blackthorne Restaurant & Bar
Chef Mark Hibbs returns to the city's culinary scene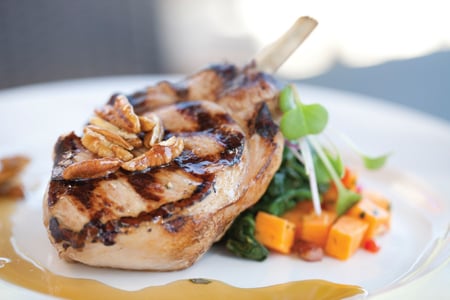 After stints as executive chef at Cosmos Café and chef/owner at the now-defunct Ratcliffe on the Green, Chef Mark Hibbs is back—this time with Blackthorne Restaurant & Bar. The upscale bistro in south Charlotte opened in January, featuring a dining room with dark wood and wrought iron accents, generous patio seating, and a large, European-style rooftop with several tables and a full-service bar—certain to draw crowds on warm evenings.
Echoes of Ratcliffe are evident on Blackthorne's menu, most notably the Fried Quail Bucket ($10), which comes with a buttermilk biscuit and rosemary gravy made with herbs from the chef's own Linwood Gardens, and roasted Poulet Rouge half chicken ($16), served with whipped potatoes and seasonal vegetables. The small-plates menu offers the most innovative dishes, including Seared Duck Breast Crostini with caramelized onions and a cranberry compote ($11) and Short Rib Wraps ($12), with braised beef short ribs, roasted tomato, and sautéed onion wrapped in crunchy lettuce leaves.
When it comes to mains, the grilled bone-in pork chop ($21) is tender and sweet, served over sweet potato hash and wilted spinach. North Carolina mountain trout ($16) is a standout—grilled over an open flame, it arrives atop a bed of wild rice and seasonal vegetables.
Blackthorne is a solid option for the lunch crowd with a strong roster of sandwiches like Speck & Brie Panini ($8) and Venison Meatloaf on a Kaiser roll ($10) in place of dinner entrées. And as the restaurant matures—a Sunday brunch was added just last month—look for the menu to evolve: Chef Hibbs plans to adapt his cuisine to seasonally available produce. 11318 N. Community House Rd., Ste. 200, 704-817-5554