Back to Nature: The Haigler Club
They have beer—but that's not why you should join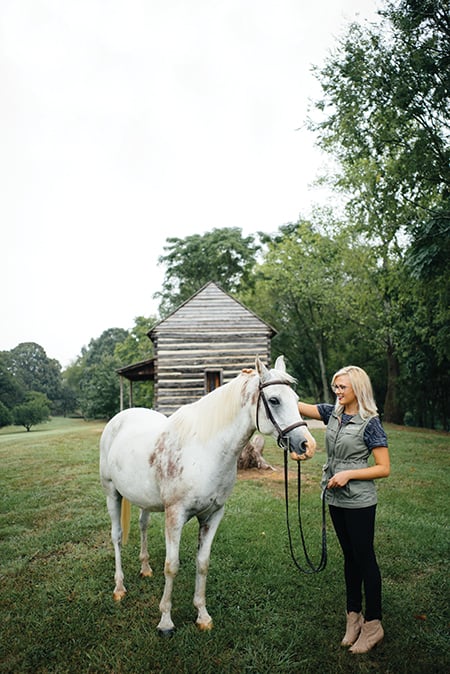 CAITLIN ANDERSON, atop the horse that brought her here, pushes the stirrups to the side with her toes and stretches her arms wide. Star, a 16-year-old pinto Arabian, swishes his white tail in the breeze.
"This is my first meeting of the day," she says, turning around in the saddle and smiling. Sun streaks through a canopy of oak trees.
"Yeah, it's not a bad office," says her colleague, Sara Lee, from atop Hollywood, a striking palomino quarter horse the color of creamy coffee.
I'm about 50 feet behind them, riding Casey, a chestnut gelding who's interested in walking at his own pace—slow—this morning. It's the Thursday before Labor Day, and we're in the middle of a dirt and gravel path at Anne Springs Close Greenway, just across the state line in Fort Mill. Despite its 2,100 acres and its proximity to Charlotte, the nature preserve is still unknown to many in the city.
"People go, 'Oh, you work on the greenway, that four-mile paved path in the middle of the city,'" Anderson, the preserve's volunteer coordinator, calls back to me.
"That happens all the time," says Lee, an environmental educator.
If someone could build houses on it, the land would be worth tens of millions of dollars. But Anne Springs Close, the heiress to a cotton mill fortune, deeded the land to her children, who in turn donated it to the town of Fort Mill in 1995, so long as it was preserved. Today, the greenway operates as a nonprofit but remains undiscovered by many Charlotteans, especially those new to town.
Anderson saw an opportunity to fix that, a way to introduce more people to the greenway while giving transplants, such as herself, something fun to do. So she started the Haigler Club, a service-and-social group for young professionals. Members come together for projects that benefit others and hang out afterward to chat. "I want to share my love of nature with other people my age who may not even know the greenway exists," she says.
Anderson, who turns 25 this month, and her boyfriend moved here from her native Minnesota in February 2015. "I was so sick of 32-below winters," she says, "and so I decided it was time to trek south." When the couple settled on Charlotte, Anderson searched the Internet for large pastures where Star could graze. She found the greenway, negotiated a home for Star, and stumbled upon a job opening at the greenway that matched her experience in event planning and outdoor activities. Two days after Anderson got to Charlotte, the greenway hired her.
She launched the club, named after the preserve's large lake, this past May with a happy hour that included kayaking and cold beer. In June, members built four raised planter boxes for an herb garden that Lee and her team now use to teach elementary school groups about their food. Anderson wants the monthly meetups to be fun—there's almost always a social component, such as beer tasting or a bonfire—but also beneficial to the environment. "You can't just get people with free beer," she says.
"You have to have some purpose to your group, too."
Finding purpose wouldn't be hard to do here. The saddle leather creaks and horseshoes click-clack on rocks during our ride, but otherwise it is still and peaceful. "I forget that we're surrounded by development," Anderson says. "You really do feel like you're in the middle of nowhere. It's a gem. Right now, I can't hear any cars. I feel like I'm in the mountains."
Adam Rhew is associate editor of this magazine. Reach him via email at adam.rhew@charlottemagazine.com, or on Twitter: @AdamRhew.
---
Want to Join?
The Haigler Club is hosting a lake cleanup, trail work day, and campout on Nov. 19.
Anne Springs Close Greenway
250 Dairy Barn Ln., Fort Mill
---
This article appears in the November 2016 issue of Charlotte Magazine
Did you like what you read here? Subscribe to Charlotte Magazine »
---