Back to the Drawing Board
Architects took a hit when the economy soured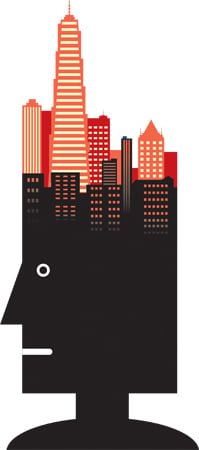 With more than fifty years in the business, H. Woodward Middleton has designed some of Charlotte's most iconic buildings: Spirit Square, the Blumenthal, and the new justice center. And yet even Middleton found himself jobless when the profession he reveres started to collapse. "I got a call on a Thursday that they were closing the Charlotte office, and on Monday it was gone," Middleton says of architecture firm Preston Partnership, which closed in 2008. He's since recovered (now serving as a principal at SFL+a Architects), but many architects in the Queen City have not. "To me, this is the worst I've ever seen it," Middleton says. "We've had some terrible times in the past, but they weren't killing people. This has had a devastating impact."
Brian Tye left Preston Partnership just before it folded, only to be laid off twice from two other Charlotte firms, and has been unemployed since Thanksgiving. "It's disheartening," says Tye, thirty-one. "When I got laid off the second time it kind of hit me: there's nothing happening [in Charlotte], and there probably isn't going to be anything for a while."
Kate Shelton is in charge of membership at the Charlotte chapter of the American Institute of Architects, the industry's leading professional organization. She estimates that 35 percent to 55 percent of architects (and those associated with the field) are out of work. "I have firms where architects are answering their own phones," Shelton says of the ones left standing. Almost all firms in Charlotte have downsized, and others have asked employees to take furloughs or across-the-board pay cuts. Michael Tripodi, forty-five, was one of the twenty architects who found themselves out of work when Preston Partnership closed, and jokes that he now runs his own firm with only one employee — himself. "We all became individual firms. I'm looking for a job, or work, whatever comes first."
A working architect in Charlotte for thirty years, Wayne Camas, fifty-nine, is a past president of the North Carolina AIA chapter. Camas has lived and worked through multiple recessions and September 11, but says this time is different. The banks that bailed out Charlotte and the architects, he says, are the ones that need bailing out. "[Accounting firm] Arthur Andersen was my client, and they don't exist anymore. … We aren't going back to the way we were. Not every architect is going to find a job."
Instead, he worries that some architects may have to return to the drawing board and search for a new line of work, which is exactly what Brian Tye is doing. Despite a master's degree and architecture license, he's toying with becoming a professional photographer. "I'm not going to give up on architecture, but you've got to survive."