Back to the Future
"Those Who do not learn from history are doomed to repeat it," goes the famous line. With Charlotte's growth on hold, it's time to look back at what we did right -- and what we screwed up.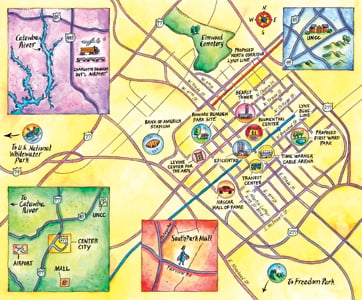 In 1989, this city was on the brink of a boom. Uptown's resurgence was barely a glimmer in the eye of bank titans and energy executives. Construction had barely begun on the Bank of America Corporate Center and I-485. City leaders were huddling to plan for the coming growth, growth that would surpass even the most optimistic projections.
Enter Michael Gallis. The erudite architecture professor with the mane of gray hair and flurry of Technicolor maps offered leaders and planners a vision of a future. They could create a thriving, globally recognized city-state, he told them, with Charlotte as the hub and the surrounding towns along its spokes, if they would all work together, as a region. They seized on Gallis's ideas — simple yet revolutionary at the time — and it could be argued that no single planner has had more influence over the design of our regional infrastructure system than him.
Gallis has been spreading the religion of regionalism to the rest of the country ever since. After leaving his UNC-Charlotte professorship in 1997, he consulted on projects as an "urban strategist" in a slew of cities, including Detroit, San Diego, Memphis, San Antonio, Cincinnati, and Orlando.'
Now our boom is over and — as in 1989 — we're struggling to see the future. Once again, Gallis is joining the local conversation. This time he's taking a look back, giving himself and others some pats on the back for what they've done right (see sidebar, "The Right Moves"), but also thumping local leaders for where he thinks they've gone wrong. Gallis and several other planners and community leaders talked recently about what Gallis sees as missteps, how they will affect our future, and what — if anything — should be done about it now.
SouthPark Expansion
It might be hard for some to see the gleaming luxury wing of SouthPark mall — with its Neiman Marcus, Nordstrom, and abundance of exclusive boutiques — as a mistake. But Gallis views the zoning change that allowed for that wing — approved unanimously by the City Council in 2001—as a long-term blow to the success of uptown. At that time, Michigan-based Taubman Co. had plans to redevelop the old uptown convention center site into a 1 million-square-foot mall that Gallis — who did the market research for Taubman — says would have attracted visitors from up to 100 miles away, seven days a week. But when SouthPark owners won the zoning battle, it dashed Taubman's uptown retail plans, he says, because the high-end retailers went to SouthPark instead. And Gallis thinks significant retail will never locate downtown now that SouthPark has become such a destination.
Many reject Gallis's premise that — had the SouthPark expansion been stopped — Taubman would have pulled off its ambitious plan.
"Maybe it would have happened, but I think [Taubman] would have been coming back to the city for a multimillion-dollar subsidy to make it work," says architect John Tabor, a former planning commission and city council member.
The convention center site is now EpiCentre, which is dominated by entertainment venues and has been criticized for having mostly inward-facing storefronts. Two years ago, Charlotte Center City Partners unveiled an initiative to attract retail downtown, but that plan was shelved when the economy tanked. But citizen feedback gathered during the current 2020 Vision Plan process (see sidebar, "Looking Ahead") shows that "no matter where they live, people want to shop uptown," says Cheryl Myers, a senior VP with Charlotte Center City Partners.
Attracting retail uptown is an uphill battle, says Bill McCoy, director emeritus of UNC- Charlotte's Urban Institute. His solution: a joint city-bank effort to help with small-business start-ups.
For those in the downtown-is-doing-just-fine-anyway camp, Gallis has this to say: "All great cities in the world have a strong retail component. … The entire island of Manhattan is like one big mall. Getting from good to great will be very difficult for uptown now."
No Major Park
Golden Gate Park
New York has Central Park. San Francisco has Golden Gate Park (pictured). Charlotte … doesn't. Freedom Park, while a beautiful spot south of the downtown core, does not count because it's too small, says Gallis, and neither do any of the "postage stamps" uptown. Particularly regrettable is local leaders' failure to build a major waterfront park on the Catawba River or one of its lakes, he says. He scoffs at the suggestion that Lake Wylie's McDowell Nature Preserve or the U.S. National Whitewater Center along the Catawba could fill the bill.
"I'm talking about a park with ten miles of waterfront," he says, citing Minneapolis's impressive series of parks along the meandering Mississippi.
Prior to the luxury waterfront housing boom of the past two decades, city leaders never thought of the Catawba or its lakes as a place to recreate, says Gallis, and instead they ventured to the mountains and coast during their time off. That mentality is why they never saw acquiring significant Catawba riverfront land for a public park as a priority, he posits.
And, unlike Minneapolis and many other major cities, Charlotte has no urban waterfront that would serve as the logical spot for a civic gathering place, Tabor points out.
"Wouldn't it have been great if uptown had been built on a 500-acre lake?" Tabor muses. "But it just wasn't."
To assign blame for that, however, one would have to go back several hundred years to the Native Americans who established two trade routes that intersected a good ten miles from the nearest river frontage, or to the eighteenth-century European settlers who made that intersection — today known as Trade and Tryon — the center of their new community.
Of course, that doesn't quite excuse the fact that the city never set aside a large swath of green space downtown. Debra Campbell, Charlotte's planning director, says uptown will get a boost with the planned Romare Bearden Park in Third Ward (5.2 acres to Central Park's 843) and a proposed First Ward park (4.5 acres to Golden Gate's 1,017). But she's not worried that we don't have a marquee park.
"Just because we're not New York and we're not San Francisco doesn't mean we have failed," says Campbell. "What's important is that we have places for the community to gather. And we have that."
Cheryl Myers says feedback gathered for the 2020 Plan shows people are clamoring for more green space downtown. "That was something that came up ten years ago in the 2010 plan," she says, "and it's even more important now." She says the 2020 plan's consultants are studying ways to create an interconnected system of trails, greenways, sidewalks, and parks in the center city.
I-485
The sixty-seven-mile, 90-percent-completed ring around our city known as Interstate 485 didn't register on Gallis's best or worst list, but when we talked to area planning leaders about where they think we've done right or gone wrong, almost all of them mentioned it. Two decades after the first leg opened, there's no consensus about whether its impact has been negative or positive. Even those who criticize it don't agree on what makes 485 flawed. UNCC's David Walters says even if one supports the planners' original intention — to route interstate traffic around the city — that's certainly not what it's primarily used for today.
"People are getting on the highway to drive a mile for a gallon of milk," he says.
Leaders caved to political pressure from developers by allowing dozens of exits, he says, when really just two or three would have been preferable.
Pat McCrory, Charlotte's mayor during much of the interstate's construction, says city leaders actually with — stood pressure for more exits. He lists the Pineville exit — which is chronically clogged and frequently backs up onto the interstate — among the city's worst-designed intersections. But after that initial calamity, he says city planners did a good job.
Charlotte-Mecklenburg Planning Director Debra Campbell says the city did the best it could planning land-use at the interchanges, but it was handicapped by what she sees as 485's biggest flaw: it's too far out. It caused growth to leapfrog out toward the city's borders, where there wasn't infrastructure to support it, she says, and it did more to aid mobility in surrounding counties than in Mecklenburg.
Perhaps 485's biggest fan: Walter Fields, a former city planning staffer. He says the beauty of our beltline is that it's entirely within Mecklenburg County and only travels through four municipalities, so Charlotte-Mecklenburg leaders were able to tightly control development at the interchanges and keep a lid on the number of exits.
"It was a good day's work," says Fields. "It took ten or fifteen years to do it, but we did it."
Blumenthal Center
Originally, Charlotte's premier performing-arts facility was envisioned as a stand-alone building at the corner of Seventh and North Tryon streets. But due to logistical and financial issues, the Blumenthal Performing Arts Center ended up inside the bottom floors of Bank of America's headquarters building two blocks south of there. As a result, Gallis says, Charlotte missed a chance to create an anchor for a North Tryon performing- arts district that would have corresponded with the new South Tryon cultural campus.
And, Gallis adds, we missed out on having a sig- nature arts facility. Think the Sydney Opera House, or, on a more relevant scale, the Schermerhorn Symphony Center in Nashville. Despite its glistening Tryon Street façade, Gallis says the Blumenthal Performing Arts Center is overshadowed by the scale of the headquarters building, and is "largely invisible" from the street. And its location in the interior of the building means that many theatergoers simply park in one of the adjacent parking decks and use aboveground walkways to get to it.
"They never step one foot on the streets of uptown Charlotte," he says.
While most would agree the center's placement is less than ideal, few seem to consider it the travesty that Gallis does.
"It does have a presence," says former UNC-Charlotte Urban Institute Director Bill McCoy.
Others take a practical view.
"It's what they had to do to get it built," says former city council member Betty Chafin Rash.
Still, one can look at the striking museums in the Levine Center for the Arts for a miniature example of what could have been.
No Central Transit Hub
Gallis gets much of the credit for envisioning a regional mass transit system with five spokes, but he's not happy with the way the hub, or lack thereof, is shaping up. The existing south light-rail line will directly connect with a planned northeast line to the University City area, but not with a planned line to north Mecklenburg. So if you're heading from Davidson to South End, for example, you'd have to get off the north line and walk eight blocks to get on the south light-rail line to South End.
Problem is, there's no obvious — or affordable — way to build the lines so that they'll all connected.
"People say: but it will cost a billion dollars to fix this," says Gallis. "I say when you're building a $10 billion system it's worth it to get it right."
Few agree with Gallis, saying the system is too far along in the planning stages for a major reroute now. And most predict that people who want to transfer between the rail lines will be satisfied with a ride on a street-car that could shuttle between the two stations.
"It's not going to affect ridership," says Campbell flatly.
And Gallis maintains, "The day that north Meck line opens, people will be appalled."
UNCC = UNC-Countryside
The decision was made in the 1950s, so there's no one around to blame it on now, but many agree with Gallis that it was a mistake to build UNC-Charlotte on an old dairy farm twelve miles outside the city center.
"They were envisioning a bucolic, sprawling, Southern university," says Gallis. "They weren't thinking Columbia or Berkeley or Harvard."
So for decades uptown missed out on the much-needed vitality an urban university would have brought, and instead a "mediocre suburb" developed around the campus that is today known as University City, says David Walters, director of the urban design program at UNCC.
But Betty Chafin Rash says it didn't have to be that way. The city violated its own planning policies by allowing miles of big-box development around the campus, she says, especially along University City Boulevard. A planned light-rail line to the area offers something of a shot at a do-over, since it will attract denser, less car-dependent development. Meanwhile, Johnson & Wales University has been adding liveliness to Fourth Ward since 2004, and UNC-Charlotte is building a twelve-story building in uptown's First Ward.
Looking Ahead
Ten years ago, uptown booster group Charlotte Center City Partners worked with local leaders to develop a vision for the future called the 2010 Plan. That plan recommended building more housing downtown (check) and redeveloping the old convention center (check), among other initiatives. Guess what? It's 2010, which means it's now time for the 2020 Plan.
Already, a consulting group out of Berkeley, California, has conducted several citizen workshops, gathering feedback about what Charlotteans want out of the city's urban core. Cheryl Myers, CCCP's senior vice president of planning and development, says some strong themes have emerged from the feedback. People want more places for recreation, she says, and they want to shop downtown (sound familiar?). There's also a cry for a more sustainable uptown and better connectivity between center city and nearby neighborhoods, such as South End, Dilworth, and the area around Johnson C. Smith University.
When a draft is unveiled at a public workshop this fall, Myers says, the plan will address all of those concerns with specific strategies. More information can be found at centercity2020.info. — Richard Thurmond