Backyard Stunner
Designed for entertaining, a yard makeover is the life of the party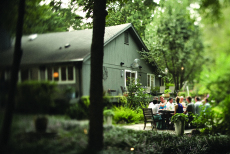 Turning a yard into a garden of outdoor rooms may not be a new idea, but when done by a husband and wife with architecture degrees, surprising things happen. There is the outdoor dining room, of course, with pretty lights hung in a ceiling of trees. And the den with a fireplace, which is to say, chairs surrounding a fire pit on a floor of pebbles. Then there's the kitchen anchored by a grill.
But a bedroom?
If outdoor living spaces can mirror the interior of a house, why not? That was Lynn and Vasco Guimaraes's imaginative approach to the yard surrounding their south Charlotte home four years ago. After buying the 1970s property they spent months remodeling it—tearing out walls, ripping out carpet, and streamlining it to echo the aesthetics of midcentury modern design.
Then they looked out the windows.
"I couldn't have told you the difference between an annual and a perennial five years ago," says Lynn, an interior designer with Little, an architecture firm, which has worked on such Charlotte landmarks as the NASCAR Hall of Fame. Vasco's limitations were similar. As a general contractor and owner of VG&P, he was familiar with landscaping—from a distance. Since his childhood in Brazil he has lived an urban life.
They both love to cook and host parties, and the space outside seemed perfect for food and conversation. The kitchen opened to a deck; steps led to a yard bordered by trees. Although they didn't know much about gardening, they knew how to design. They envisioned a series of rooms that would stretch out an evening with friends, something that would turn an ordinary night into an enchanted one.
The biggest obstacle was the footprint of an old swimming pool that the previous owner filled in. The concrete deck was visible and cracked, as was a skeleton of PVC borders. They decided to incorporate the shape and not erase its history. They paved the area with Pennsylvania bluestone and added beds, and then set a dining table in the middle of where the pool had been. Where steps once led down into water, they created a tab of pavement at the patio's entry. The goal was minimum upkeep—including no grass to mow, just evergreen ground covers.
"There were some rough weekends in the beginning," Lynn recalls, overlooking the view from the refurbished deck. Vasco raises his eyebrows as he describes the panic he felt. "I would think, 'What the heck did I do?' "
They persevered, trucking in new plants and rearranging old ones. The garden's lush landscape now brims with gardenias, azaleas, pots of annuals, and dramatic mixes of shrubs and small trees, including pencil hollies and a Japanese umbrella pine that turns into the Christmas tree in December. There's something for the eye in every season, including Lenten roses in winter.
They've done all the work themselves, including installation of a new irrigation system, applying architectural design principles along the way. For example, tall aluminum planters stand like columns in the dining room, filled with coral bells and cascades of creeping Jenny; plant beds on each side of the dining table create a sense of enclosure; and to reach the den, one passes a screen of crepe myrtle trees that create the feeling of walking down a hall.
The bedroom is guests' favorite, a place to lounge in style on a platform bed Vasco designed and built. Tiny lights under the elevated platform make it luminous at night. Moss covers the ground; the Guimaraeses collected it from different locales, including the wood-shingled roof of a friend's mountain house. "We pieced it together—it's sort of like a quilt," says Lynn. Romantic, whimsical pillar candles rest on rocks.
And speaking of romantic, Vasco surprised Lynn one weekend by building a potting shed when she went out of town. Starting with an old workbench that the previous owners left in the garage, he added a sink, tin roof, slat sides, shelves, and pegs. He managed to keep it a secret, hiding the supplies until she was gone. "I guess I was lucky," he says, grinning. Lynn later picked out Mexican tile for the counters—it reminded her of clay pots—and added a long skirt of quick-dry flag fabric. It's a good space for puttering.
The hard work has paid off—now they have indoor and outdoor spaces for frequent entertaining. An evening with friends moves through different rooms, some of them under the stars. And while others leave town for the weekend to go to a second home, Lynn and Vasco push open the sliding door and step outside. Theirs begins just beyond the glass.