Backyard Zen
Homeowner Tamea Price tranforms her overgrown backyard into a serene retreat—with a dash of Far East exoticism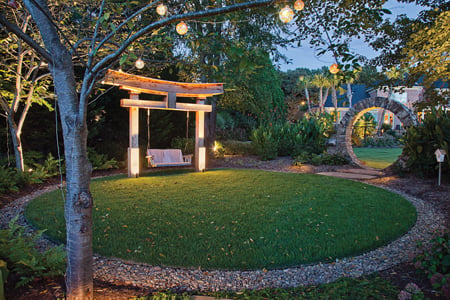 When Tamea Price moved into her home in Rock Hill, South Carolina in October 2010, she says she felt as if the place had been waiting for her. Listed for sale the same week that her divorce was initiated, it had been unoccupied until she moved in—three years later. Price says she took this coincidence as a sign.
But the space needed some major updates. She began with the expansive backyard, which overlooks a neighborhood lake. At the time, fescue grass stretched the length of the property, attracting flocks of geese that ruined the lawn. River birch trees encircled the blue-bottomed pool, blocking the sun and dropping leaves into the water. "I wanted to clean it up and put things in with purpose and intention," Price says.
The space has undergone a complete transformation. TG&R Landscape Group removed everything but the pool and the oldest trees—including all plants and hardscapes. Today, a hot tub bubbles next to the pool, which features miniature waterfalls cascading from fire bowls. An updated outdoor kitchen space and a cushioned seating area next to a towering stone fireplace, crafted by Kevin Crook of Bella Design Group, beg for outdoor gatherings.
Beyond its striking, resort-like feel, however, there is intent behind each element of Price's reimagined backyard. The color of every flower, the material of each structure, and the orientation of each decorative element were chosen precisely to fit the philosophy of form feng shui.
Melinda Smith, a graduate of the Western School of Feng Shui, introduced Price to the ancient Chinese system, which orients buildings and interiors to permit the flow of positive energy. Unlike compass feng shui, form feng shui does not rely on a space's magnetic bearings. Instead, a space is divided like a tic-tac-toe board into nine sections, each representing a theme such as career or health and family. Within each section, there are colors and materials conducive to receiving positive energy in that aspect of a person's life.
The more she transformed her home using the principles of feng shui, Price says, the more connected she felt to herself and her surroundings. With no formal training in landscaping or design, she designed the backyard using Smith's feng shui expertise as a guide.
Price focused particularly on the section of the feng shui grid dedicated to love and relationships. At this location, in the far corner of her backyard, she put a striking Bermuda-style moongate—a perfect circle built of stone—which symbolizes eternity. Inside the gate, two large stepping stones lead to a circular garden. Facing the lake is a torii, a traditional Japanese gate that marks the entrance to a sacred place, complete with a loveseat swing.
In form feng shui, space is divided like a tic-tac-toe board into nine sections, each representing a theme such as career or health and family.
Price selected her plants carefully as well, choosing blueberry bushes—planted in pairs—for each side of the moongate. Tall, tropical red-orange canna lilies encircle the garden, and spider lilies form a bed of blooms in the spring. Red and pink are good colors for the relationship area, Price says.
Across the yard—in the fame and reputation section—sits Price's labyrinth, which she had custom built by George Crump, The Stone Man, to match one in the medieval Chartres Cathedral in France. Labyrinths, which guide your feet along a winding path, are believed in feng shui to also guide energy flow. Price says she walks the eleven paths of her labyrinth in meditation.
"It's a place to go when I need to nurture my soul," Price says. Eventually, she intends to add her labyrinth to the Worldwide Labyrinth Locator (labyrinthlocator.com) so that visitors can stop by to walk the maze.
Price's yard is a testament to the vision, patience, and skill required to design an inspired outdoor living space. "I'm outside of the box. I try to get great contractors to join me in this thinking," Price says.
On a warm summer evening, Price sits on a bench in her moon garden, encircled by ten white dwarf gardenias, which she says represent prosperity. She listens to birds chirping and watches the sun set on the far side of the lake, where her nephews, Malcolm and Preston, like to go fishing. She takes in the view.
"This is my oasis—my inside, outside," Price says. "But as my life transforms, I hope it will attract new people for sharing love and joy."