Bad Dates
Collaborative Arts revives its hit one-woman show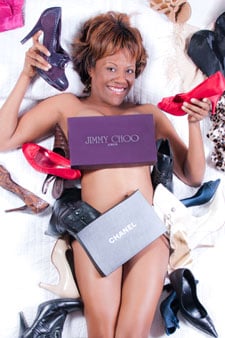 If you're on a bad date, it feels like it might be unendurable. But it always leads to a good story. Sometimes those stories are still getting told decades after the bad date happened. My friend, Lynsley, has more bad date stories than any woman should be allowed to have. Recently a man she was meeting on a blind date asked excitedly — right after the introductions, "What size shoe do you wear?" She doesn't have big feet; he had a foot fetish. (Fortunately, she also has the best date story, too. It involves being whisked away from Charlotte to London on a fairytale weekend that included dining at the world's best and second-best restaurants — Fat Duck and Nobu — and being treated to a new pair of Jimmy Choos.)
But I digress.
Collaborative Arts had such success a few years ago staging Theresa Rebeck's one-woman show about a series of bad dates that they've decided to revive it. I am among those who have asked Collaborative Arts co-founder Elise Wilkinson to stage the play again. It's back from March 14-31. Tickets, showtimes.
The comic romp focuses entirely on its charming main (and only) character. Thirty-something single mom Haley Walker is diving back into the dating pool after a divorce. She's armed mostly with a sharp wit and a killer collection of designer shoes, but she discovers the dating world has changed since she has last a part of it.
Elise Wilkinson directs, and Kim Watson Brooks stars. Kim took time out from rehearsals to tell me about the show, her similarities to her character, and her own worst date.
Revue: What drew you to this show?
Kim Watson Brooks: I saw the original show five years ago, thought it was a lot of fun and wanted to have fun, too. I had mentioned my interest to Elise [Wilkinson], who later came to me with opportunity for the revival. I've always loved strong female characters. Haley is strong, independent, and spunky. I love those qualities in people, so I wanted to get to know her better by doing the play.
Revue: What, if anything, do you have in common with Haley Walker?
KWB: Haley and I are both hopeful women. I admire her tenacity, her courage, and her ability to go out and find the life she was meant to live. Those are qualities I would like to think we share.
Revue: Have you done a one-person show before? How hard is it to do a one-woman show? I can't imagine! You don't anyone else's lines to prompt your next line.
KWB: I did a one-person show in college many years ago, but completely forgot how difficult it is! In addition to learning the lines, there are also no other characters to teach you about your own character. The energy that is required to maintain a solo show can be exhausting, and remaining immersed in the world of the play without breaks is a challenge, but it is equally rewarding.
Revue: Haley has a series of bad dates, but her real date is with the audience. She talks directly to them, as I recall. How important is the audience's energy to what you're doing on stage?
KWB: In a way, the audience's energy directs the piece. They are the other character in the play, and so they inform my character every night. The audience is the fuel for the show, and it becomes a two-person play.
Revue: Who's the audience for this play? Anyone besides twenty- and thirty-something women who've been on their share of bad dates?
KWB: Anyone who understands what it feels like to suffer a loss, to hope for a better day, to want companionship and want to be happy – anyone who understands those feelings can identify with Bad Dates.
Revue: Did you see Collaborative Arts' previous staging of Bad Dates? If so, how will it inform what you do? What are you doing differently?
KWB: Yes, I did see the first production. As actors, we bring our own experience and our unique lens and perspective to the piece, so inevitably this version will be different. My goal is to tell the truth on stage from my perspective.
Revue: Are you willing to share any recollections of your own worst dates?
KWB: When I was in high school I went out with this guy I'd had a crush on. My mom decided to give him money so he could take me somewhere nice. We ended up sitting by a lake talking and then going to a McDonald's drive-thru. He took the money home with him! I was too embarrassed to tell my mom.