Bad to Worse?
Could Charlotte really become another Detroit?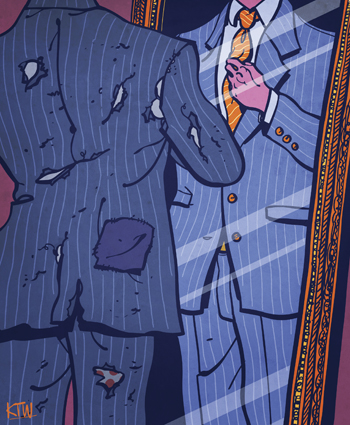 A question that's been popping up lately: could Charlotte become Detroit?
The answer: maybe.
August's unemployment numbers (the most recent data available) showed Charlotte inching closer to the Motor City. Detroit hovered around 17 percent while the Charlotte metro area clocked in at 11.8 percent.
The Queen City is the only major metropolis in the Southeast close to 12 percent unemployment, making it seem even more possible that Charlotte is on the verge of feeling more like Detroit and less like the crown jewel of the Southeast. The problem, some say, is that Charlotte, like Detroit, relies heavily on one industry (banking in this case) to propel its prosperity.
"You feel the pressure of being a one-industry town here in Detroit," says Karen Gunn Dozier. Dozier moved to Detroit from North Carolina and now owns a dental practice there. "If Charlotte's a one-industry town …" she says, her voice trailing off. "The aftermath of when you're not diversified and that industry closes. … People are out of work. As the large businesses close, the small businesses are forced to close. Homes go into foreclosure, there's an increase in crime."
Charlotte's number-one cheerleader says the concept of the banks ruling the city is exactly the reason to laugh at the idea of comparing the two metropolises. "We are not a one-industry town," says Chamber of Commerce president Bob Morgan.
Morgan points to recent job expansions in the energy and finance sectors as proof that Charlotte is diversified. He adds that airlines are cutting back in most cities but increasing direct flights from Charlotte — US Airways is adding direct flights to Honolulu and Rio de Janeiro this year. "Charlotte is hot. We have a good geographic location," says Morgan. "We have a good cost of living. Companies want to come here, and are here."
And Detroit? "Detroit worked very hard at becoming as crummy as it is," says Dartmouth business professor emeritus Dennis Logue. "They haven't been very successful in attracting new business. The state is overtaxed and overunionized. Michigan is a dump."
Kenny Clark got a firsthand look at Detroit when the Charlotte-based accountant commuted to the Motor City for ten weeks earlier this year. "[In Charlotte] the people I know who have been laid off are optimistic that they would be able to get another job," says Clark, "whereas people up there don't know what to do."
Logue agrees. "I just can't envision Charlotte becoming the next Detroit. Even if Charlotte lost both Bank of America and Wachovia/Wells Fargo, there's still a lot more going on there than in Detroit," he says. "Yes, it would be a major disruption [if the banks leave], but Charlotte would rebuild itself. People are moving there all the time for a reason."