Bag of Tricks
Wedding pros Heather Bryson and Cortenay Matters of Carolina Wedding Design reveal the must-have contents of the essential wedding day emergency bag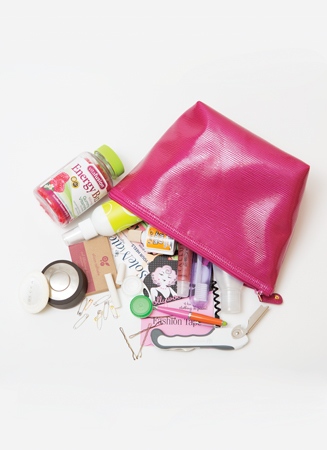 Feeling a few wedding day jitters? Get your body back on track by popping some B-12. It's magic in gummy form.

Spray gel will keep your wedding day waves in shape on even the most humid nights.

You didn't splurge on those stunning Brian Atwoods only to feel the spike of your flawless stiletto sink into the damp and dirty grass. Heel protectors will keep you on solid ground.

Fix your MOH's chipped French mani with a swipe of the same stuff that fixed your mistakes back in high school when you became BFFs—Wite Out.

Clutching your perfect bouquet of peonies for two and a half hours can leave your hands—and more importantly, your brand new wedding ring—more than a little grimy. A collapsible travel toothbrush and a little rubbing alcohol will have your diamond shining again in no time.

Stay camera-ready the old fashioned way: with some ladylike blotting. These are bleach- and fragrance-free so you won't run the risk of a heinous, last minute allergic reaction.

In the history of weddings, no bustle has ever stayed fastened through the last dance. Bring reinforcements (AKA safety pins).

It's a given: your darling new husband will step on the train of your pristine gown. Forget trying to get those smudges out. Cover them up in a hurry with chalk dust.

Instead of trying to cart around your full makeup arsenal all night, fill an empty contact lens case with lip gloss on one side and loose face powder on the other.

No one has ever regretted having a few extra bobby pins on hand. Ever.

Yanking on the top of your dress is the opposite of bridal chic. Keep everything where it belongs with Hollywood Fashion Secrets Tape.

It's a lot harder to open up that celebratory bottle of wine in the limo if no one remembers a wine tool.