Baggage Claim
The proper way to pack a suitcase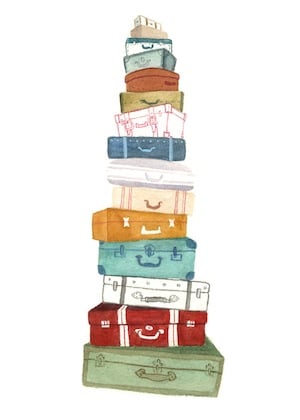 Save the lucky few with a G6 at their disposal, packing luggage for air travel presents its fair share of challenges. Opting for a carry-on bag only is ideal for more than one reason, but, regardless of suitcase size, optimizing space and saving room for souveniers is essential. The art of suitcase stuffing is rather a science with precise placements and, for those checking bags, important weight considerations. When choosing wardrobe necessities, whether you're jumping across the pond or jetting off to a tropical locale, the basics remain the same. A seasoned traveler myself, I've perfected a method that works to a tee. So read on for a play-by-play packing tutorial that will have you zipped up and ready to roll that luggage down the terminal and off to your post-I do destination with wrinkle-free clothes and extra space to boot!
Layering Effect
For the bottom layer, lay shoes flat across the bottom of the suitcase. Shoes are likely the hardest thing you'll have in your suitcase. By placing them in the bottom, you'll be able to close the top of your bag with ease.
Delicate Balance
Should you be taking any embellished tops substantially heavy pieces of clothing, these items should be placed atop the shoes. If an embellished top is one which snags easily, wrap it in a single layer of tissue.
Heavy Lifting
Next you'll add in your denim and any outerwear pieces you're packing. Simply fold these pieces the way you would to place them in a drawer.
To A Tee
For your light-weight pieces, you'll want to fold them traditionally and then roll them into a neat cylinder. These items will go atop the heavy and medium-heavy pieces in the center of the suitcase.
Perfect Surroundings
Use undergarments and loungewear pieces to enclose the top layer of rolled garments. This will keep your layers in place throughout the flight. Use the extra outer space to add in your cosmetic bags and any needed appliances. The key here is to create a tight placement to avoid shifting of items which causes wrinkles.