Baku Brings New Flavors to SouthPark
A trendy and traditional take on Japanese cuisine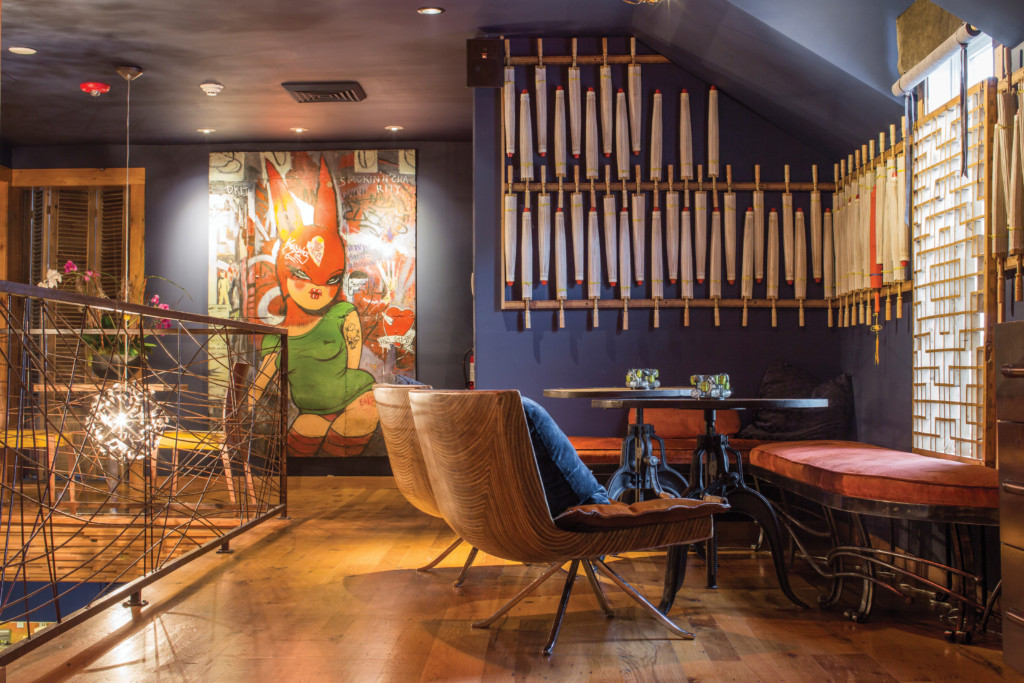 The décor is mostly black and red, with paper umbrellas and light fixtures that cast patterned shadows. A steady techno beat pulses in the background. On the upper level, a large pair of geisha eyes stares out at the crowd, dominating one wall. This dramatic setting isn't the interior of a new nightclub—it's SouthPark's Baku, the city's newest Japanese restaurant.
With menu items like tea-brined, glazed duck breast with honey-lime persimmon salad, Baku brings new flavors to SouthPark.
Everything on the menu here is easily shared, although portions can be small. Once a drink is on the way—the sweet Raspberry Twist ($11) with Prosecco and honey is a good choice to contrast with the savory, sometimes-smoky menu items—you'll choose from a roster of small plates of robata-grilled seafood, meat, and vegetables, plus sushi, tempura, and more. Robata, which means "around the fire" in Japanese, refers to open charcoal cooking and, in the case of the beef and asparagus ($9) skewers, lends a light smoky flavor to rare, tender chunks of tenderloin.
Crispy calamari ($8), served tempura-style with spicy serrano peppers alongside a house-made chili aioli with notes of ginger and lime, is a light way to start the meal. Salmon belly nigiri ($11) and soft-shell crab maki roll ($15) are fresh-tasting and beautifully plated, with delicate garnishes like a drop of aioli or a sprig of chive. Stray out of your comfort zone for the wild mushroom kamamashi pot ($17), a rich, risotto-like dish served in a cast-iron pot. It takes 20 minutes to prepare, though, so plan to order this dish first.
Don't pass on a chance for a sweet finish. A contrast of sweet and tangy in the yuzu tart ($10) balances the creamy, floral notes of jasmine meringue against a dark plum wine ice cream and delicate almond crumble. Rich, decadent truffles ($12), hand-rolled and served in a clear, sugary Frangelico "glass" bowl with a sour cherry dipping sauce will garner envious stares for presentation alone.
Baku's take on dining—pure ingredients, simply cooked, presented extravagantly—adds range and versatility to the city's restaurant scene. But with dainty portions, creative cocktails, and a sultry vibe, it's at its best as a destination for late-night drinks and munchies.