Balanced Style: Jen DeCurtins
Charlotte blogger finds harmony as a yoga instructor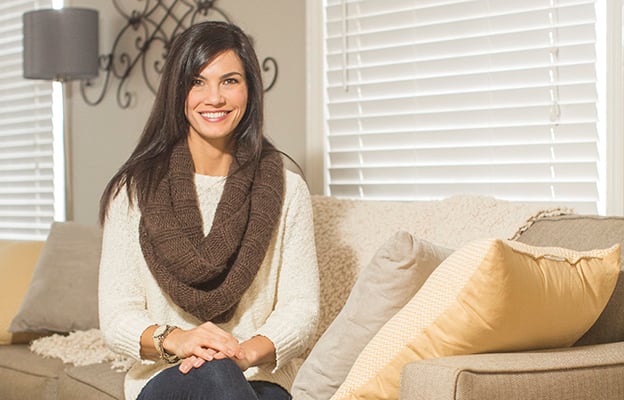 JEN DECURTINS picks up a steaming bowl of latte and sips the swirling coconut milk. It's mid-afternoon at littleSpoon, the Selwyn Avenue eatery beneath the fitness club where she works. The sought-after personal trainer recalls her initial reaction to yoga, the ancient practice that has become her career: She hated it.
But she was determined to reverse the problems she kept encountering as a long-distance runner. "I was dealing with injuries constantly," she says. She stuck with classes at Charlotte Yoga, located across from Park Road Shopping Center, and soon became hooked. The flexibility she'd known years earlier as a competitive cheerleader began to return. Even better was the mind-body connection. "It forces you to become more aware of how you feel every day," she says.
In September 2011, she left her job with the marketing agency Wray Ward to turn fitness into a career. Today, there doesn't seem to be a position the 31-year-old Georgia native, who blogs as Peanut Butter Runner, can't execute with balance and grace. In March, Fair Winds Press will release her first book, Ultimate Plank Fitness, and that will be followed by a second book at the end of the year, The Complete Guide to Yoga Inversions, which illustrates complex positions built on yoga basics.
Dark-haired with amber eyes and olive skin, DeCurtins embraces the well-lived life. She loves to cook—she initially began blogging in order to share recipes—and freelances as a recipe developer for Aldi. Her work schedule this month will be packed with post-holiday teaching and training, writing and editing, and new duties as the creative director of Charlotte Yoga. There won't be room for the January doldrums. "I'm going to the Dominican Republic with my best girl friends," she says, beaming.
That's balance.
---
JEWELRY // Charlotte designer Erin McDermott's custom pieces often incorporate freshwater pearls, little medallions, or druzy, rocks with tiny crystals. DeCurtins never takes off her dainty Buddha necklace, layering bigger pieces when she's not teaching class.
---
RUNNING SHOES // DeCurtins returned to distance running last year after a four-year hiatus. In November, she completed the Thunder Road half-marathon, knocking 30 minutes off her first half-marathon in 2006. These Brooks running shoes are from Omega Sports in Park Road Shopping Center.
---
SCARVES // Whether DeCurtins is wearing a form-fitting yoga outfit or pants and a sweater, she often adds a scarf. She found this at J.T. Posh, a consignment boutique that carries new accessories.
---
GREEN SMOOTHIE // Besides coffee, DeCurtins' morning ritual includes a fruit and vegetable beverage. If she has time, she whips one up in her Vitamix using spinach, frozen bananas, peanut butter, almond milk, and Greek yogurt as the base. If she's on the go, she picks one up from Luna's Living Kitchen in South End.
---
PEANUT BUTTER // "I've tried pretty much every kind of peanut butter out there," DeCurtins says. Her favorite is natural crunchy salty, but she also likes the flavors of Oregon-based Wild Friends, available at Healthy Home Market.