Bank of America Stadium By the Numbers
Just in time for an international soccer game, the Panthers' stadium gets a facelift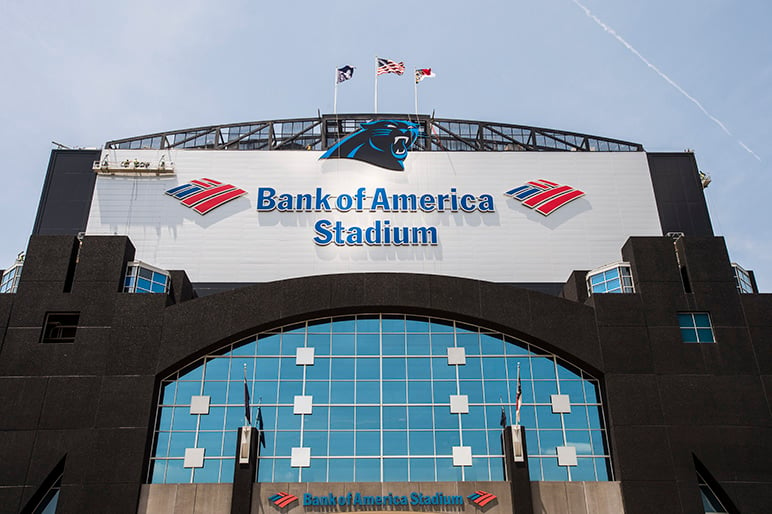 The first phase of renovations to Bank of America Stadium is scheduled to wrap up this month, ahead of a Guinness International Champions Cup soccer game to be played there in August.
Here's what you need to know about the project, which is funded jointly by the city and the team. The deadline to complete the entire renovation is 2018.
$75 million: Amount the city is paying for the renovations. That breaks down into:
$28 million for new escalators, installed in Phase 1. The cost includes flooring, entrance dome lights, and gates to prepare the escalators for installation. $47 million to be disbursed in the next four years for costs such as concourses, entrances, and HVAC upgrades.
+$12.5 million: Additional funds the city agreed to give the team for maintenance and traffic control over a 10-year period.
12,180: Size, in square feet, of each of the two new high-definition video-board structures above each end zone. The boards are more than twice the size of the end zones themselves.
5: Approximate height, in feet, of the ribbon boards that will encircle the stadium—the only stadium in the country with two. The top ribbon will flash scores, fantasy football statistics, and Twitter updates. The bottom ribbon will have advertisements and fan prompts.
5: Rent-free days a year the city is allowed to use the stadium under the agreement between the city and team.
$37 million: Estimated amount the Panthers will pay in Phase 1 for items, including new video boards, ribbon boards, a new sound system, and improvements to the media room.
$65 million: Total cost of Phase 1, which is on time and on budget for completion by July 1, says Deputy City Manager Ron Kimble.
0: Touchdowns that will be scored during the first "football" game at the stadium after the first phase of renovations is completed. The first game will be a soccer match between Liverpool FC and AC Milan on August 2. The Panthers' first home preseason game will be August 8 against the Buffalo Bills, and the first regular season home game will be September 14 against the Detroit Lions.
36,000: Total number of fans the stadium's eight escalators will be able to move in an hour.