Banner Year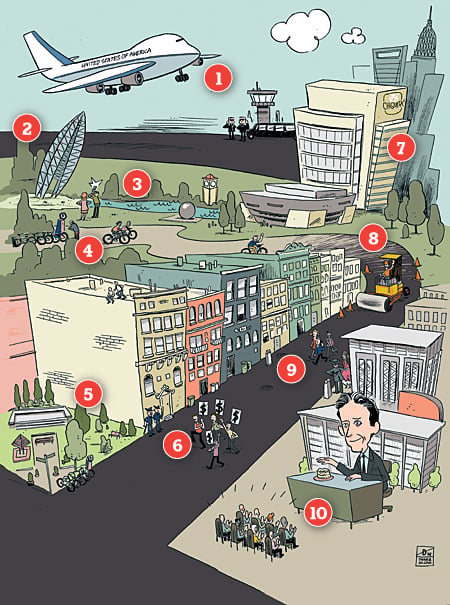 Before stepping onto the international stage for the Democratic National Convention, Charlotte made sure to straighten her skirt and reapply her lip gloss. Here are ten ways the city changed for the better in this historic year.
1. The leader of the free world dropped by on Air Force One to kiss some babies and give a speech.
2. DNC attendees needed something to gawk at when they arrived at the airport. We gave them sixty feet of aluminum, steel, and glass.
3. Lush vegetation, sculpture, and a tree- lined walking and biking path on the banks of Little Sugar Creek conjured an urban oasis on south Kings Drive.
4. All the hip green cities are launching bike-sharing programs these days. Charlotte jumped on the two-wheeled trend just in time for the DNC.
5. Vacant lot + an impending swarm of out-of-town visitors = a serene new park uptown at North Tryon and Sixth streets.
6. An estimated 800 people, from Occupiers to environmentalists to undocumented immigrants, marched peacefully on Wall Street South to protest the influence of big banks on politics.
7. Lured by $22 million in government incentives, Chiquita Brands International moved its headquarters here. It was a mixed blessing. After a CEO shuffle and serious job cuts, the city is still hoping the investment will, um, bear fruit.
8. By springtime, roughly 4.2 miles of road inside the I-277 loop had been paved at a cost of $840,000. After the DNC, the pavers kept rolling.
9. Charlotte is not a city enamored with its history, unless the Revolutionary War lessons are provided by engraved granite markers on uptown sidewalks. Thank you, Liberty Walk.
10. Jon Stewart was here! And he made fun of us! We dreamed of Daily Show stardom but had to settle for some jokes about biscuits.