Bargain Hunter
How To: Shop a Bridal Sample Sale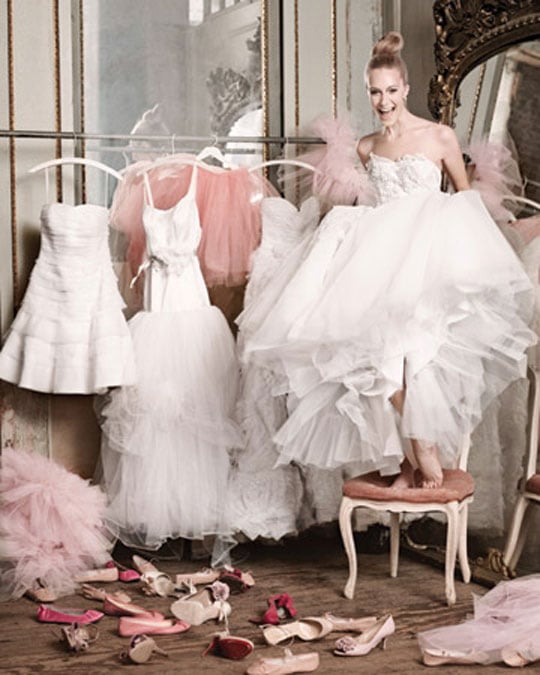 The level of insanity that ensues during a bridal sample sale makes Black Friday look like a retail piece of cake. A simple glance at a crowded rack can bring out the bridezilla in even the most unruffled girl. Swarms of shopaholics and brides-on-a-budget with no qualms about trampling the next girl are all in search of a dream dress at a discount price. And the experience can often be a nightmare. With a few tips though, you just may get through the madness scotch-free–and in posession of the perfect wedding gown. Oh, and speaking of sample sales, a little bird told us Lineage Bridal is hosting a Romona Keveza sample sale Feb. 14-18!
Early Bird
Arriving early is an absolute must. This is the only way to secure dresses you have in mind ahead of time and the only way to view the full selection. So brew some coffee and hit the road in plenty of time!
The Investigator
Scout out all the local shops' sites for event dates. Mapping out the dates and marking your calendar is key for several reasons. One: Knowing ahead of time allows you to go in the weekend prior and try on gowns in a relaxed, worry-free setting. Write down the styles you liked best and keep them on hand when you return for the sale. Two: If two or three shops you adore are all having sales on different weekends, you can take the pressure off yourself to buy a dress at the sale. After all, sample sales include much more than dresses. Maybe you find a crystal-encrusted sash at one sale and a veil at another. Don't limit yourself to one shop or to just dress searching.
Glamour Girl
Treat a sample sale as you would any other bridal appointment. Wake up in time to wash your hair and apply fresh makeup. Feeling your best will help you envision the way dresses should look when you try them on. It will also help you feel your most confident surrounded by a bevy of brides to-be. Wear appropriate undergarments you know will work under wedding gowns. The service aspect of typical bridal appointments is removed, come sample sale days.
Safety in Numbers
Whether it's a family member or a close friend, enlist a trusted second opinion to make the trip with you. You'll need someone close to help you stay focused and offer friendly words of advice in the process. Even more so than during typical appointments, a second set of eyes can be quite helpful in scoping out specific dresses. Just be sure to treat her to lunch afterward.
Eyes on the Prize
Keep focused on your dress and your day. Though you'll be eying plenty of other girls in the shopping process, you'll be more pleased with the overall experience and with the dresses you try on if you avoid paying attention to what the others have and how it looks on each girl. Envy can kill a lot of good things. And it can certainly undermine an otherwise stunning dress in your posession.
No Pressure
Many brides attend a sample sale and feel as though they have to buy a dress. You absolutely don't Budget or not, if you're not head over heels for a dress, set it down and walk away. There will always be another sale and there will always be another dress. If you're feeling overwhelmed, pressured or stressed, it's not a good time to be making such a purchase. Crowds aside, you're still shopping for your wedding dress. Keep it light and fun, and always keep the big picture in mind.
Little Things
Sample sales are almost always final sale. That said, be meticulous in checking your garment or accessory for minor signs of wear. Snags, rips and holes will all enquire additional funds to fix. Beads missing? Ask an associate if any extra are available before you decide to purchase. Store associates should also be able to estimate a repair cost on most of these issues. Occasionally such damages will be listed on the tag, but don't count on this no matter what. Inspect every last inch before swiping a credit card.