Barrows on Sports: The Making of Cam Newton
Before the Heisman Trophy, the commercials, the headlines, and the hype, Cam Newton was just another kid finding his way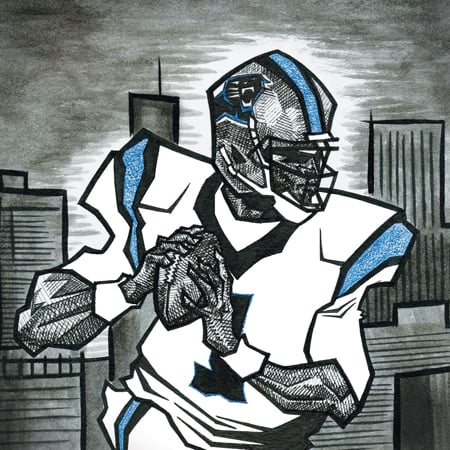 I'm driving south on I-85, barreling toward Atlanta. The mission: explore Cam Newton's high school football career. The premise: a lot of who we are and how we live can be traced to high school, where we're shaped by teachers inspiring and pedantic, experience our first brushes with failure and success that we'll recount years later to therapists, and endure contempt from the cool kids' table in the cafeteria.
Let's tick through the things Charlotte has come to learn about Newton since the Carolina Panthers selected him last year as the first choice in pro football's draft. The whole mess with his father allegedly telling one university what the price tag was for his quarterbacking services. His three-schools-in-four-years path in college. The Heisman Trophy he won at Auburn. That quirk of draping a towel over his head on the sideline. His knack for slipping or plunging or ramming his way into the end zone from short distances. The record for most passing yardage in a season by a rookie NFL quarterback. The big smile, the big personality. We've quickly gotten up to speed on those. But tell the truth: before you sat down to read this, did you know where he went to high school?
Still driving. The Peachoid, a bulbous 150-foot water tower, looms over the northern flank of Gaffney, South Carolina. The local high school's fifteen state championships are more than any other team in South Carolina has to its credit, and I start thinking about how huge high school football is in small towns like Gaffney, then about how huge it is everywhere else. If football exceeds all of our other games in popularity, it follows that high school football is the birthplace of our passion. It's our most universal sports experience and the most influential. What Newton did with a football at age sixteen was not some off-off-Broadway performance. In a sense, he was already on his sport's most important stage.
Rolling into Georgia. Only California, Florida, and Texas turn out more players who reach the NFL than Georgia, and those states are more than twice the size. Nowhere in Georgia is the football more competitive than in Atlanta and surrounding Fulton County. In 2006, when he was a senior—and among the country's most sterling quarterback prospects—Newton's team lost six games. I have no idea how many future Heisman winners had six defeats during their final season of high school. I'm guessing very few. Maybe one.
I find Westlake High, but something doesn't seem right. The brick is unweathered, the trees not much more than saplings, and the whole place looks as if it were constructed several minutes ago. Although Westlake is Newton's alma mater, this is obviously not the campus where he took algebra and chatted up girls between classes. That, I'm soon told, is a half-mile away, on the other side of the football field, and now houses the Fulton Institute of Technology. The structure in front of me, with 1,900 students in grades 9-12, was opened two years after he left in 2006.
Picking up Newton's trail here is no snap. His coach, Dallas Allen, moved on to other jobs after sixteen years at Westlake. Marquis Slaton, the offensive coordinator and Newton's quarterbacking sage, has departed for the head-coaching role at nearby rival Banneker High. Plus: displayed in a corridor are the jerseys of six star players from Westlake's past, including the notorious scofflaw and NFL cornerback Pacman Jones.1
Curiously, Newton's is not one of them.
In an old yearbook, there is a team photograph of the basketball squad in Newton's junior season. (Says coach Daron Rogers: "He could work from the wing, he could post you up and dunk on you, and he could have gone to Division I college ball if he had wanted.") Eighteen players are seated in two rows, seventeen of them affecting the grim scowls that male adolescent athletes flash to billboard their toughness, their swagger. The exception is Newton. He's smiling broadly, smiling as if he's having fun, and as if having fun is more central to his being than trumpeting his machismo. At age sixteen, before there were marketing and public-image reasons to smile radiantly, he was smiling radiantly.
I head toward the old Westlake building to see the locker room and coaches' offices that were used while Newton was in school. Milton Robinson, a longtime maintenance-staff worker, takes a break from his painting chores to show me the path. "The way Cam is," he says, "all smiling and enjoying himself, that's how he was when I got to know him. I was talking with him last week, and I'm telling him, 'You're still the same as you were as a freshman,' and he's coming back at me with, 'I guess it's too late to change now; it's who I am.'2
As it turns out, the football facilities from Newton's era are under demolition. The lockers have been ripped out, the office furniture shipped to other schools; only the tile flooring and shower drain remain, and they will go soon, too. Classrooms will replace it all. Even if Newton becomes the greatest quarterback in the history of quarterbacks, no ESPN documentary will memorialize him with soft-focus shots of the space where he changed for practice and studied tapes of games. It's vanishing.
So, too, is the career of Allen, Newton's head coach. Once a major force in Atlanta football, he put together a 110-66 record at Westlake. In 2005, six of his alumni were in the NFL, and no other high school coach had more. Four years ago, he stepped up to an administrator's position, a slot that was subsequently eliminated by budget cuts. Last season, he coached at Frederick Douglass High, but a new principal this year appointed someone else to the job.
Allen still teaches P.E. at Douglass. Now fifty-four, he was a linebacker at Morehouse College, and he looks and talks the part. He still has notably muscular shoulders and forearms, and such phrases as "three yards and a cloud of dust" and "smash-mouth" color his everyday vocabulary.
"I first became aware of Cam when he was a ninth-grader," says Allen. "My J.V. coach told me, 'We have this kid who I think is going to be pretty good.' I was busy with my season, and I didn't need a third-string quarterback, yada, yada, yada. Then my starter broke his finger in practice and the backup sprained his ankle, and we had to pull him up for a varsity game. I liked his demeanor on the field immediately. He wasn't the player he was going to be. But he was trying to take charge. He had that instinct."
I ask Allen if he has any statistics for Newton, and he sends me to Slaton. He knows them by heart: "2,565 yards passing as a junior, 2,883 as a senior." Many think Slaton is Atlanta's most accomplished quarterback coach. He can recite the achievements ("… second-team all conference as a freshman, 856 yards rushing …") of a dozen quarterbacks he has groomed for colleges from Bucknell to South Carolina. In his playing career, split between North Carolina A&T and Morris Brown, he was predominantly a running quarterback, but, at age thirty-seven, he has become a masterful teacher of passing.
On the field, a coach remembers, "[Newton] was one of those guys who would not break."
The strength of Newton's arm was never the issue. "From his first year," says Slaton, "he could get the ball deep. The problem was that he had no control on the short stuff, and he sometimes threw hard enough to make it a difficult catch. We began using the phrase 'Hand it to your receivers' with him, and we worked every day on developing the right touch for different passes in the short game. When he got the starting job, we put in a rule that limited how often he could try a pass longer than twenty-five yards. I didn't want him to get in the habit of going forty-five or fifty yards just because he could."
That was his sophomore season, and one night that autumn marked the turning point in Slaton's connection with Newton. "He had a really rough practice," says Slaton, "and he's sitting there, down on himself, teary-eyed. I asked 'What's wrong?' and he said, 'Coach, I want to understand the offense the way you do. You have to help me be great.'"
Slaton and Newton spoke for a couple of hours that night. Discussions of similar length were soon habitual for them: two or three times a week, always after practice, usually ending late, 10 p.m. or beyond. Because I've tromped around the basement where his office was located at Westlake, I can readily envision the scene: the locker room is largely dark and quiet, save for Slaton's conversational voice, and occasionally Newton's—both weary yet animated. The sole illumination comes from the fluorescent light in the concrete-block cubicle where they're sitting, Newton swapping his energy and curiosity for Slaton's wisdom and insight. They're talking about appropriate reactions to defensive changes, about quarterbacking footwork, about the last game and the next, about leadership, about stuff. An intergenerational moment. Eventually, they emerge into the October evening, walk toward the single vehicle left in the parking lot, and climb into Slaton's Tahoe for the seven-mile drive to Newton's home.
That same season, Slaton's mentoring extended to handling the off-the-field public dimension of stardom: "I needed him to learn right away how to ignore the distractions, people at the grocery store telling him to change how he threw or how great he was, getting in his head." On the field, Allen remembers, "he was one of those guys who would not break. I could chew on his butt and chew on his butt, and he'd just look at me and say, 'Next play, coach.'"
Newton was lucky to spend his high school career under Slaton and Allen. They clearly transcend the norm for high school coaches, and their differing outlooks and skills were a perfect combination of influences on his raw talents. The ruggedness of Allen's approach to the sport helped Newton translate his natural speed and agility and size3 into the take-no-prisoners runner whose fourteen rushing touchdowns set an NFL record for quarterbacks. Slaton's guidance, his knack for simplifying the complex, nurtured Newton's maturing intellect and his glorious arm, giving rise to the passer who threw for more yards in his first two games as a professional than any previous rookie. Teaching is often decisive; if you have an aptitude for science but land in chemistry and biology classes led by people who make the subjects uninteresting, you might not end up in medical school.4
I'm driving north on I-85. My trip has been akin to an archeological dig; I've unearthed the origins of part of Newton as we see him now. My mind wanders—anticipating this football season and the next and the next. Cam Newton is twenty-three years old, a work in progress as a quarterback and as a person. Watching him grow is sure to fascinate us and exhilarate us, and remind us—as if we could forget—that high school does stick with you.