Barrows on Sports: Tom Sorensen and Us
As Charlotte has grown up as a sports city, Tom Sorensen has been there for the sports fan, chronicling, interpreting, and making us laugh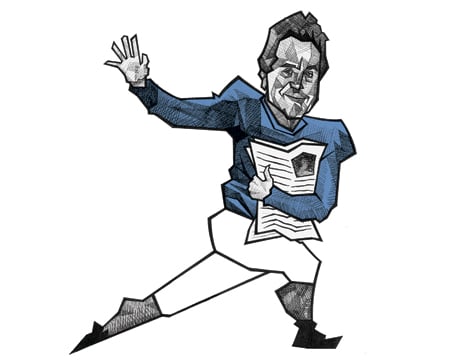 Tom Sorensen fell into my lap. In 1980, I was employed in the sports department of The Charlotte Observer and I spent an autumn afternoon screening inquiries from job seekers. Most writers, when sending off applications, carefully photocopy examples of their best stuff, then arrange them chronologically in a binder or staple them together neatly. But as I sliced my letter opener into an envelope with a Minnesota postmark, a jumble of newspaper stories cascaded out. Many were irregular sizes, some had uneven edges. A few were not so much folded as crumpled. They slid everywhere. The top of my desk. The floor. My lap.
I picked that one up. It was a feature about an old-fashioned pool hall that had evolved into a neighborhood gathering spot. The prose was lean, the sentences taut. I recall thinking they had the engaging terseness of classic detective fiction, and I knew after seven or eight paragraphs that Thomas Robert Sorensen—the name on the accompanying résumé—was who we should hire.
Today, he is a prominent part of the sports landscape in the Carolinas. In his twenty-eighth year as a sports columnist for the Observer, he has held that position longer than anyone else in the century-plus history of North Carolina's largest newspaper. Among his peer group, columnists in cities with major league sports, his writing style and point of view are distinctive, if not unique. Plus: his time in Charlotte has coincided with the most transformative period in the city's sports zeitgeist.
When he started, stock car racing was still several laps outside the mainstream, the Hornets were remembered only as the city's defunct minor league baseball club, and our pro football team of choice was the Washington Redskins or the Atlanta Falcons. Now, the NASCAR Hall of Fame is smack-dab in the midst of uptown Charlotte, and the dates of the NBA and NFL drafts are more boldly inked on many calendars around town than the birthdays of spouses or progeny.
No other journalist has chronicled as much of that upheaval as Sorensen, and he has done it in a manner as devoid of pretense and artifice as that untidy package he shipped to me three decades ago. Essentially, its message was this: "I hope you like how I think and how I choose my words, but I won't try to impress you with a color-coded portfolio."
Before going further, I need to clarify for you my relationship with Sorensen. I'm a fan. I admire his work. While I was the Observer's sports editor, I promoted him to columnist in 1985. Later, I was the newspaper's managing editor, so all told, I was his boss for the greater portion of twenty years. As writers and editors will, the two of us have wrangled now and again; for instance, when George Shinn, then owner of Charlotte's NBA team, was embroiled in a nationally televised civil-court case charging him with sexual assault, Sorensen skewered him in a brilliant column ("Dating Tips") that I refused to publish because it was as beyond the pale as it was hilarious. On the other hand, we've watched basketball games together at my house. Upshot number one: I know a lot about him. Upshot number two: I'm not fully objective.
Here's what I mean when I say he is without affectation. Unlike many sports columnists, he does not fortify his ego by focusing exclusively on big-time events and celebrity personalities. Yes, he has covered the Olympics, and he's on a first-name basis with everybody in the Carolina Panthers' hierarchy, but he will travel anywhere he believes he will unearth a good story, which gives him a broader range than most columnists; this basketball season you were as likely to spot him at Johnson & Wales's gym as at a high-profile college game.
Similarly, he's not compelled to regularly concoct wild opinions to drive increases in his readership or show up in trending topics on Twitter; he can deliver forceful insights (on Roy Williams: "The problem with major-college coaches is that they have too many people telling them how special they are [and] the lesser among them believe it …"), yet more often he has a forgiving eye for human foible. And what columnist who gives even passing thought to how his audience perceives him would so frequently write about boxing? It's a brutal sport, an anachronism that has been plunging in popularity since the 1950s. Sorensen revels in it.
He is also not afflicted with the cynicism some sports columnists cultivate in their public personas. In February, when UNC Charlotte signed its first batch of football players, he fashioned a piece on a small-town quarterback who was not intensively sought by other colleges and was thrilled to land with the 49ers. This was a not atypical Sorensen focus: a lightly recruited unknown, not a five-star prospect; UNC Charlotte's fledgling program, not an ACC colossus. "I have an affinity for underdogs," he says. "The joy he and his parents had, it was something to see."
Sorensen brings that up on an evening when we've met at Starbucks to discuss the influences that have shaped his development as a writer. Growing up in Minneapolis, he was introduced to journalism by his father, the local newspaper's book editor. "He was my idol," says Sorensen. "He really cared about words. When I'd get grounded, he'd make me do a book report. I remember him reading one and saying, 'This is something your brothers cannot do.'"
Thus encouraged, he went on to devour Dashiell Hammett, Raymond Chandler, and Ross McDonald, giants of American detective literature. As an undergraduate at the University of Minnesota, he joined the staff of the student newspaper; after college, he started his career at two dailies in his home state ("I bought a trench coat because I thought a reporter should have a trench coat …"). These days, he's returning to a few favorite authors, including J. D. Salinger, for a fresh read; when he couldn't sleep the night before we got together, he pulled out Kurt Vonnegut.
As our conversation about writing rambles along, Sorensen mentions a recent disappointment. His novel, seven years in the making, the tale of an impoverished boxer and second chances, has just been turned down by a publisher. "I was crushed," he says. "I was supposed to go to a movie that evening and couldn't even force myself to do that." Rejection is unaccustomed territory for him; I've met only a handful of people who don't like his column. Over the years, I've spoken with enough women who read him that I believe he has a significant female following, and I cannot count how often somebody—both genders, various demographics, all ages—has told me words to this effect: "Tom Sorensen is the only reason I look at the sports section."
Of course, his primary target is the unrepentant sports enthusiast. Long-time columnists—the best of them, anyway—embed themselves into the experience of sports in their region. If you've lived in Massachusetts, you can't imagine a championship season for the Celtics, Red Sox, or Patriots that isn't framed by the pointed commentary and historical context of Bob Ryan, a columnist for the Boston Globe since 1989. The same concept applies to Mitch Albom, who has been with the Detroit Free Press for a couple of decades, or to the late Furman Bisher's career at the Atlanta Journal-Constitution, which stretched from the 1950s to 2010.
In his unpretentious writing, calm demeanor, and GQ appearance, Sorensen is the guy other guys want to be.
In that same vein, we owe an appreciative nod to Ron Green Sr., a craftsman of a columnist for nearly thirty years for the Charlotte News before it folded in 1985, then for the Observer for fourteen more, until he retired from writing regularly. But because the News was a smaller newspaper, with less statewide reach or clout than the Observer, and because his voice and his perspective were not as singular as Sorensen's, Green was never as much of a personality or a presence.
Sorensen's stature also is magnified by his times. During the prime of Green's era, sports were barely more than a diversion. Since then, their scale and scope have burgeoned geometrically; by way of example, can you even guess how many sports channels come through your cable box? Newspapers have countered the 24-7 availability of scores and video highlights with greater reliance, both in their print editions and their websites, on the insight and analysis of columnists. Sorensen blogs, and cracks wise with tweets, and doles out his wry humor on sports talk radio, and makes speaking engagements. In a multimedia era, he is himself a multimedia medium.
His Observer columns remain the core of his popularity. But I think there's more to his success than his deft touch with sentences and images. One theory: in his unpretentious writing (he would never use "transformative" and "zeitgeist"), in his calm demeanor in print and in person (he's open with his emotions* yet somehow comes off as sophisticated, even urbane), and in his casual GQ appearance (fit, tanned, a two-day beard, stylish shirts not tucked in, black hair that's fashionably unruly), he is the guy other guys want to be. This is subliminal yet powerful; Scott Fowler, the Observer's other sports columnist, is openly derided in the testosterone-laden banter of talk radio, largely, I figure, because he is viewed by many callers as uncool.
*When columnists, sports and otherwise, introduce us to aspects of their own lives, they can sound self-indulgent or, worse, plain desperate for an idea. When Sorensen has written about donating a kidney to a brother, watching as his pet greyhound was put to sleep, or recovering from tonsil cancer in 2009, it has been restrained and eloquent. (He says that his column on his dog is the only one his wife has ever put on their refrigerator door.)
Another theory: Sorensen is a small but perfect counterpoint to Charlotte's ever-shifting civic ambition, to its striving to be something different. Back in the 1970s and 1980s, we hoped to be more like Atlanta, until we realized we should be less like Atlanta. In the 1990s, we aspired to enough repute that we might finally lose "N.C." as our last name, and then we aimed higher with the goal of adding the phrase "world-class city" to any descriptions of us. Here of late, when banking tainted itself and faltered, we decided we ought to trumpet ourselves as a center of the energy business. Against that backdrop, there's a compelling attractiveness to Sorensen's clear comfort with who and what he is. If the city is an orchestra, an overpowering swirl of sounds, Sorensen is the single note struck on the triangle. The appeal is in its simplicity and its differentness.
That's as far as I'm going to push the psychological and sociological. Instead, let's just thumb through a stack of Sorensen's recent columns. Here's one noting the death of Dick Harter and reminiscing about how the former Charlotte NBA coach's bicycle rides in Myers Park with his pet rabbit tucked into a basket at the front. Next: an examination of why the Panthers should gamble on troubled free-agent receiver Randy Moss, and then a look at the Charlotte Speed Demons, a women's roller-derby team (who knew?). Boxing: a piece on North Carolina native and former professional champion Sugar Ray Leonard, another on the state Golden Gloves amateur tournament. Eventually, I come to my favorite from the last several months: an empathetic interview with a high school baseball coach, who speaks of the quiet agonies he endures every year when he has to cut young boys from his team.
By my estimate, Tom Sorensen has turned out nearly 5,000 columns since arriving in Charlotte. That night at Starbucks, I ask him what it adds up to, how he assesses the way he has spent the prime of his days. Silence. A long silence. He starts a sentence and cuts it off in the middle. The best sportswriter in North Carolina, one of the most articulate conversationalists I've known, is stumped.
So I'll answer for him. If the world is hard and cruel and irrational, and sports for so many are a respite from those, then bringing people insight about the games they love, enhancing the pleasure of those moments and their power to amuse and distract us, and doing it with uncommon grace and good will, all of that amounts to a whole lot. It amounts to a life well spent.